NEW YORK—War photographer Chris Hondros took photos that have cemented the world's understanding of a great many significant events. 
His 2003 image of a Liberian soldier jumping for joy after hitting his mark made the cover of every major paper around the world and put Hondros on the map. His photo of a blood-stained young girl spilling out from a car after her parents had been shot by American soldiers in Tel Afar in 2005 became an iconic image of the ongoing violence in Iraq. His body of work encompasses some of the most powerful images of humanity, in some of the most volatile places in the world. 
His body of work is remarkable, but colleagues and peers say that the story of the man behind the lens, a person of incredible spirit, focus, and empathy, is just as remarkable.
After Hondros was killed along with journalist Tim Hetherington in Libya in 2011, his childhood friend Greg Campbell set out to create a memorial for him. Campbell, an author and print journalist by trade, said it became quickly apparent that words wouldn't cut it. Hondros was a visual person who worked in a visual medium. 
For years, Campbell and Hondros had talked about making a documentary that showed what it was like to be a conflict photographer. After Hondros's death, Joseph Duo, the Liberian soldier, reached out to Campbell on Facebook to share how Hondros had kept in touch with him and helped him pursue a career in criminal justice. 
Campbell also wanted to tell Hondros's story, and the stories behind some of his most iconic images, to show the broader impact Hondros had had as a photo journalist. 
These ideas came together four years ago, when Campbell put together a Kickstarter campaign to help fund the film, raising three times the amount he asked for. Campbell traveled to Libya and Iraq to follow up with many people whose lives Hondros had affected in myriad ways. He partnered with Bold Films and Jake Gyllenhaal's Nine Stories Productions to finish the documentary, which had its world premiere at the Tribeca Film Festival on April 21. 
Shining a Light on Humanity
Hondros first picked up a camera at age 16, said Campbell, who was right there with him. Together they created careers in journalism, and Hondros only ever moved relentlessly forward. 
In the documentary, there is a clip of an interview with Hondros, where he's asked how he copes with having seen so much war and carnage, and likely humanity at its worst.
"I've also seen humanity at its best," Hondros says. 
Many of his images are up close and personal, full of raw emotion from those most affected by war. Where the average person might feel inclined to use the camera as a shield in such situations, Hondros put his energy into connecting, and the empathy comes through in his images.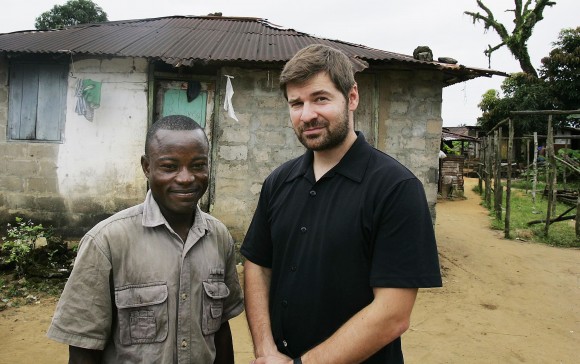 The film pieces together footage from numerous sources and includes interviews with friends and family, fellow photojournalists and others who worked with Hondros, and the subjects of his photographs. Campbell travels to follow up with both the little girl from Tal Afar and the soldier who made the shots that day. He goes to Liberia and meets people he didn't even know Hondros had supported. 
"Everyone had a different breaking point, something they couldn't talk about without getting very emotional over, but it was a different place than I would think," Campbell said. "But there was also a lot of laughter. You can't talk about this without reliving some of these moments." 
"I learned [from making the film] I could be a better friend to people," Campbell said. It's not easy to give due attention to all of your relationships, but Hondros truly nurtured all of his, Campbell said.
Hondros is portrayed as both greatly inspirational and flawed.
On the one hand, he had the extraordinary ability to separate from the horrors of what he covered and not let it take over his life. "You rarely, rarely heard a war story from Chris's lips," Campbell said. He would talk to you about music, books he'd read, and life, but not his work. Pictures, footage, and anecdotes in the film show how he would light up a room, even if it was only at the hotel where the war journalists were staying, and live life to the fullest.
On the other hand, he didn't seem to know how to stop. He pushed closer and closer to the front lines, into increasingly dangerous conflict areas, even when others told him to be sensible and turn back. Even after fellow journalists were captured.
In telling Hondros's story, the film also touches on the changing and increasingly challenging role of a photojournalist. Anyone can send a picture and a message out to millions now, and hostile regimes don't necessarily want reporters and photographers to come fact-check their stories. A photojournalist who tells a different story becomes a threat to their message.
It was heartening for Campbell to see that near the end of Hondros's career, there was a sort of passing of the torch to younger photojournalists he'd helped out.
"The hardest part was actually finishing the film—now I have to let Chris go," said Campbell. "The world is better with more Chris in it."
CORRECTION: An earlier version of this article misstated the timeline of events. Chris Hondros went to Pakistan in 2001, after the 9/11 attacks.