Honda Strike Workers Propose Own Terms to End Protest
May 31, 2010 1:13 pm Last Updated: October 1, 2015 8:00 pm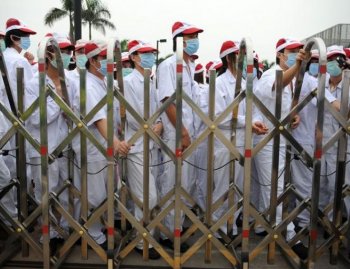 |Video Courtesy of NTDTV |
Honda strike workers in white outfits and hats with Honda logos rallied by walking in Honda's Nanhai Auto Parts Manufacturing Company in Foshan, China. They shouted slogans and expressed their demands of the strike to journalists on May 27, reported Sing Tao Daily on May 28.
That day, the auto parts company demanded its employees to sign a "No-Strike Agreement," which states that employees must not lead, organize, or participate in strikes. The company also fired the two leading strikers, the Xinhua News Agency reported on May 28.
The workers refused to sign the agreement; instead, they drafted their own version of agreement to demand for a "pay raise, reform in the company management system, the return of fired workers, and no punishment afterwards."
"If the company does not do this, we will not resume production work," said the Honda strike workers' version of the document.
Hundreds of workers at the Honda plant in Foshan, Guangdong province, China, originally went on strike May 17. Workers refused to work without an increase in pay, causing a halt in production at four auto plants in China. It is still unknown when the workers will return.
The Honda strike workers say that though their salary is around 1,000 yuan (approximately US$142) a month, only 800 yuan (US$117) is left after taxes and provident funds are deducted. After food and housing expenses, they have barely anything left to live on. Interns receive only 500 yuan (US$73); some interns say that they cannot afford to travel back home, though they live in Guangdong, Chinese Business Media reported on May 29.
However, technical aid workers from Japan receive special treatment: a monthly salary of 50,000 yuan (US$7,321) and the company-covered food and lodging.
The factory has 1600 workers, half of whom are interns. After the Honda strike started on May 17, the workers and the company have negotiated several times to no avail. The workers eventually went on a full strike on May 24 and remain on strike presently.
Honda employees also say that workers constantly come and go because of the low wages. The company is forced to continuously recruit new workers. Therefore, workers' training has been reduced from one week to 3 days, according to Chinese Business Media's article.