Four people were killed when two sets of unrelated homicides shook Anaheim, California, over the Labor Day weekend.
Anaheim Police told The Epoch Times that one incident involved an alleged gang-related shooting, while the other was a double murder and suicide apparently stemming from a failed domestic relationship.
In the first incident, the Anaheim Police Department arrested two suspects on Sept. 6 for the killing one day earlier of Rodolfo Alfredo Miranda, who was found in the entrance of a hotel suffering from a gunshot wound. Police say the killing was gang-related.
"We're asking the District Attorney's office to file gang-enhancement charges, which here in California means that there was a connection or correlation to gang activity related with the murder," Sgt. Shane Carringer, the Anaheim Police Department's public information officer, told The Epoch Times.
Carringer said the two suspects were arrested in the City of Walnut without incident. Both are from Garden Grove, and both were on parole.
Richard Perez Arteaga, 28, has been booked on charges of murder, being a felon in possession of a firearm, and being a felon in possession of ammunition. He also faces gang-enhancement charges, Carringer said.
Danny Rey Quintana, 24, has been booked on a charge of murder and also faces a gang-enhancement charge.
The suspects are being held on $1 million bail each.
The shooting was first reported at 1:30 p.m. on Sept. 5 at the Candlewood Suites, at 1733 S. Anaheim St. After being discovered wounded near the hotel entrance, Miranda was taken to an area hospital, where he was pronounced dead.
Anyone with information about the shooting was asked to call Anaheim police at 714-765-1900 or Orange County Crime Stoppers at 855-TIP-OCCS.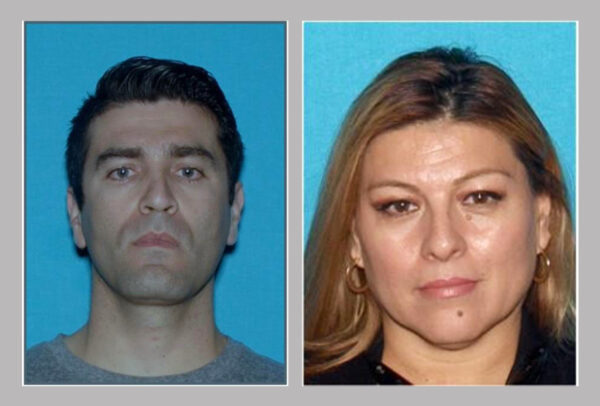 Police said they responded to the second incident on Sept. 6 when a witness called at approximately 6:15 a.m. to report that two people had been shot at an apartment building located on the 1800 block of South Haster Street.
When police arrived on the scene, the victims were found dead, Carringer said. He said the suspect apparently used a handgun.
"Officers arrived on scene and located the bodies of 47-year-old Maria Ernestina Ramirez of Anaheim and 40-year-old Efrain Hernandez-Ramirez of Placentia," he said, adding that the victims coincidentally had the same last name and were apparently dating.
"Homicide detectives quickly identified Jorge Pino, a 57-year-old resident of Salt Lake City, Utah, as a suspect in the murders," Carringer said.
Pino and Maria Ernestina Ramirez "were in a long-term dating relationship which had recently ended," he said.
Anaheim detectives were preparing an arrest warrant for Pino at around 10:30 a.m. when the suspect was found dead, according to Carringer.
Pino's body was discovered by Santa Barbara County sheriff's deputies "somewhere up in the Gaviota area, which is like a nature preserve in Santa Barbara," Carringer told The Epoch Times.
"Pino suffered what is believed to be a self-inflicted gunshot wound," Carringer said.
Carringer said police were still investigating the case and that nothing definitive had yet been determined.
"It's still our job to put together a complete investigation as if Pino wasn't dead," Carringer said.
"We still have to prove that he's the guy who did it, even though he's dead, and even though there's a very strong likelihood that we have the right guy."
Carringer said police "don't know that he didn't have an accomplice or somebody that was with him."
"We have nothing to indicate that he wasn't alone. We have nothing to indicate he did have an accomplice," he said.
Carringer added, "It's just kind of what we do here in Anaheim. You know, crazier things have happened, where you go back later and you realize that there was a mistake or something made, or a larger plan."
Anyone who had contact with Pino or has other information was asked to call Orange County Crime Stoppers at 855-TIP-OCCS.