Homeless Sandy Victims Facing April 30 Deadline
April 24, 2013 11:22 pm Last Updated: April 25, 2013 3:36 pm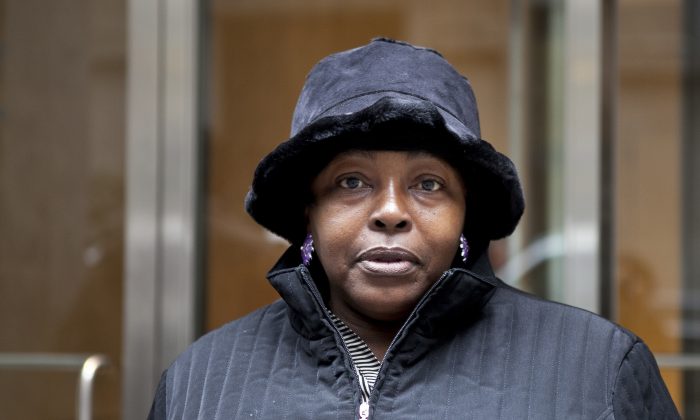 NEW YORK—Facing an April 30 deadline to move out of temporary hotel housing, Rabbi Herchel Reisz is in a mad dash to find a permanent home for his family of seven. Reisz and his wife have five children between the ages of 20 months and 17 years old, and the eldest daughter is suffering from a rare type of cancer. 
They have been living in two different hotels on Long Island since they were displaced from their Far Rockaway apartment by Hurricane Sandy last October. They are 1 of about 50 families with no permanent home that the New York Communities for Change (NYCC) has been working with and assisting. 
Reisz was part of a small rally organized by NYCC with Hurricane Sandy victims who gathered in front of the New York City Department of Homeless Services (DHS) offices in lower Manhattan Monday to protest the April 30 deadline.
A March 26 letter addressed "Dear Hurricane Sandy Evacuee" that Reisz produced during the event says that April 30 is the deadline to leave hotels and move into "more sustainable housing."
The letter, from the office of Commissioner Seth Diamond at the DHS, states that throughout April, the NYC Hotel and Interim Placement Program will "make final efforts toward the goal of transitioning all evacuees out of the shorter-term hotel system and into more sustainable housing."
Reisz might be one of the lucky ones. With the April 30 deadline just one week away, he might have found a place to live. During the rally, he was contacted by phone by the New York City Housing Authority to tell him his application had been processed and to come and select housing. One worry now is whether he will get public housing in a good, clean neighborhood that will be safe for his children. But his greatest worry is whether or not the promise of housing will fall through. 
"Seeing is believing," said Reisz about getting a new home.
Others have fewer options on the horizon and are starting to express desperation.
Melissa Vance said she and her family were moved out of temporary hotel housing and they had to move back into their Far Rockaway apartment that hasn't been completely repaired. Vance said there is no heat or hot water and a strange odor throughout the residence. She lives with her son and her 5-year-old grandson. 
"It's freezing," said Vance. "It's colder in the house than it is outside."
The NYCC is also increasingly concerned about mold.
"As the weather continues to get warmer it will just get worse," said Olivia Leirer, communications director for the NYCC, Wednesday.
The New York City Council plans to hold a public hearing on April 26 to address questions related to the April 30 deadline.