The Department of Homeland Security's (DHS) Inspector General declined to investigate photos and videos of Border Patrol agents on horseback turning away Haitian illegal immigrants, in which some falsely said they were "whipping" the illegal aliens.
In a statement, DHS said the agency's inspector general's office "declined to investigate and referred the matter back to CBP's Office of Professional Responsibility."
Now, the Office of Professional Responsibility is reviewing the photos and videos, and is interviewing employees, witnesses, and Border Patrol leadership to determine what happened during the Sept. 19 incident in Del Rio, Texas. In the footage, agents were seen blocking Haitian illegal immigrants from trying to enter the United States.
"DHS remains committed to conducting a thorough, independent, and objective investigation," said the agency in its Tuesday statement, without elaborating on why the agency's inspector general's office declined to review the incident. "DHS will share information, as available, consistent with the need to protect the integrity of the investigation and individuals' privacy."
Some news outlets and Democrats referred to the agents' reins as whips while accusing them of whipping the illegal aliens. But the photographer who took the viral photos said they weren't whipping them.
"To see people treated like they did, horses barely running over, people being strapped … it's outrageous," President Joe Biden said on Sept. 24 during a news conference. "I promise you, those people will pay. There will be an investigation underway now and there will be consequences. There will be consequences."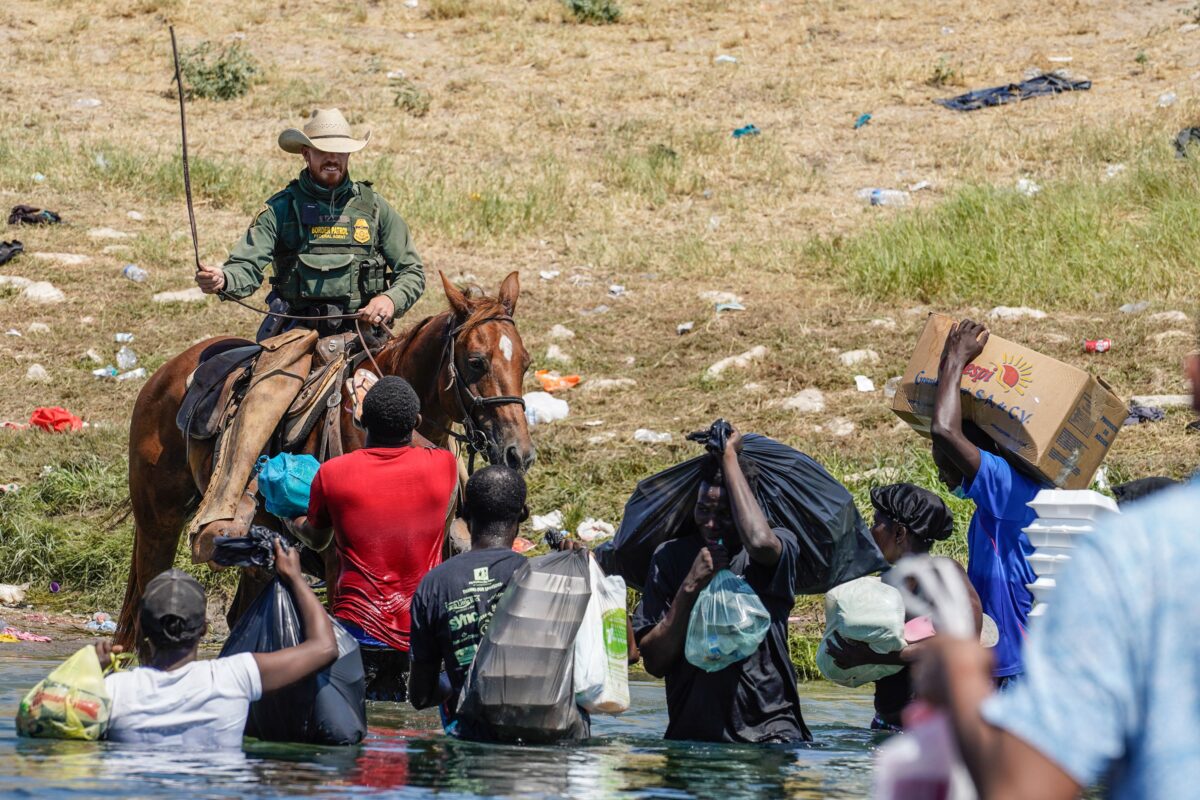 Department of Homeland Security Secretary Alejandro Mayorkas had initially backed the agents' actions and noted that reins are used to control the horse. In later appearances, Mayorkas said he thought the images were disturbing, placed the agents on desk duty, and ended the usage of horses in Del Rio.
In September, meanwhile, Mayorkas had told a House panel that an investigation would be completed within days.
"I want to assure you that we are addressing this with tremendous speed and tremendous force," Mayorkas told lawmakers at the time. "The facts will drive the action we take … It will be completed in days, not weeks."
On Tuesday, Mayorkas appeared in front of the Senate Judiciary Committee, where he faced accusations from Sen. Mike Lee (R-Utah) of not defending the agents from the accusation that they whipped the illegal Haitian immigrants.
"Why on earth did you not defend them? Has anyone in your department ever become aware of how one uses split reins when riding a horse?" Lee asked Mayorkas in a heated exchange.
In response, Mayorkas told Lee: "Number one: I put one-hundred percent into my work, and I'm incredibly proud to do so. Number two: I stand with the men and women of our department through and through, and I will not prejudge facts before."
The photos and videos of the agents were captured as thousands of Haitians congregated in Del Rio underneath a bridge separating the United States and Mexico. Mayorkas later confirmed that thousands of those illegal aliens were transported to other areas inside the United States.