Homeland Security Chief to Lead California Universities
July 12, 2013 12:28 pm Last Updated: July 12, 2013 12:31 pm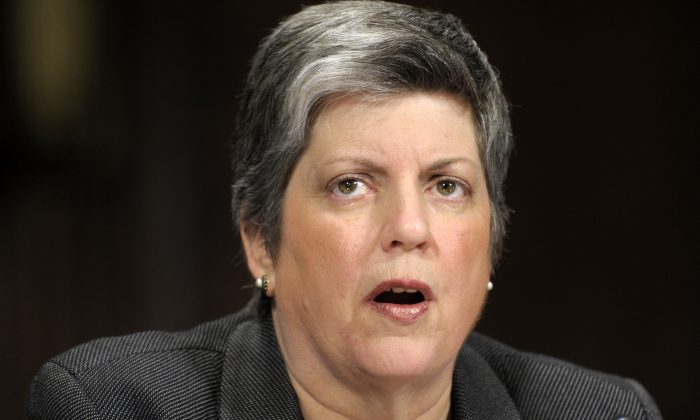 Secretary of Homeland Security, Janet Napolitano announced her resignation on July 12. She will become the first woman to head the University of California system, the largest in the country. Her departure from politics came as a surprise.
President Barack Obama thanked her for her four years of service in a statement:
"The American people are safer and more secure thanks to Janet's leadership in protecting our homeland against terrorist attacks. I've come to rely on Janet's judgment and advice, but I've also come to value her friendship. And as she begins a new chapter in a remarkable career of public service, I wish her the best of luck."
Napolitano's tenure was marked by controversy over border security, record deportations, disaster response, domestic surveillance, cybersecurity, airport security measures and the use of drones over American soil.
"Janet's portfolio has included some of the toughest challenges facing our country," Obama said.
The Boston Marathon bombing was the only successful large-scale terrorist attack on her watch. Critics faulted the DHS for not following up on warnings from Russia about the Chechen brothers accused of the attack.
In her July 12 resignation statement, Napolitano said, "The Department has improved the safety of travelers; implemented smart steps that make our immigration system more fair and focused while deploying record resources to protect our nation's borders; worked with states to build resiliency and make our nation's emergency and disaster response capabilities more robust; and partnered with the private sector to improve our cybersecurity."
Her sudden exit leaves a vacancy just as Congress wrangles with a crucial and difficult immigration reform bill. The Senate passed a bill with much tougher border security, while the House has not yet agreed on a bill.
Potential candidates to replace Napolitano include Craig Fugate, head of the Federal Emergency Management Agency, and John Pistole, head of the Transportation Security Administration, the Washington Post reported.
The Los Angeles Times first announced her appointment as UC president. It reported, "While some may consider her to be an unconventional choice, Secretary Napolitano is without a doubt the right person at the right time to lead this incredible university," from a statement by Sherry Lansing, the regent and former film industry executive who headed the search committee.
"She will bring fresh eyes and a new sensibility—not only to UC, but to all of California. She will stand as a vigorous advocate for faculty, students and staff at a time when great changes in our state, and across the globe, are presenting as many opportunities as challenges."
Napolitano was the two-term governor of Arizona. She joined the Obama administration in 2009.