WASHINGTON—Domestic terrorism, cyber warfare, and jihadist groups were identified as the biggest threats to the United States, at a recent Senate hearing.
"Right now, the terror threat to our country equals, and in many ways exceeds, that in the period around 9/11," said Elaine Duke, acting secretary of the Department of Homeland Security (DHS).
The primary international threat is from violent global jihadist groups, who try to radicalize homegrown operatives within the United States as well as attempt to send operatives into the country, Duke said at the annual "Threats to the Homeland" hearing on Sept 27.
"However, the department is also focused on the threat of domestic terrorism," she said. "Ideologically motivated extremists here in the United States are a threat to our nation, our people, and our values."
The Patriot Act defines domestic terrorism as an attempt to "intimidate or coerce a civilian population; to influence the policy of a government by intimidation or coercion; or to affect the conduct of a government by mass destruction, assassination, or kidnapping."
Motive is the key factor.
Mentally deranged individuals whose goal is to kill as many people as possible—such as the mass shootings at the Sandy Hook school, the Aurora movie theater, and Virginia Tech—are not classified as domestic terrorism.
Examples of domestic terrorist acts include the 1995 Oklahoma City bombing by Timothy McVeigh; the 2013 Boston Marathon bombing; the 2015 Charleston church shooting; the 2015 San Bernardino shooting; and the 2016 Orlando nightclub shooting.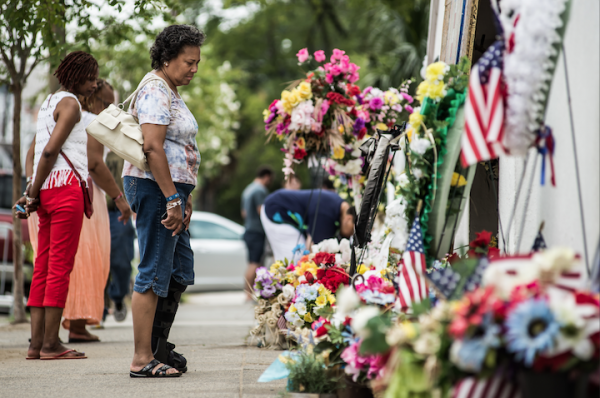 The FBI currently has about 1,000 open domestic terrorism investigations and a similar number of ISIS-related investigations, according to Director Christopher Wray.
"The domestic terrorism threat is a very, very serious one indeed, and something that we spend a lot of our time focused on," he said. "It's a top, top priority for us."
The FBI has arrested 176 domestic terrorism subjects in the last 11 to 12 months, Wray said.
Sen. Claire McCaskill (D-Mo.) expressed concern for the lack of attention on domestic terrorism.
"This committee is a good example—we've had multiple hearings on the threat of ISIS as it relates to homeland security. We have had zero hearings about the threat of domestic terrorists and the threat they pose in our country and our response to it," she said.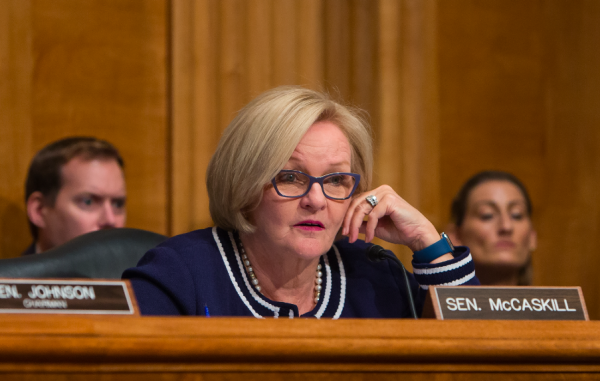 McCaskill referred to a Government Accountability Office (GAO) report that says homegrown violent extremist attacks were responsible for 225 fatalities from Sept. 12, 2001, through Dec. 31, 2016.
Of those fatalities, 106 were killed by far-right violent extremists in 62 separate incidents, while 119 were victims of radical Islamist violent extremists in 23 separate incidents, the GAO report states.
No federal charge exists for domestic terrorism, and some politicians are pushing for legislation.
However, many law enforcement officials say they have enough tools to charge homegrown terrorists, without needing a federal charge. Creating a domestic terrorism charge could also cause murkiness around the First Amendment rights of free speech and religion.
"A lot of the domestic terrorism cases that we bring, we're able to charge under gun charges, explosives charges, all manner of other crimes," Wray said. Straightforward homicide charges are also effective, he said.
Duke said that oftentimes, "when we encounter an act of violence, we don't know if it's internationally motivated or domestically motivated."
"There is no longer a 'home game' and an 'away game.' The line is blurred, and the threats are connected across borders," she said, listing the cities of recent attacks: London, Barcelona, Paris, San Bernardino, Brussels, Orlando, Istanbul, Nice, and Berlin.
Nicholas Rasmussen, director of the National Counterterrorism Center, agreed, saying the array of terrorist acts around the world is "broader, wider, and deeper" now than it has been at any time since 9/11.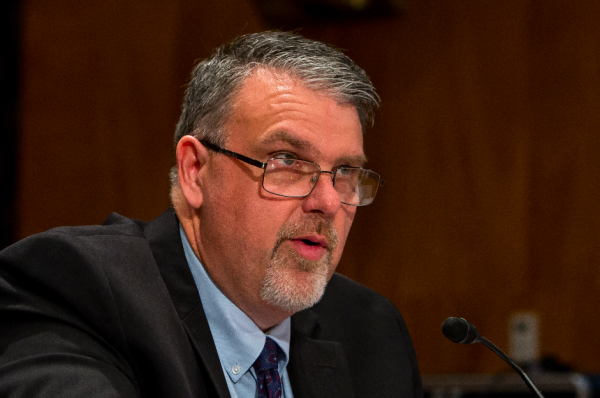 Rasmussen said homegrown violent extremists (HVEs) are the most immediate threat to the United States.
He said that although multiple factors mobilize homegrown extremists to commit violence, ISIS's large-scale media and propaganda efforts will likely continue to reach and influence them in the United States.
"The convergence of violent extremist ideology and personal grievances or perceived affronts likely played a role in motivating these HVEs to attack," Rasmussen said. He said extremists such as the Orlando nightclub shooter in June 2016 and the San Bernardino shooters in December 2015 may have also conducted attacks against personally significant targets.
Rasmussen said most homegrown extremists—either lone actors or small insular groups—tend to "gravitate toward soft targets and simple tactics of opportunity that do not require advanced skills or outside training."
The National Counterterrorism Center expects that to continue, but traditional targets are still at risk, such as military personnel, law enforcement, and other symbols of the U.S. government.
"We are still working to learn more about what may have motivated suspects in other recent attacks," Rasmussen said.
International Threats
Duke said the DHS has to prepare for a new age of terrorism.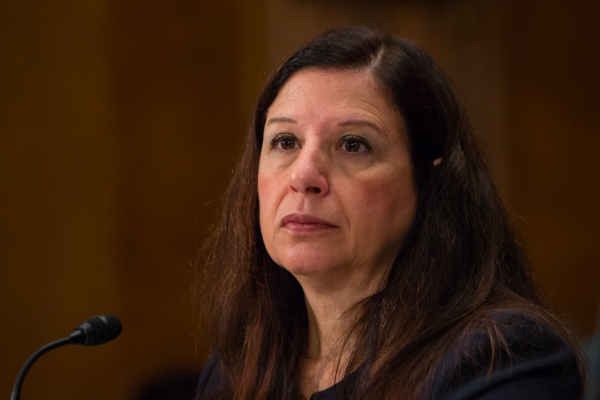 "We are seeing a surge in terrorist activity because the fundamentals of terrorism have changed," she said. "Our enemies are crowdsourcing their violence online, promoting a do-it-yourself approach that involves using any weapons their followers can get their hands on easily."
Rasmussen outlined the terror threats that have changed over the last year, including those from ISIS and new aviation threats.
ISIS has lost several senior leaders and significant territory it controlled in Iraq and Syria.
"However, these territorial losses unfortunately have not translated into a corresponding reduction in the group's ability to inspire attacks," Rasmussen said. "It also tells us that the ISIS ability to reach globally is still largely intact."
He said ISIS is, in some ways, reverting to its roots, "[using] the tactics we saw in the period of 2004 to 2008—when it operated as an insurgency called al-Qaeda in Iraq."
And, Rasmussen said, al-Qaeda itself has never stopped being a terror threat.
Aviation Threats
Rasmussen said a resurgence in aviation threats has emerged in the last year and is causing a level of concern not seen since 2010.
In July, four men were arrested in Sydney, Australia, after an ISIS-inspired plot to bring down a plane was uncovered and disrupted. The Australian Security Intelligence Organisation raised the aviation threat level to "probable" for several days before downgrading it to "possible."
In June last year, three attackers killed 45 people and injured more than 230 in a gun and bomb attack on Istanbul's Ataturk airport. No one claimed responsibility for the attack, but officials said it bore the hallmarks of ISIS.
ISIS claimed responsibility for a March 2016 attack on an airport and metro in Brussels, where three suicide bombers killed 32 people and injured more than 300.
"Terrorists remain focused on aviation targets because they recognize the economic damage that may result from even unsuccessful attempts to either down aircraft or attack airports, as well as the potential high loss of life and the attention the media devotes to these attacks," Rasmussen said in his prepared remarks.
"Violent extremist publications continue to promote the desirability of aviation attacks and have provided information on how to target the air domain."
Cyberthreats
Wray said changes in technology are a primary concern the FBI faces. He said the nature of threats has changed, and the scope and scale have increased.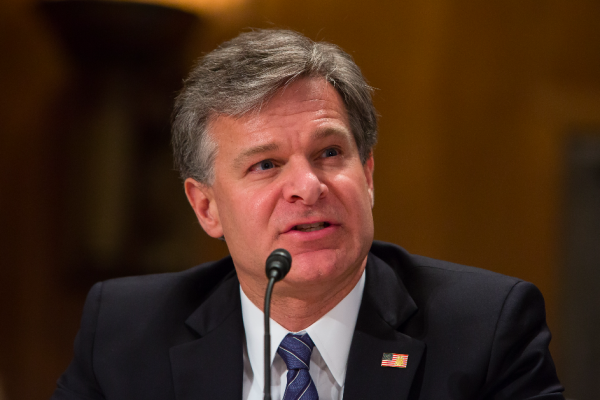 "Virtually every national security and criminal threat the FBI faces is cyber-based or technologically facilitated," he said in his prepared remarks.
"We face sophisticated cyber threats from foreign intelligence agencies, hackers for hire, organized crime syndicates, and terrorists. These threat actors constantly seek to access and steal our nation's classified information, trade secrets, technology, and ideas—all of which are of great importance to our national and economic security. They seek to strike our critical infrastructure and to harm our economy."
Groups such as ISIS can spread their propaganda and inspire attacks through social media, and encryption technology—which ensures citizen privacy—makes it easy for bad actors to communicate and coordinate but difficult for law enforcement to investigate.
Counterterrorism Efforts
Rasmussen said that although more challenges exist in the world today, "we have more capacity to defend ourselves— more capacity to keep ourselves safe—than we have ever had before."
"The number of arrests and disruptions we've seen around the globe … is testament to really effective and strong law enforcement and intelligence work," he said.
Duke said the recent tailored travel restrictions are part of counterterrorism efforts. The DHS now requires all foreign governments to share information—including terrorist identities and criminal history information—with the U.S. government before a person travels into the country.
"We must know who is coming into our country," she said.
The DHS is also focusing on securing the aviation sector, disrupting transnational criminal organizations, increasing security within the postal and cargo services, and conducting public awareness campaigns.
Reuters contributed to this report.