Home Sales and Prices Climb Modestly for the Time Being
Household wealth reaches record levels as leverage creeps higher
September 18, 2013 8:54 pm Last Updated: September 18, 2013 8:56 pm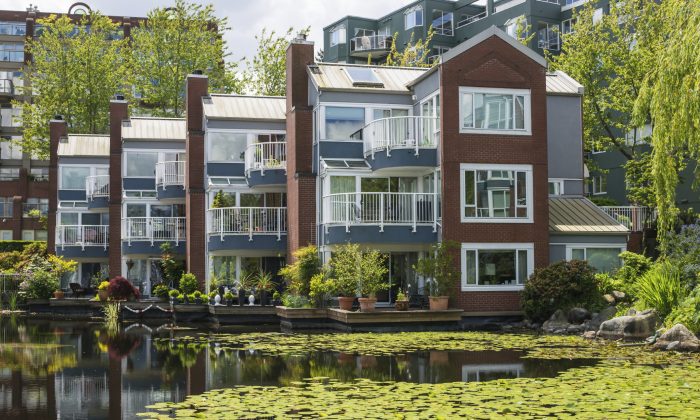 National home sales rose 2.8 percent month-over-month and home prices rose 2.9 percent year-over-year in August, both of which were improvements from July, according to statistics released by the Canadian Real Estate Association (CREA) on Monday.
Increases in the major cities tipped the balance in favour of a modest aggregate rise in sales nationally.
The national average year-over-year sales increase of 11.1 percent hides the fact that east of Ontario, sales fell. According to a Desjardins economics note, while sales rose 10.6 percent in Ontario, 11.8 percent in the Prairie provinces, and 28.6 percent in B.C., sales fell 1.1 percent in Quebec and 2.4 percent in the Atlantic provinces. 
Although the 11.1 percent figure might sound impressive, it needs to be balanced against the cooling state of the housing market a year ago when the federal government tightened mortgage rules. 
"Sales activity dropped sharply around this time last year in the wake of tightened mortgage rules and has improved since then, so a sizeable year-over-year increase this August was expected," said Gregory Klump, CREA's chief economist.
Klump also explained that strong year-over-year gains may persists in the latter part of this year due to the weakness at the corresponding time last year.
The good news in terms of monthly sales and price increases isn't expected to be a lasting phenomenon, mainly due to rising mortgage rates.
According to a TD Securities note, "We do not expect the recent reacceleration in the housing market to last too much longer, as mortgage rates are expected to continue to rise through the end of 2013 and into 2014, reducing affordability." 
Many market analysts postulate that those potential homebuyers who are pre-approved at lower rates have been hurrying to lock in those rates before they rise, but that this phenomenon has limited depth.
The rise in mortgage rates should have an acute effect in Quebec and the Atlantic provinces.
Canadian Households Getting Wealthier
There was also some good news for Canadian households in Statistics Canada's national balance sheet data released Sept. 13, which showed that household net worth rose to its highest level on record—$7.3 trillion for the second quarter of 2013. 
But the leverage of Canadian households also rose, after moving lower in the prior two quarters.
Household assets increased by $77 billion (0.9 percent), while household liabilities increased $28 billion (1.6 percent), according to RBC economics research. The debt-to-asset and debt-to-net worth measures deteriorated, but the figure that garners more attention is the credit market debt to disposable income ratio (leverage), which moved higher for the first time in three quarters up to 163.4 percent.
"This largely reflected the seasonal bounce in mortgage borrowing in the spring that is associated with the higher volumes of housing market activity during the peak home sales season," says a Royal Bank economics research note.
The pace of credit growth in Canada has been a significant concern of the Bank of Canada. However, the upside is that despite the deterioration in these ratios, "the year-over-year increase in household credit growth eased to 4.9 percent in Q2/13 to mark the slowest pace of growth since Q4/01," according to Royal Bank.
The national balance sheet data point to an improving situation as far as financial stability is concerned. Canadians are becoming wealthier and the growth of credit (leverage) is under control.