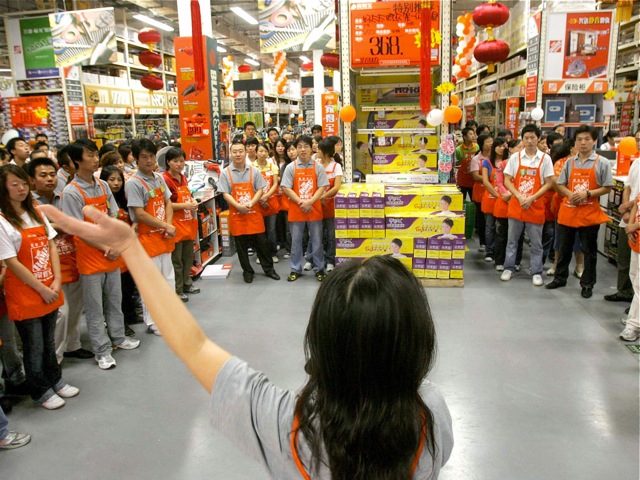 Home Depot, Inc. announced on Sept. 14, it is closing its last seven retail stores in China, cutting 850 jobs.
Although Home Depot declined to tell The Epoch Times why it suddenly closed the stores, Ma Yanshan, director of the store in Zhengzhou, said there was an impromptu telephone meeting on Sept. 13, in which it was announced that all seven stores in China would be closed due to poor business performance, according to Broadcasting Corporation of China (BCC).
The world's largest home improvement chain has struggled to get off the ground since it entered the Chinese market late in 2006 and had already closed five stores in Beijing between 2009 and 2011, according to the Business Insider.
Despite large-scale personnel changes and the expertise of high quality executives, Home Depot was unable to expand its business, as widely reported by Chinese media.
"China is a do-it-for-me market, not a do-it-yourself market, so we have to adjust," Home Depot spokeswoman Paula Drake told Reuters late Thursday.
A Home Depot representative told The Epoch Times that the company is not abandoning the Chinese market. Rather, it is making a strategic adjustment and shifting its focus to specialty stores and Internet sales. A team will remain in China to develop new business models.
The company expects to incur a $160 million charge due to the closures, which includes goodwill, asset impairment, terminated contracts, severance pay, and other related business payments, according to Netease Financial edition online.
Employees Protest
Employees were caught off guard when they received notice to close the stores before their shifts ended on Sept. 13. They first realized what had happened, the next day, when Home Depot announced in a press release that it had officially closed down all seven stores in China, according to Phoenix online.
Due to the swift closures, 850 employees suddenly found themselves without jobs causing many to protest in the streets holding up large banners and demanding that Home Depot pay their remaining salaries.
Home Depot said it intends to employ a special team responsible for providing former employees with severance packages and job placement assistance.
The Epoch Times publishes in 35 countries and in 19 languages. Subscribe to our e-newsletter.