HOLLYWOOD, Calif.—A Hollywood rally April 15 meant to show solidarity for Daunte Wright, a 20-year-old Minnesota man fatally shot by police, ended in violence.
The 8:30 p.m gathering, near Sunset Boulevard and Vine Street, included about 150 people circled around an empty concrete fountain. Plastic flowers and candles lined the fountain, where a large photo of Wright was erected.
The black man was killed April 11 during a traffic stop and attempted arrest on an outstanding warrant in Brooklyn Center, a Minneapolis suburb. He was shot by officer Kimberly Potter, who later said she mistook her gun for a Taser.
Potter was charged with second-degree manslaughter and faces a maximum sentence of 10 years in prison.
During the Hollywood rally, Los Angeles Police Department (LAPD) officers lined the sidewalk areas across the street from the crowd.
Meanwhile, men worked to block out business windows with plywood; preparing for the possibility of looting amidst racial tensions around police shootings in the wake of the trial of former Minneapolis Police Officer Derrick Chauvin in the killing of George Floyd.
At one point, men dressed in black began to hand members of the crowed stickers containing the symbol of anti-fascism, a logo for Antifa.
Soon after, another man began to play Leonard Cohen's "Hallelujah" on the acoustic guitar while a few in the tightly packed crowed began to sing along with him.
Standing in the background behind the photographic display of Wright were men with black ballistic combat helmets, full black face masks, eye protection, and back riot protection gear clad with buttons and art in adding flair to their ominous outfits.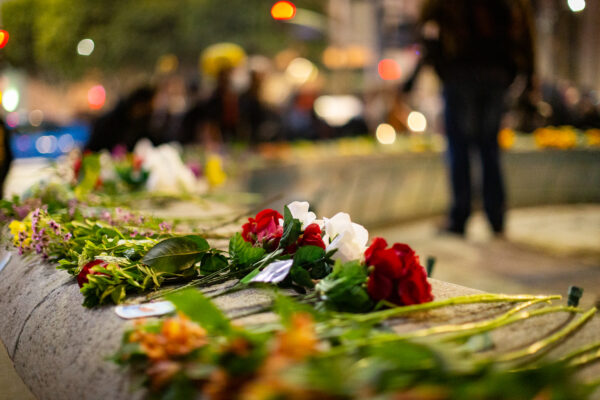 After 10 p.m., protesters took the streets chanting "Black Lives Matter," and expletives at the police, along with Wright's name, as they were followed by members of the LAPD, now clad with riot gear.
The LAPD announced an unlawful assembly shortly after 10 p.m.
During this time, The Epoch Times was notified that Scriberr journalist Kalen D'Almeida was assaulted by protesters during a brief break from his live streaming at approximately 10:30 p.m.
D'Almeida is known for his coverage of the summer 2020 riots and was behind the footage of Marquise Love kicking a man in the head in Portland which led to Love's arrest.
Although D'Almeida is usually a mere witness to such violence, on April 15 he was the target.
"Eventually, they started marching, and everything was fine. No one was bothering me. But at some point, around Highland Ave., they determined that I was not their friend," D'Almeida told The Epoch Times. "And I was live streaming. So, I noticed that, as I was walking down the sidewalk, there was a couple of guys behind me, and they were pretty close, it was a little suspicious.
"Sure enough, one of these guys steals my phone, and I didn't know what happened to it. He runs into the middle of the street, and I thought he still had it so I followed him to try and get it back. And his comrade alerts him says, 'Hey, watch out,' as though I was going to retaliate, which I wasn't."
That's when D'Almeida said he was attacked. As one man held him by the back of his collar, he said another approached and punched him in the face, knocking him down. He curled into a ball as the attackers stomped on him and kicked him, he said.
"I don't know how long that went on for but finally a crowd formed and kind of deescalated the situation," D'Almeida said.
"After the first punch, I think that really like kind of put me in this blank state. I really didn't have anything going through my mind, so I think if people didn't come to deescalate, I may not have walked out of that."
One of the protesters, noted as being one of the organizers of the demonstration by D'Almeida, was seen through footage by videographer Tomas Morales urging the crowd to keep marching after the attack.
"Keep marching, keep marching," she can be heard saying. She also accosted D'Almeida, he said, slapping him multiple times in the face.
"You learned your [expletive] lesson, right?"
D'Almeida, who suffered a fat lip and concussion, said he is unconfident in filing a police report, given the nature of the LAPD's non-interaction in responding to scuffles throughout the night.