Holly Fisher, now known as Holly Hobby Lobby, has quickly become famous–infamous to some–for posting a series of pictures supporting the company amid the backlash that has surrounded it.
The Supreme Court recently ruled that owners of privately-held companies can restrict birth-control coverage for employees for religious reasons. Fisher, a mother of three and wife of a soldier, then posted a picture with a pro-life shirt in front of Hobby Lobby.
"ATTENTION LIBERALS: do NOT look at this picture. Your head will most likely explode," she said in the photo description. She later posted another picture, of her holding a gun and a Bible and standing in front of an American flag. "Biggest complaint I'm getting about my #HobbyLobby pic is there's no gun, bible, or flag. Tried to make up for it," she said.
Some people started comparing the photo with one of Sherafiya Lewthwaite, an international terrorist known as the White Widow. Lewthwaite is in a similar pose, with a different gun and the Koran instead of the Bible.

(Twitter)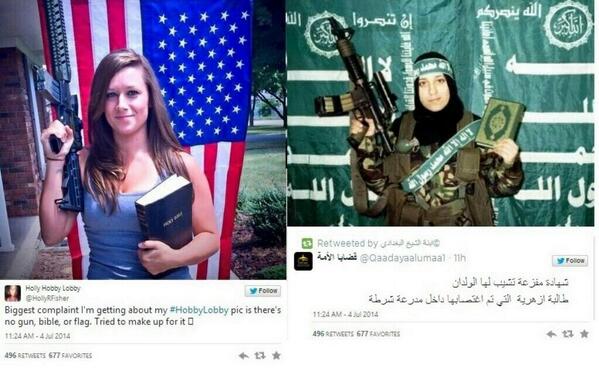 (Twitter)
Other pictures on her social media pages show her with other guns, as well as with her children.
In the first photo of Fisher, she is also holding a Chick-fil-A cup. That company is also known for supporting conservative and Christian principles.
Fisher told  the Joe Pags Show how the photo was set up.
"It was the day of the [Supreme Court] ruling and we had just gone through the Chick-fil-A drive-thru. Here, Chick-fil-A and Hobby Lobby just happened to be right beside each other. And my husband looked at me when we were leaving Chick-fil-A and he said, 'you look totally right-winger right now.' So we just pulled over to Hobby Lobby and I told him we should take a picture and he did. I thought it would be a funny little thing with my Twitter followers but I never thought that his would happen."
She further explained to Liberty News:
"I have always been extremely conservative and passionate about my views. The last few years of the growing hate and intolerance among the 'tolerant' left has made me want to stand up and speak out. I saw this as a perfect opportunity to show where I stand.
"I didn't do it to try to change minds of those who disagree with me, but more so to show like-minded people that they're not alone and it's okay to stand up for what you believe in, even if it's not popular right now. I want younger Americans to know it's okay to not follow the current liberal path."

(Facebook)

(Facebook)
See a previous story from the Associated Press about the Hobby Lobby ruling below.
Hobby Lobby Supreme Court ruling applies to contraceptive coverage under new health care law
WASHINGTON — The Supreme Court on Tuesday confirmed that its decision a day earlier extending religious rights to closely held corporations applies broadly to the contraceptive coverage requirement in the new health care law, not just the handful of methods the justices considered in their ruling.
The justices did not comment in leaving in place lower court rulings in favor of businesses that object to covering all 20 methods of government-approved contraception.
Oklahoma-based Hobby Lobby Inc. and a Pennsylvania furniture maker won their court challenges Monday in which they refused to pay for two emergency contraceptive pills and two intrauterine devices.
Tuesday's orders apply to companies owned by Catholics who oppose all contraception. Cases involving Colorado-based Hercules Industries Inc., Illinois-based Korte and Luitjohan Contractors Inc. and Indiana-based Grote Industries Inc. were awaiting action pending resolution of the Hobby Lobby case.
They are among roughly 50 lawsuits from profit-seeking corporations that object to the contraceptive coverage requirement in their health plans for employees. Contraception is among a range of preventive services that must be included in the health plans, at no extra cost to workers.
The justices also ordered lower courts that ruled in favor of the Obama administration to reconsider those decisions in light of Monday's 5-4 decision.
Two Michigan-based companies, Autocam Corp. and Eden Foods Inc., both lost their cases in the lower courts. The justices ordered the 6th U.S. Circuit Court of Appeals to reconsider its decisions against the companies.