A cruise ship scheduled to arrive in Florida in the coming days has reported that at least 189 people on board are suffering from influenza-like symptoms, at least two have tested positive for the CCP virus, and four people have died.
Holland America's Zaandam ship started traveling down the Panama Canal on Sunday night after it was docked in Panama for several days. Several South American ports denied the ship entry, according to a statement from the firm.
"We greatly appreciate this humanitarian consideration and the compassion shown for our guests and crew by the government of Panama and the Panama Maritime Authority. We are also thankful for the support of the various embassies that are partnering with us to help get their citizens home as quickly as possible," the cruise operator wrote on Sunday night.
The ship is still slated to arrive in Fort Lauderdale, Florida, on April 7.
It's not clear if the four people died from the virus.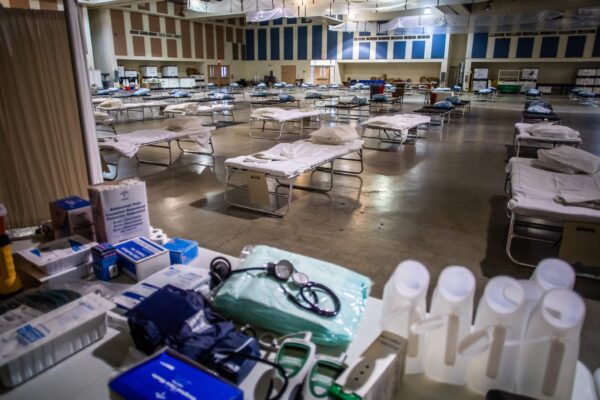 "Guests have not been ashore since March 14 in Punta Arenas, Chile, and have been self-isolating in their staterooms since March 22," Holland America also wrote.
Zaandam and another Holland America cruise ship, the Rotterdam, are both heading down the Panama Canal, said the canal's operators on Sunday. Passengers who are not experiencing symptoms of the CCP (Chinese Communist Party) virus, which causes COVID-19, were transferred from the Zaandam to the Rotterdam on Saturday, according to Holland America.
The agency that runs Port Everglades in Fort Lauderdale said it will take about three days for both cruise ships to reach South Florida after they leave the Panama Canal, CNN reported. Port Everglades said Sunday that passengers on the ship have not been cleared to disembark in Fort Lauderdale.
Holland America has to submit a plan prior to arrival to the port.
Florida Gov. Ron DeSantis said that he believes it's a mistake to allow the ships to dock in South Florida.
"We think it's a mistake to be putting people into southern Florida right now given what we're dealing with, so we would like to have medical personnel simply dispatched to that ship and the cruise lines can hopefully arrange for that, tend to folks who may need the medical attention. But I think a lot of these are foreign nationals, and we want to make sure we have the beds available for the folks here in southern Florida," DeSantis said at a news conference on Monday, according to Local10.
Fort Lauderdale Mayor Dean Trantalis said he is working with other authorities to create a plan to receive the passengers.
"Putting us at risk, which is unfair to the community, which has for weeks now been under lockdown, trying to prevent the spread of this disease," the mayor said.
The CCP virus first emerged in Wuhan, China, before spreading to nearly every country in the world, causing a global pandemic.