Transport Secretary Grant Shapps on Thursday asked for "patience" from British holidaymakers who are eager to go to destinations on the government's "amber list."
It comes after Prime Minister Boris Johnson stressed on Wednesday that people shouldn't go to amber list countries except in extreme circumstances.
"The amber list and the red list are not for holidaymakers, that's not the purpose of those lists at this time," Shapps told BBC Radio 4 on Thursday, as he speaks to a number of broadcasters to launch the government's new rail reform plan.
"We just think that after a year of lockdowns in this country, of people coming forward in record numbers to get their vaccines, we do not want to be in a position of taking risks at this stage about our unlock," he said.
Shapps said the government is " just asking people to be a little bit patient" as other countries catch up with their vaccination programmes.
Under the UK government's traffic light system for international travel, people travel back from the "red list" countries have to pay for a 10-day-quarantine in a managed hotel and two CCP (Chinese Communist Party) virus tests; "amber list" arrivals have to pay for tests and self-isolate for ten days, while "green list" arrivals only have to take two tests before travelling and two days after arriving.
"There's an awful lot that you have to do and clearly most people are not going to want to go through all of that," Shapps told The BBC.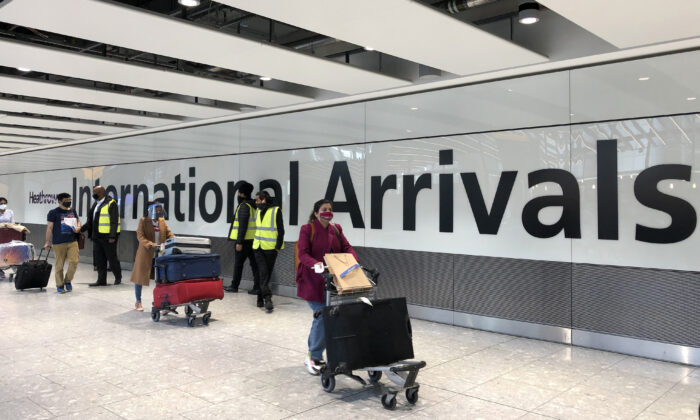 When asked why there are still direct flights from red list countries such as India, Shapps told Sky News: "You cannot prevent British citizens from returning home, no country can ban its own citizens."
People on the flights were only British or Irish citizens or those with permanent residence, and "it's illegal [to] come here as a holidaymaker from a red list country," Shapps said, adding that it was simpler to send people to quarantine hotels from a direct flight.
If there were no direct flights "you would be forcing a situation where people end up spread amongst many other flights and making it harder to carry out the mandatory hotel quarantine," he said.
EasyJet Chief Executive Johan Lundgren on Thursday confirmed that people had been booking flights to amber countries for leisure.
"There's a lot of people out there who have as a top priority coming through this pandemic to go on that holiday break," Lundgren said. "That is what people are doing."
Asked why holidays in amber list countries were being sold, Shapps told Sky News that the Government had moved away from a system where things were "banned and illegal" to a situation where people were expected to "apply a bit of common sense."
He urged travel companies to help people rebook their holidays.
Speaking to Times Radio, Shapps said because there's "not free and open travel" to amber list countries, "travel companies who stick to that and refuse to rebook, I would suggest are not in the right place."
"I just appeal to the holiday companies, and there is protection in place for particularly package holidays through the Atol system, to be as flexible as possible and as helpful as possible," he told ITV's Good Morning Britain.
"It is, I know, a frustrating situation as we all sit here, frankly, and wait to see what the virus does next."
He acknowledged that "there's no doubt at all" that the CCP virus "has made life impossibly difficult not just for holidaymakers but for travel companies as well."
But Lundgren argued that the UK is "falling behind" other European countries in terms of reopening travel.
"We have looked at the data that is available and the scientific evidence shows that you have a number of countries in Europe that are now on the amber list that should go into the green list," Lundgren said. "You can see that that is happening in Europe as we speak. European travel is opening up at [a] large scale. This is not about whether the UK is risking falling behind. It is falling behind as we speak."
EU ambassadors on Wednesday recommended during a meeting that rules should be changed to allow fully vaccinated people into the EU for non-essential visits.
"We urge the Government to look at this data again and make sure that they also are following the rules and the conditions that they set up themselves," Lundgren said.
Shapps told BBC Radio 4 that the government is reviewing the list every three weeks, and the next review is in the first week of June.
PA contributed to this report.