HONG KONG—Last season's first division Hong Kong Hockey Association Cup champions Nav Bharat Club-A were unable to defend their title when they were soundly beaten by Singh Sabha Sports Club-B 3-1 at King's Park, Wiley Road last weekend in their semi-final encounter.
NBC-A coach Farouk Khan was not perturbed and visually proud of his young charges display against SSS-B side who also beat them for promotion to the Premier League to leave NBC in second place.
Khan, who claimed he was the oldest in the side and in his 40's said the display by his team ensured there was more to go for his players, whose average ages are between 20-22 years.
"This is a relatively young side and what they showed today was a fighting spirit that we need to bring this team forward," said Khan, who was on the victorious side last season.
"All we lacked was the finishing touches today, as we were able to take the ball right up to their 'D' but were unable to kill it," he said.
With NBC's demise, it opens the door for SSSC-B whose senior club is looking for a win in the Holland Cup with their A-team,. The B team is hoping for success in the second-tier HKHA Cup.
NBC-A had to call up their B-team goal keeper Singh Dilyadav as their regular keeper was out with a fever.
Even opposite number, player coach-convenor Jimmy Singh felt bad about beating NBC-A, saying their experience overpowered their opponents.
"There was no doubt today we were the more experienced side but it's good to see youngsters coming up through the ranks," Singh said, who once played for Hong Kong as well as for a number of local clubs.
His side took their chances as they knew what to expect against a side they have met previously during the league and other tournaments this season.
"NBC have some good young players and if given the right chances and training, I can see many of them representing Hong Kong in the future," said Singh.
SSS took a 2-1 lead into the breaking but a late goal saw them having to fend off a late challengers from NBC until SSS's Jugdeep Singh dived to score from a loose ball to kill off their opponents
With the victory, SSS-B will face Hong Kong Football Club-C in the final after they tore apart SSSC-C 7-1.
In other semi-finals played, it was the HKHA Bowl to take center stage with Antlers-B outpacing Scorpions 3-0 while in the other semi-final Marcellin-A lost to Recreio-D 0-3.
In the HKH Bowl final Antlers-B will face off against Recreio-D while the Plate final will see Pakistan Association-B take on RHOBA-B after Pakistan-B edged out Antlers-A by a 3-2 margin. RHOBA-B beat HKFC-F 3-1.
In other related news, Dutch-A earned Premiership promotion after they edged out Rhino-A by a 2-1 score in the Division 1 playoff.
HKHA Youth Cup 2017
Khalsa U16 youth hockey team were crowned HKHA youth cup champions by beating Antlers 3–0 in the final at King's Park.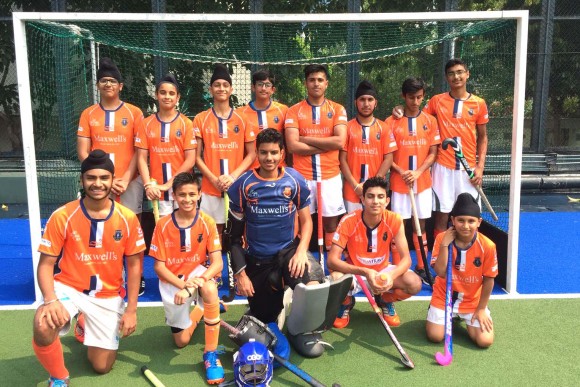 Eddie So is a seasoned sports journalist and photographer and has worked for a number of media companies in Hong Kong over a period of more than 20 years.