HONG KONG—In the second half of the season, league deciding matches are being played nearly every week in the HKHA Premier Division. Last Saturday Jan 15 was no exception with a top of the table clash between HKFC-A and SSSC-A, hugely important to both teams.
A win for top of the table SSSC would allow them to keep the top spot after this coming week's games when they have a bye. While HKFC needed to win to keep them in the title race. Khalsa are playing catch-up having played a game less but had a straight forward 7-2 win against KNS-A last weekend.
Both HKFC and SSSC were missing key players. For HKFC Ken Tsang was injured and Arif Ali their top goal scorer was away on Coaching Duty. SSSC were missing there lively forward Muhammad Bashir, and main strikers Muhammad Asad and Deepanshu. HKFC brought in B team players Stuart Evans (right back) and Phillip Boettger (midfield) as replacements and they both had commendable games.
In the 1st half SSSC had a high percentage of the play and created a number of clear shots on goal, several penalty corners but goals were illusive. HKFC resorted mainly to defense, initiating counter attacks when they were able. One of these forays late in the 1st half developed into a melee close to the SSSC goal, with 3 HKFC attackers on hand and Howard Hoskins, much against the run of play, put HKFC into a 1-0 lead going into the half time break.
At that point in the match, although SSSC were 1 goal down and clearly missing their top flight goal scorers, they still looked in control of the match and continued their penetrating attacks. But no matter what they tried the final balls went astray. 
HKFC players boosted by the goal showed a clear improvement in their play allowing more counterattacks on the SSSC goal. After 13 minutes of 2nd half play a ball struck into the circle was expertly deflected into the SSSC goal by Angus Allan for a 2-0 lead.  
This spurred SSSC to exert even more pressure. A quick release of forwards caught HKFC short in defense, a direct shot on goal was blocked and a penalty stroke was awarded. Although HKFC goalie got a touch on the ball, it flew into the net to make the score 2-1 with just 7 minutes of the match remaining.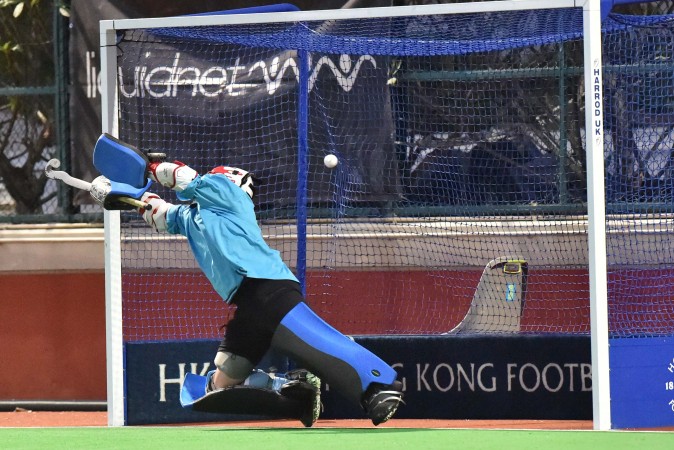 The match intensified further with SSSC trying to rescue their day but HKFC players were now playing at the top of their game, they cut out SSSC attacks and distributed accurate balls up-field to relieve the pressure and set up forward play of their own.  An incident on the right hand side of the pitch with a HKFC player pushing forward, stopped play but there was confusion as to which direction the free hit should be taken HKFC's Ishtiaq Ahmed shot off with the ball squeezed it past 2 defenders to Michael Gee who confronted the SSSC goalie, slipped the tackle and scored putting HKFC in relative safety at 3-1 with 3 minutes remaining.
Frantic attacks by SSSC could not salvage the situation, leaving HKFC 3-1 winners to finish top equal with SSSC on 28 points. Khalsa are sitting just 2 points behind with a game in hand.  This coming week Sunday Jan 22, Khalsa play HKCC, HKFC play KNS while SSSC sit on the sidelines with a bye.
In the first match after Chinese New Year on Feb 5 SSSC will play Khalsa and another epic is anticipated – this time at King's Park.
In the Group B matches Valley-A beat Shaheen-A 3-1 and Pak-A just edged KCC-A 4-3. Pak- A are on 14 points, HKFC-B are on 9 points, Valley-A and KCC-A are on 8 points with Shaheen-A on 5points.  
Hockey this week
Matches on Sunday 22 are HKFC-A vs KNS-A and HKFC-B against Shaheen-A at HKFC-A and at King's Park, Khalsa vs HKCC-A and HKFC play KCC-A.
Standings table