This article has been updated with the latest information.
Jimmy Lai, a Hong Kong media tycoon and pro-democracy activist, was arrested Monday morning on allegations of violating the city's new national security law imposed by Beijing. His arrest marks the most overt action taken by Hong Kong's pro-Beijing Lam government under the central government's law.
At 71 years old, Lai is one of a few remaining Hong Kong elite openly vocal about supporting the city's pro-democracy movement. Lai founded Next Digital, the media that publishes the widely read Apple Daily, known for its critical coverage of the Chinese Communist regime and the Hong Kong government during the past year of protests.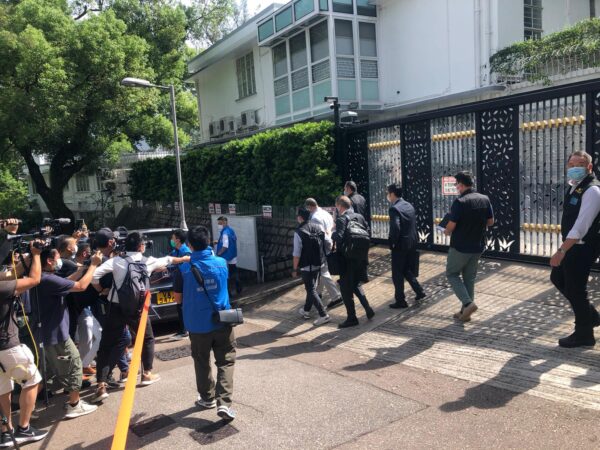 Police arrested Lai at his home around 9:30 a.m. on Monday. Hong Kong police said they arrested several males "on suspicion of collusion with a foreign country or external elements to endanger national security, conspiracy to defraud, and other offenses," according to the police's official Facebook page.
On Monday evening, police held a press conference announcing that 10 people were arrested on Monday on suspicion of violating the security law.
Young pro-democracy activist Agnes Chow confirmed that she was arrested on the charge of "inciting secession" under the security law, according to a Facebook post on her official page.
The Oriental Daily, a local Chinese-language newspaper, reported that Lai's two sons, Lai Gin-yan and Chow Tat-kuen, were also apprehended by police.
Others arrested include the executive directors of Next Media, Cheung Kim-hung and Chow Tat-kuen. Wong Wai-Keung, Lai's administrative director, is also under arrest, as well as Ng Tat-Kwong, the company's manager of animation.
A live stream from Apple Daily, one of Lai's media companies, showed a mass of Hong Kong police officers outfitted in blue uniforms marching into the media's headquarters. Police were seen sifting through files on desks, lining up staff for identification, and searching through the newsroom floor.
Can you imagine the newsrooms of @nytimes or @guardian encounter something like this? After HK police arrested @JimmyLaiApple, hundreds of police were sent to Apple Daily office without the search warrant. pic.twitter.com/mia12rSYyP

— Joshua Wong 黃之鋒 😷 (@joshuawongcf) August 10, 2020
Police have also allegedly searched the home of Lai and his sons, Apple Media executive Mark Simon wrote in an update on Twitter.
The police have not yet responded to The Epoch Times' request for comment.
Both local and international voices immediately expressed their adamant condemnation of the Hong Kong government's actions, seeing it as a crackdown on Hong Kong's press freedom.
"The 'crime' committed by Jimmy Lai is to operate a free press," tweeted Hong Kong legislator Eddie Chu.
Missouri Senator Josh Hawley criticized the act as an attack on free speech.
"Longtime Hong Kong publisher arrested for daring to speak out against Chinese Communist Party—actually, for daring just to report the news. This is the "free speech" China wants to force on the world," Hawley said on Twitter.
Longtime #HongKong publisher arrested for daring to speak out against #ChineseCommunistParty – actually, for daring just to report the news. This is the "free speech" #China wants to force on the world https://t.co/Xw2NlvREy1

— Josh Hawley (@HawleyMO) August 9, 2020
This isn't the media tycoon's first time being arrested by the Hong Kong authorities.
In February of this year, Lai was arrested for participating in a protest in August 2019 against China's extradition bill.
A longtime outspoken advocate for Hong Kong's democracy, Lai has continually voiced his dedication to supporting Hong Kong's democracy protest. In an interview in May, Lai told Reuters, "What I have, this place gave me, I will fight on till the last day."