For one group of people inside the Southern California country music bar where a black-clad gunman opened fire with a .45-caliber handgun in the early hours of Nov. 8, it was the second time they narrowly escaped a mass shooting.
Nicholas Champion told CBS reporters that he was inside the Borderline Bar & Grill in Thousand Oaks when a hooded gunman threw smoke grenades and opened fire on the crowd, killing 12 people and sending hundreds fleeing.
The gunman was later found dead at the scene.
Champion said he and "about 50 or 60" others who narrowly escaped the deadly gunfire at the country bar also survived the shooting that killed 58 people and injured nearly 500 others at a country music concert in Las Vegas last October. Authorities said Stephen Paddock fired down on a crowd of concert-goers from his Mandalay Bay hotel suite. He later shot and killed himself as police approached his room, according to officials.
"It's the second time in about a year and a month that this has happened," he said. "It's a big thing for us. We're all a big family and, unfortunately, this family got hit twice."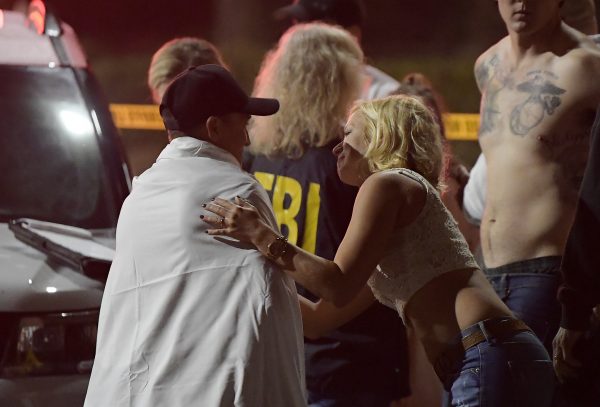 Ian David Long was identified as the suspect who opened fire the bar. At least 12 people were shot and killed before Long turned the gun on himself.
"It's a horrific scene in there," Dean told a news conference in the parking lot of the Borderline Bar & Grill. "There's blood everywhere."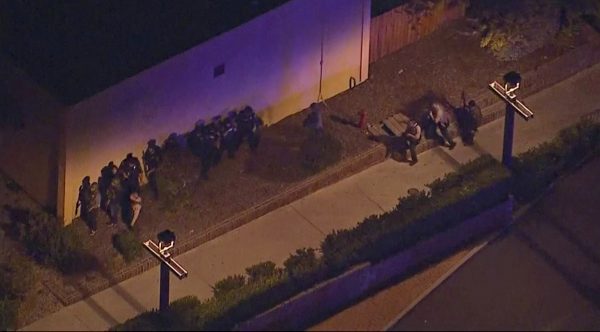 'Great Bravery Shown by Police'
President Donald Trump said Thursday on Twitter that he has been "fully briefed on the terrible shooting." He praised law enforcement, saying "Great bravery shown by police" and "God bless all of the victims and families of the victims."
I have been fully briefed on the terrible shooting in California. Law Enforcement and First Responders, together with the FBI, are on scene. 13 people, at this time, have been reported dead. Likewise, the shooter is dead, along with the first police officer to enter the bar….

— Donald J. Trump (@realDonaldTrump) November 8, 2018
The first victim of the shooting at the bar in Thousands Oaks has been identified as Ventura County Sheriff Sgt. Ron Helus.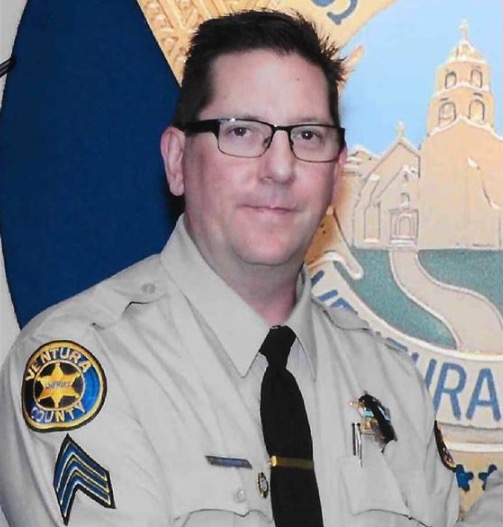 Sgt. Helus and a passing highway patrolman were responding to several 911 calls when they arrived at the bar at about 11:20 p.m., the sheriff said. They heard gunfire and went inside.
Sergeant Helus "immediately made entry into the bar and confronted the shooter but was shot and severely wounded. Civilians and other deputies pulled Sergeant Helus from the bar," the Ventura County Sheriff's Office said in a statement.
"Sergeant Helus was taken to a local hospital where he died from his wounds."
Helus, who served with the office for 29 years, leaves behind a wife and son.
"He gave his all, and tonight, as I told his wife, he died a hero," Sheriff Geoff Dean told reporters, briefly choking back tears, at a press conference. "He went in to save lives, to save people."
A Handgun and Smoke Grenades
Hundreds of people were inside the bar when the shooting occurred, the Los Angeles Times reported.
A witness told KABC-TV that he saw a security guard get shot, adding that the gunman appeared to use a handgun and smoke grenades.
"The gunman was throwing smoke grenades all over the place," a different witness told KABC. "I saw him point to the back of the cash register … and he just kept firing. I ran out the front door.
"There was probably three or four [shots]. I hit the ground. I look up—the security guard is dead. Well, I don't want to say he was dead, but he was shot. He was down."
Witnesses told ABC News that a man fired several shots from a handgun before tossing smoke bombs and starting to fire again.
The massacre was the deadliest mass shooting in the United States since 17 classmates and teachers were gunned down at a Parkland, Florida school nine months ago.
The Associated Press contributed to this report.