More than 35 years after playing his last game—and 32 years after managing his last one for the Cincinnati Reds—baseball's "Hit King" Pete Rose still draws large crowds in Cincinnati, where he remains one of the Queen City's favorite sons.
Now 80 years old and a grandfather, Rose likely won't be attempting his signature head-first slide that underscored his nickname of Charlie Hustle, but the three-time World Series champion—and 17-time All-Star at five positions—is still hustling his autograph and bantering with fans who wait in long lines to get it.
Rose appeared at the Sports Gallery's Sports Memorabilia Show in the Cincinnati suburb of Forest Park on Dec. 3, where he signed about 500 autographs at $59 to $79 a pop—depending on the item, and whether you wanted Rose to add an inscription on it.
A ball. A bat. A baseball card. A Cooperstown Collection Pete Rose jersey with his familiar No. 14 on the back—ironic since Rose was banned from baseball for life in 1989 for gambling on the game, including his own team.
His offense of violating baseball's Rule No. 21, also made him him ineligible for induction into Baseball's Hall of Fame in Cooperstown, NY, soon after.
This year marked the 40th year Rose has appeared at sports memorabilia and autograph shows. He first was inside a closed auto dealership in Cincinnati, during baseball's strike-shortened summer of 1981 that lasted for 51 days.
Rose was playing for the Philadelphia Phillies. It cost $2 to get his autograph then, and it created a frenzy.
When Rose was asked how many autographs he was estimated to have signed in those 40 years, Rose told The Epoch Times: "A.L.O.T.  A lot."
"I think I've signed more autographs than anybody," Rose added. "And more free ones than anybody."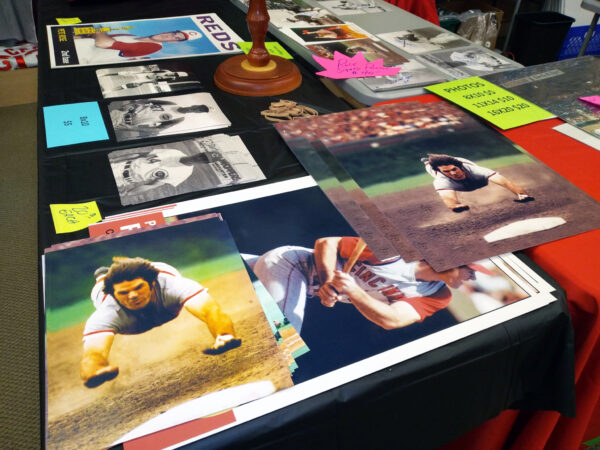 The turnout on Friday was evidence that the phenomena of paying for autographs remains popular for fans to get a signature from the heroes of their childhood, and meet them up close and personal.
In fact, Rose once had a contract with the Art of Music store at the House of Mandalay Bay Shoppes, in Las Vegas, where the Cincinnati native now lives. He was available to sign autographs five hours a day for 15 days out of the month.
"And it was pretty lucrative," Rose said.
He reportedly averaged $1 million a year while selling and signing memorabilia at the House of Mandalay for a number of years.
Rose also set a record for most autographs sold in a 48-hour period–about 50,000 items, beginning the night of Aug. 23, 1989, when he appeared on the Cable Value Network for Goldin Auctions to promote his signed memorabilia.
It was just hours after he signed his banishment agreement from baseball—imposed by then Baseball Commissioner Bart Giamatti. He was banned from the sport for life the next day, with the agreement that he could apply for reinstatement after one year.
All of baseball's commissioners subsequent to Giamatti have upheld his decision.
Rose used to appear at the Sports Gallery owned by Mark Fugate about four times a year, but now, it's twice a year, Fugate told the Epoch Times.
Fugate also has hosted other members of the Reds' Big Red Machine teams of the 1970s for signings—such as Hall of Famers Johnny Bench, the late Joe Morgan, and Tony Perez—as well as also former players from the Reds' 1990 World Championship team.
Fugate said Rose always has a big turnout and the signings remain popular, especially since mandates from the CCP (China Communist Party) virus have lifted.
Throughout 2020, former players stopped appearing at sports memorabilia shows because of the pandemic.
In addition to the shows throughout the United States, Rose hosts a gambling podcast —"Pete Rose's Daily Picks"—where he gives betting tips on baseball, football, basketball, horse racing, and other sports.
Rose was quick to say, "I'm not betting. I'm picking. I'm a handicapper. So far, my picks are at 75 percent."
As another year comes to a close for Rose, his absence from a Hall of Fame ballot remains a point of contention for his legions of fans.
In addition to bringing their prized memorabilia for a coveted autograph, the fans carried their memories of seeing Rose play, or hearing the stories of the Big Red Machine teams passed down to them from Dad, or Grandpa.
"I think Pete Rose is arguably the best player of all-time," said Dan Kaimann, 46, of Cincinnati, who had the back of a red plastic Riverfront Stadium seat signed.  "I was at the game where he got "The Hit"—4,192 at Riverfront on Sept. 11, 1985—surpassing Ty Cobb for the all-time hit record, when I was 10 years old.
"He was an All-Star at five positions," Kaimann added of Rose. "I've probably seen him four times and have 20 of his autographs. One autograph just isn't enough. We're lucky to still have him around. Hopefully, he'll be around for quite a while longer."
Rose finished his 24-year career with 4,256 hits and played in more winning games than any other player.
"I've been a fan since I was 6 years old," said Ben Fouch, 42, of Leesburg, Ohio, who had a Cooperstown Collection Pete Rose jersey signed.
"I've met him about a half-dozen times. He's a walking legend. You can't miss a chance to see him and chat with him for a minute.
"I've heard the stories about him from my Dad and Grandpa, and that's why I'm a fan of the Big Red Machine days of the 1970s," Fouch added.
"I get to live those days from watching digital videos of those games when the Reds won back-to-back World Series in 1975 and '76.
"I think Pete Rose will be in the Hall of Fame one day."
Throughout Friday's show, it was vintage Rose. One of baseball's foremost ambassadors, he didn't say anything bad about the game, or its latest beleaguered commissioner, Rob Manfred.
A day before the show, Major League Baseball announced a lockout against the players battling mostly changes to the game, revenue sharing, years to arbitration, or free agency, and luxury tax.
Currently, no games or salaries will be lost, but the disagreement continues.
"I don't really understand what they're fighting about," Rose said. "I just wish they'd get it settled."
As for the commissioner, Rose said, "It's a tough job. It's guys like me who have made their job tough."
Rose also made small talk with the fans.
"When you get to be 80, your eyes start going bad," Rose told a fan coming through the line as he pointed to his eyes.
Another fan, Pam Walker, told Rose how she drove a school bus past former Reds broadcaster Joe Nuxhall's house in nearby Fairfield.
Nuxhall, who was the youngest to ever appear in a baseball game when he pitched for the Reds at age 15 in 1944, was a Reds broadcaster from 1967 to 2004.
Nuxhall died from cancer in 2007.
"Joe was a good guy," Rose told her.
"It doesn't seem like Pete is 80," said Walker, who attended a 1976 World Series game in Cincinnati. "It seems like I just saw him play yesterday."
Another woman, Sarah Chase of Cincinnati, had Rose autograph her left arm. She was going to have the signature tattooed that night.
"My Dad was a big Pete Rose fan," Chase said. "He passed away, and I have his Pete Rose memorabilia. I did this for my Dad."
Spotting former Major League pitcher Jon Warden—who pitched for the 1968 World Champion Detroit Tigers—Rose called him over and said, "There were two pitchers who went 35-7 for the Tigers in '68," Rose said. "Denny McClain went 31-6 and Jon Warden went 4-1!"
"He loves that story," Warden said.
Fans also brought one-of-a-kind, or out of the ordinary, items.
Bret Weigel of Cincinnati, got a signature on a color hand-sketched photo of Rose getting the tie-breaking hit for the all-time record.
Weigel, 57, purchased the framed sketch for $350 at the estate sale of former Reds Owner Marge Schott, who died in 2004 at age 75.
John Dawson, who lives in the Cincinnati suburb of Montgomery, had an official line-up card signed from the last Reds game Rose managed in Cincinnati on Aug. 18, 1989, a few days before he was banned. It was the second game of a doubleheader against the St. Louis Cardinals, and the Reds won 8-3.
Dawson, 77, paid $10 for the line-up card from the Reds 580 Gift Shop when fans could purchase game-used items.
"This is going up on my wall tomorrow," Dawson said. "Pete Rose is in my Hall of Fame."
Jeff Wilson, who grew up in Covington, Kentucky, has a special-made green street sign that says Pete Rose Way that he had autographed. The real street signs leading into the ballpark were removed after Pete Rose was banned from baseball. Now, they say Joe Nuxhall Way.
"If Pete Rose isn't in the Baseball Hall of Fame, they shouldn't have one," Wilson, 43, said.
Another talent who was at the Sports Gallery show was renowned sculptor Tom Tsuchiya.
Tsuchiya was commissioned to do the bronze statues on Crosley Plaza, outside Great American Ballpark in Cincinnati, including Joe Morgan, Johnny Bench, Tony Perez and Pete Rose. He also has sculpted the bronze plaques for the players inducted into the Baseball Hall of Fame since 2016.
Tsuchiya had a table set up at the show and was selling canvas prints of the Rose statue, with part of the proceeds benefitting the Cincinnati Reds Hall of Fame and Museum at the ballpark. He also had a small bronze version of the sculpture on display.
The statue of Rose is of him in his trademark head-first slide. It was dedicated at the ballpark on June 17, 2017, about a year after Rose was inducted into the Cincinnati Reds Hall of Fame.
"Before I did the sculpture of Pete Rose, there were two things that made his style of play stand out … how I could portray him," Tsuchiya said. "I thought of either doing the statue of Pete in his familiar crouched over batting stance, or his head-first slide. That was distinctive. I went with the head-first slide. No one else did it.
"When I asked Pete why he slid into a base head-first, he said, 'because you get there quicker, and it gets you in the paper!'" Tsuchiya added. "I would like to be able to do his plaque for the Hall of Fame someday, but it doesn't look like that's going to happen."
When Rose was asked about what he thought about his chances of getting into the Hall of Fame, he barreled into his answer, similar to his head-first slide of the 1970s.
"I screwed that up," Rose said. "Not making excuses for what I did, the crime doesn't fit the punishment. Look—at some point—everybody gets a second chance and that hasn't happened here.
"I'm pretty much over the Hall of Fame," Rose added.
"Don't get me wrong, I'd be the happiest guy in the world if I got in, but I don't go to bed praying that I'll be in the Hall of Fame when I get up in the morning.
"At my age, I'm glad to wake up. Do I look 80? I feel pretty good, and that's the important thing."