SEBRING, Fla.—A collection of historic sports and racing cars from the past five decades visited Sebring International Raceway Dec 1–4 for the inaugural Historic Sportscar Racing (HSR) Classic 12 Hour at Sebring, Pistons and Props.
In an event modeled on the highly successful Classic 24 Hour at Daytona (also run by HSR) these cars were divided into six classes to compete in a series of races over two days, totaling twelve hours of track time, with scoring determined by cumulative laps.
Competing cars ranged from nearly modern LMP-1s to PCs GTP/Group C prototypes to late-'60s Trans-Am Camaros and Shelby Mustangs, and a 1976 Porsche 935/K1, to a 1963 MGB and a1964 Lotus 26R—horsepower ratings from maybe 150 to maybe 950, top speeds from 120 mph to 220.
Rarity and reliability determined the overall outcome as much as raw speed. How hard drivers were willing to push their expensive historic machinery—or how long they lasted when pushed hard—limited track time for some of the most exciting and unusual cars. Gems like the 1990 Nissan ZX GTP and the 1966 McLaren M1B made very brief appearances. At least they looked great in the paddock for those who missed them on track.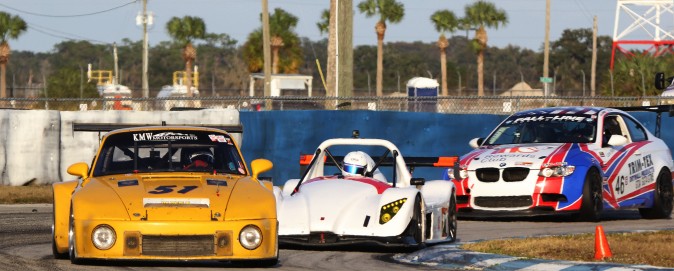 Not to say that the competition wasn't intense when the cars did take to the track. Tire smoke, cars up on three wheels, off-track excursions, and even the occasional collision showed that the racing was very real indeed.
Anyone who witnessed the Saturday afternoon's duel between Altfrid Heger and Nico Verdonck's 1976 Porsche 935/K1 and John Harrold's 1979 Chevron B23/36 saw two drivers pushing every limit at every point around the track. Unfortunately the contest came to an early end when the Porsche driver, trying to watch his mirrors as well as negotiate traffic, clipped the.1968 Chevy Corvette of Walo Bertschinger, sidelining both cars.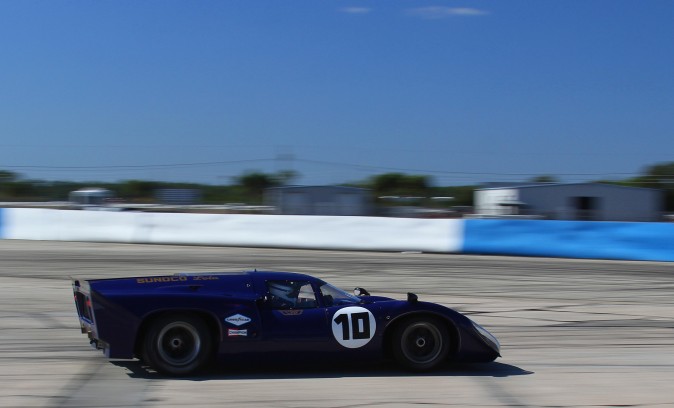 Class Winners
Group A was a battle between a pair of 1969 Lola T70 MkIIIb's, with the #10 of Gerard Lopez and Frantz Wallenborn edging Toni Seiler's #77 by just under three minutes over twelve hours.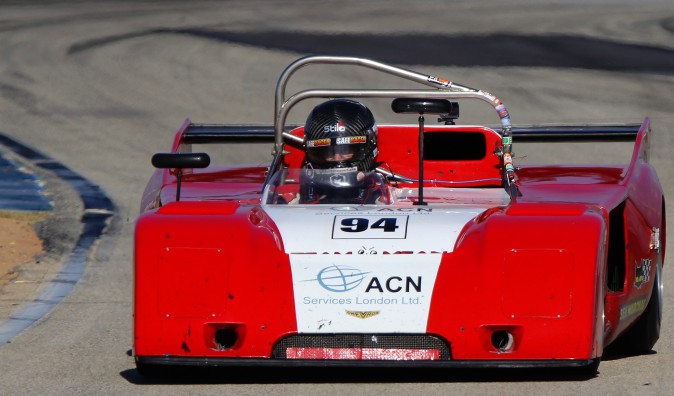 Group B went to the aforementioned Chevron of John Harrold, completing 68 laps to his nearest competitor's 62.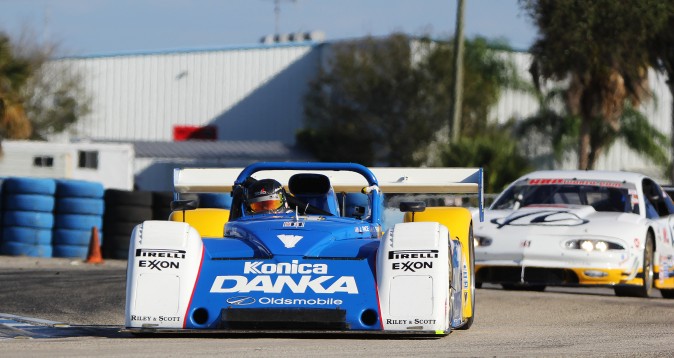 Rick Carlino and Derek Jones won Group C/D in their 1996 7-liter Riley & Scott Mk III, completing 71 laps in the allotted time.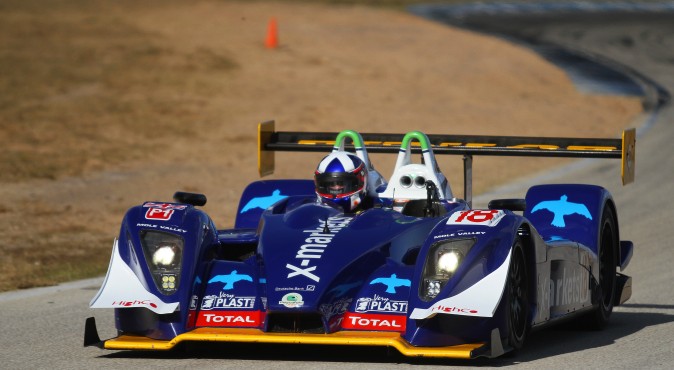 Group E, the most modern and quickest, was won by the 2007 Pescarolo-Judd of David Porter and Richard Bradley—frequent winners at historic events, as the car is quick and reliable. Porter and Bradley completed 80 laps, the weekend record, and finished two laps ahead of Juan Gonzalez and Butch Leitzinger in a 2010 Oreca FLM09.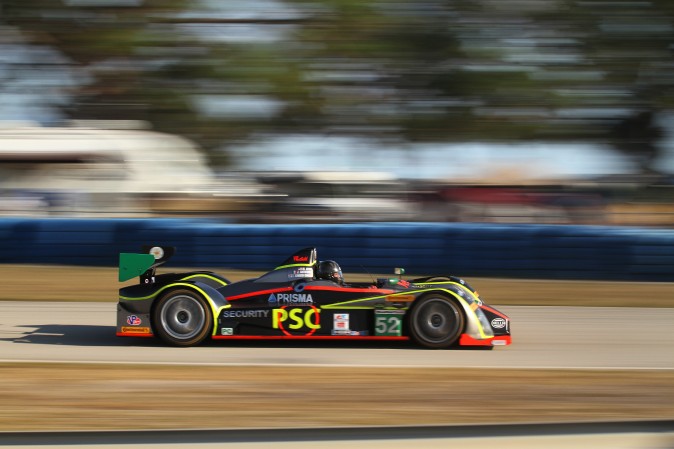 Gonzalez and Leitzinger were nearly a lap ahead of Travis Engen in his #2 2005 Audi R8 LMP, who finished 35 seconds ahead of Keith Frieser in a 2009 Oreca FLM09.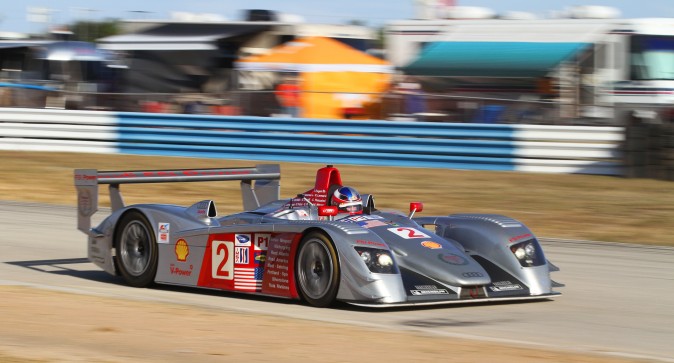 A new addition to the field was the very quick #16 Chrysler LMP—a car with a rather convoluted history. Built by Dallara on instruction from Chrysler and their racing partner Oreca (which itself builds chassis) the car was initially equipped with a 6-liter Mopar V8. Because Oreca assisted Dallara in the development, the car was designated as "DO."
Three of the cars competed in the 2001 Le Mans 24; the #16 finished a respectable fourth behind two Audis (one being the same #2 Audi R8 which finished third in class at the 12 Hour Classic) and a Bentley.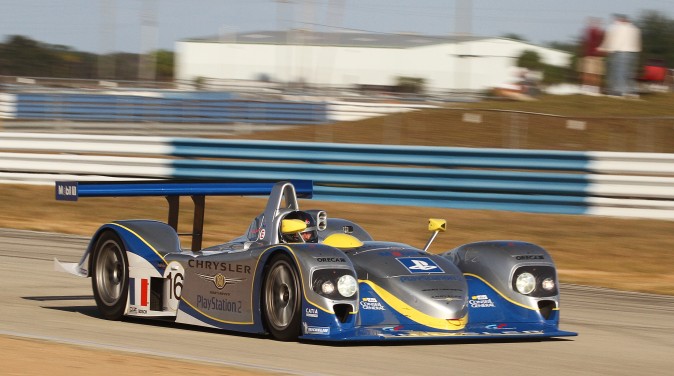 Chrysler then pulled out of the program and sold the cars. Subsequent owners replaced the V8 with a four-liter Judd V10 engine. This car, brought over and raced by Luxembourg's Florent Moulin. A broken gearshift in the third lap of the first race kept the car from competing for overall honors, but it finished second, third, and second again in the three legs it did complete.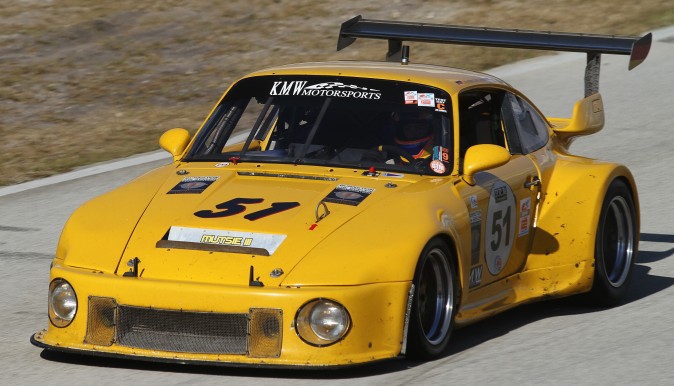 Group F was a catch-all class including everything from a 1966 Shelby Mustang with a 5800-cc V8 to a 1996 Toyota WSR sports racer with a 1600-cc inline four, and cars as recent as a 2012 BMW M3/E92, a 2008 BMW M3/GT4, the 1966 Mustang, and a pair of 1967 Camaros.
Kevin Wheeler, Hartmut Von Seelen, and Jonathon Ziegelman won the class in their #51 1974 Porsche 911 RSR with 68 laps, a lap ahead of a pair of Porsches of similar vintage.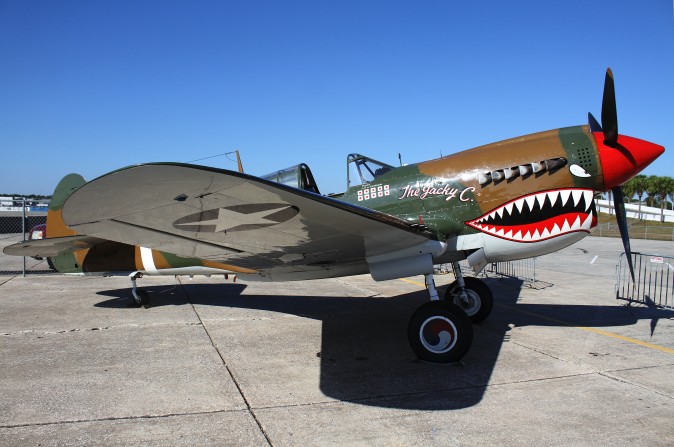 Military Hardware a Fitting Tribute to Hendricks Field
As the "props " part of the title suggests, the cars were joined by a handful of historic airplanes, befitting the race track's earlier identity as Hendricks Field, one of the main training locales for B-17 pilots during World War II.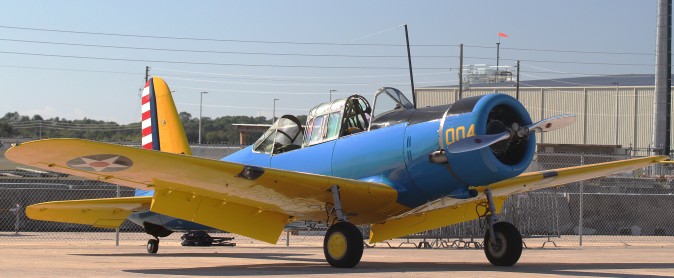 As an added attraction, the Road to Victory Military Museum of Stuart, Florida brought a few WWII-era armored vehicles and motorcycles, which toured the track firing blanks from their cannons and machine guns when they weren't on display in the paddock.
The Road to Victory Military Museum can be visited at 319 SE Stypmann Blvd, Stuart, FL 34994. Visit their website for details.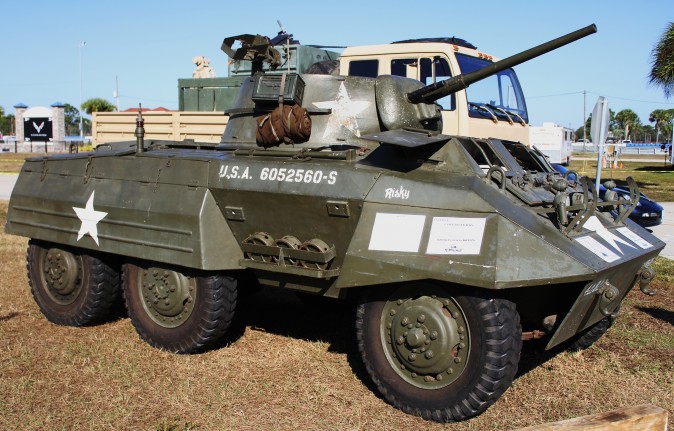 More Classics
2017 offers quite the treat to Florida vintage racing fans. HSR has a pair of Spring events at Sebring, the Spring Fling on Feb. 17–19 and the Exhibition at the Sebring 12 Hours, March 15–18.
On top of that both Classics—the Classic 24 at Daytona and the Sebring Classic 12 Hour—are scheduled for Nov. 8–12 and Nov. 29–Dec. 3 respectively.
Visit the HSR site for details on these events and dates and details for others.
For more car photos visit: Cars
For more planes and military vehicles visit: Tanks and Planes