Himalayan Flood Disaster Rescue an Uphill Battle
July 8, 2013 6:03 am Last Updated: July 8, 2013 9:03 am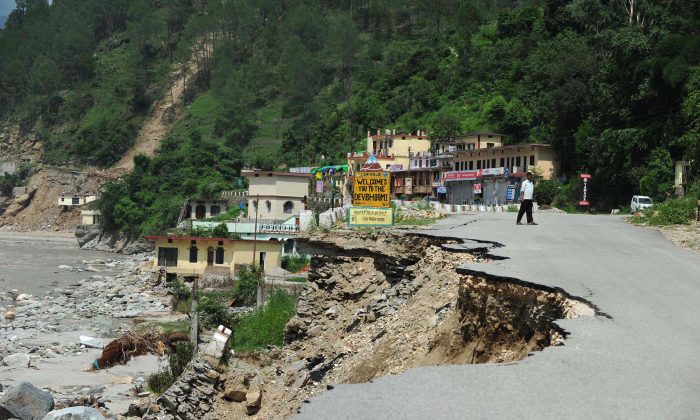 Thousands of people remain missing in India's northern state of Uttarakhand after devastating floods swept through starting mid-June. Relief workers are still struggling to reach the disaster-struck areas.
The infrastructure in the affected areas has been so badly damaged that many areas remain off-limits.
"Right now we are working on addressing specific basic needs," said Anshu Gupta, Founder and Director of nongovernmental organization Goonj in an online interview. "Due to lack of accessibility, continued rains and tough terrains the relief is reaching to limited places and in small quantities, that's why it'll take a much longer time in terms of relief," he said. 
Goonj has set up a relief base camp in the city of Rishikesh and a sub-camp in Guptkashi, one of the worst affected areas.
According to Gupta, truck loads full of donations have been arriving in Rishikesh from all over India. But while relief workers are in dire need of many goods, Gupta says that many people donate without knowing the geography or the culture in the flood-hit state.
"There are a lot of gap areas [in the relief efforts]—rice, but no cooking pans; water purifying tablets, but no bucket to hold the water," he said.
"People are emotionally driven, with wonderful hearts, intentions, and efforts, but when they reach here, the realities are different."
Gupta said that his organization had initially planned to use mules to reach the affected areas, as trucks are unable to reach the disaster areas. 
"We thought of using human chains and mules, but we soon realized that thousands of mules—a main source of livelihood for hundreds—were also washed away with the water," said Gupta. The force of the floods, which started following heavy rainfall on June 16 and 17, was so strong that in some cases entire buildings were swept away.
The Indian army, which is leading the rescue operations, has deployed one veterinary doctor and two paramedics to help the flood-affected animals. Ponies and mules are normally a major means of transport on the tough Himalayan terrain.
Now, most of the transportation of the goods is done by small vehicles, such as jeeps. Quantities that are being distributed are small, but are now being moved consistently.
Gupta's organization is also reaching out to the local rafting and adventure sports community. Uttrakhand is a popular destination for river rafting and other adventure sports.
"They are very familiar with the terrain, with a lot of risk-taking abilities and a strong emotional connect with the villages they belong to," he said.
The Indian Ministry of Railways decided that all disaster relief material such as food, medicines, clothes, and construction materials will be transported for free by coach trains, from any station in India to Uttarakhand from June 25 to July 9. 
Around 3,500–3,700 people remain missing after the floods. Soon after the disasters, Indian states and companies donated 180 crores (US $30 million) for the relief efforts. Indian authorities have promised 1,000 crores (US $165 million). According to a press release from the Prime Minister's office, 145 crores was released immediately for the purpose.
But according to Gupta, the challenge for the relief workers is enormous, as many people have lost their entire livelihoods. 
It is expected that it will take several months for all those affected to be reached. One of the major concerns of all the relief agencies and the government is that winter is coming.
"Our relief work will go on for the next couple of months," Gupta said. "Winters will soon hit the state, and that will be another disaster for the flood-hit people."