#HillarySoQualified Trending on Twitter After Sanders Says She's Not Qualified to Be President
April 7, 2016 10:44 am Last Updated: April 7, 2016 11:36 am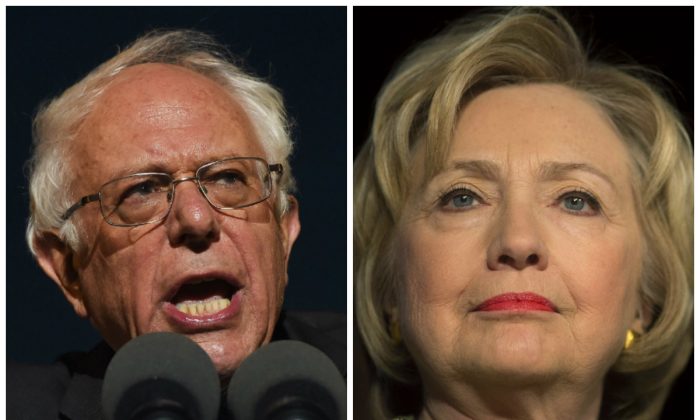 Senator Bernie Sanders said at a rally in Pennsylvania on April 6 that his rival Hillary Clinton is "not qualified" to be president, her supporters begged to differ on social media.
However, it was Clinton who has made that comment about Sanders before.
Let me say in response to secretary Clinton, I don't believe she is qualified.
"She has been saying lately that she thinks I am 'quote-unquote' not qualified to be president," said the Vermont senator as crowds booed loudly.
"Let me say in response to secretary Clinton, I don't believe she is qualified," said Sanders as his supporters cheered.
The senator then went on to list reasons why Clinton is not qualified to be the next commander in chief, saying that she is ineligible because she took millions of dollars in special interest funds through her super PAC, and because of issues she has voted on in the past.
"I don't think you are qualified if you have voted for the disastrous war in Iraq. I don't think you are qualified if you have supported virtually every disastrous trade agreement which has cost us millions of decent paying jobs," said Sanders.
"I don't think you are qualified if you supported the Panama Free Trade Agreement, something I very strongly opposed, and which is as all of you know, has allowed corporations and wealthy people all over the world to avoid paying their taxes to their countries," he continued.
Related Coverage
After the comments from the Vermont Senator, Clinton supporters went on Twitter and through the hashtag #HillarySoQualified they argued that she is eligible.
The hashtag had 138,000 tweets the morning after the rally.
Here are some of the tweets:
What's the word for when a man tells a woman with a resume 10x as long as his that she's not qualified for the same job? #HillarySoQualified

— Kaivan Shroff (@KaivanShroff) April 7, 2016
Good morning. Yesterday I was told a First Lady, Sec of State, Yale lawyer, world's most admired woman is "unqualified." #HillarySoQualified

— Peter Daou (@peterdaou) April 7, 2016
Angers me that a woman can still be told she's not qualified, even after accomplishing so much in life. @HillaryClinton #HillarySoQualified

— Sergio Grant (@sgrant525) April 7, 2016
Dear Bernie #HillarySoQualified she was Sec of State while you named two post offices #feeltheBern #ImWithHer

— Privacy Camp (@PrivacyCamp) April 7, 2016
But the hashtag was also used for those who do not support her.
#HillarySoQualified that her supporters make hashtags that end up not helping her.

— Which Hillary (@WhichhHilllary) April 7, 2016
#HillarySoQualified bc she lies constantly pic.twitter.com/P9jZQixDUE

— BernieismyBoyfriend (@SansaRising) April 7, 2016
While campaigning in New York, Hillary Clinton tried to switch the attention to Republican candidates by saying, "I will take Bernie Sanders over Donald Trump or Ted Cruz any time, so let's keep our eye over what's at stake in this election."
The Associated Press contributed to this report.