Former first lady Hillary Clinton will likely join the 2020 presidential race if former Vice President Joe Biden drops out, said Dick Morris, a former adviser to President Bill Clinton.
"My feeling is that she wants to," Morris said on Sunday, according to The Hill. "She feels entitled to do it. She feels compelled to do it."
Clinton, who lost the 2016 election to Trump, is "hesitant because she realizes the timing is bad," Morris claimed.
He said that she is waiting for an opportunity to get into the race, with one condition: If Biden drops out.
"She's got to wait until Biden drops out because he's obviously next in line for it, and if he goes away, there's an opening for her," Morris said.
Morris said that if Biden leaves the race, Clinton will likely replace him as a "moderate" candidate because voters will want an alternative to Sen. Elizabeth Warren (D-Mass.).
"The question is are there enough moderates to beat Elizabeth Warren the leftist?" he asked. "Make no mistake. She wants it," Moris added. "She's planning on it. She'll do everything she can to achieve it."
Clinton's former aide, Philippe Reines, told Fox News that she isn't ruling out running for office again.
"You know, she ran for president because she thought she would be the best president," Philippe Reines said during an Oct. 23 appearance on Fox News's Tucker Carlson Tonight. "If she still thought that now, if she thought she had the best odds of beating Donald Trump—I think she would think about it long and hard."
"She hasn't foreclosed the possibility, I guess," Carlson added. "No, she has not," Reines said.
There have been unconfirmed reports saying Clinton, 72, is eyeing a last-minute bid for president. In recent public appearances, Clinton took shots at President Donald Trump, including during an attempt to eulogize Rep. Elijah Cummings, who died earlier this month, at his funeral last week.
She also criticized 2020 candidate Rep. Tulsi Gabbard (D-Hawaii), claiming she is controlled by the Russians.

"I'm not making any predictions but I think they've got their eye on somebody who is currently in the Democratic primary and are grooming her to be the third-party candidate," Clinton said, referring to Gabbard, as reported by Fox News. "She's the favorite of the Russians. They have a bunch of sites and bots and other ways of supporting her so far."
Senators Say 'No'
Several Senate Democrats have gone on public record telling Clinton to move on.
"She's done a great service to our country and public service, and I supported her wholeheartedly, but I believe it's time for another nominee," said Senate Minority Whip Dick Durbin (D-Ill.), reported Politico last week.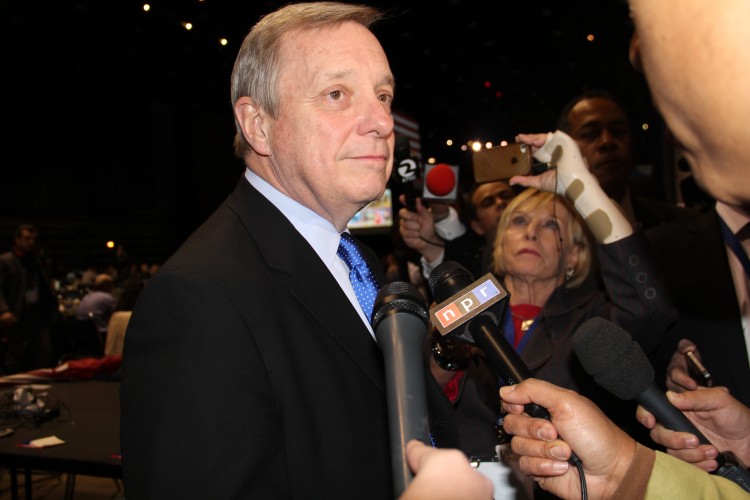 "I don't think it would be good for her," Sen. Jon Tester (D-Mont.) told the website. "She's been through this war once. The Republicans have made a target out of her for 30 years and she's still going to [be] that same target. I just think it would be tough."
"Absolutely not," added Sen. Joe Manchin (D-W.Va.).
"That would be a mistake," claimed Sen. Martin Heinrich (D-N.M.). He then repeated the statement: "That would be a mistake."