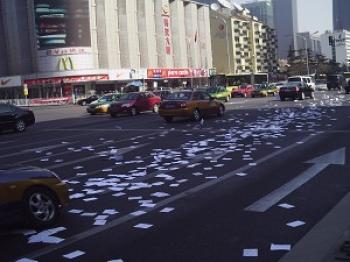 Chinese Communist Party (CCP) officials have a legislative period known as the two sessions that includes a 9-day conference called the Chinese People's Political Consultation that begins on March 3, and an eight-and-half-day session called the National People's Congress that begins on March 5. It has been reported that Beijing has been put under the highest security alert in history during these two sessions, following the same security protocol adopted during the Olympic Games.
Beijing Evening News reported that Beijing would enlist 600,000 workers from the security bureau to work during the two sessions. They hope to enhance live surveillance of all entrances to Beijing. All vehicles entering Beijing from other provinces must be examined. All sports, entertainment and commercial flights within 200 kilometers of Tiananmen Square are banned.

According to an eyewitness, on March 3, Tiananmen Square was cleared three hours in advance. Various measures were taken, including placing officers on patrol with police dogs. All police officers, armed police and undercover officers were used in full force. In order to prevent petitioners from dispersing leaflets in Tiananmen Square, every bus has had a police officer onboard keeping watch.

An upsurge of appealing broke out just before the Two Sessions began. Every day thousands of petitioners showed up at the various appealing stations located around Beijing.
Recently, petitioners have been passing out pamphlets on the busy streets of Beijing as a peaceful way of publicly expressing their grievances. They hope that by doing this, they can attract attention and gain support.

Two separate groups of petitioners distributed about 5,000 pamphlets on Xiushui Street in the Chaoyang District of Beijing a few days ago. On March 3, Li Chunxia from the city of Zhengzhou of the Henan Province, Li Guizhi from the Hebei Province and a dozen other petitioners handed out another 5,000 leaflets on Wangfujing Street, the busiest street in Beijing. Their plan was to expose judicial corruption within the Chinese Communist Party.
Li Chunxia, 35-year old who is six-months pregnant said, "We passed out 5,000 handouts at an intersection in Wangfujing. Later, 16 police vehicles came, but we had already left.
Li had invested 700,000 yuan (US$102,333) to open a clothing factory in Zhengzhou. She said, "The local government was scheming with the courts. It led to my factory going bankrupt and my house being used as collateral. Now the local government wants to take me back forcefully. This is the only way I can express my resentment toward the government."
Li Guizhi believes her son died wrongfully and she wants to make an appeal so the government will hear her case. She said, "We cannot appeal at the bureau of Appeals, so we can only take such measures, there doesn't seem to be any other way. If we follow the proper procedures for making an appeal, we will be arrested and sent to a labor camp. Today we distributed 5,000 flyers on Wangfujing and then got out of there."
Tang Xiuyun from Northeast China said, "I distributed about 1,000 flyers at the appealing station. There were many petitioners there, many of them were preparing to display banners and hand out pamphlets on Tiananmen Square. The petitioners have no home to return to, no way to make a living. The officers from Liaoning told us that they'd rather arrest someone by mistake than to let a petitioner slip by. Now whenever they capture anybody, they label them as a person who follows the practice of Falun Gong, supposing to mean that they are anti-CCP."
Beijing resident Li Huimin said, "The voice of the petitioners is so strong that the regime is afraid of it being heard. There are too many petitioners from other provinces. In the past, petitioners just acted individually. Now, they go on buses in groups to disperse flyers."
Read original article in Chinese.