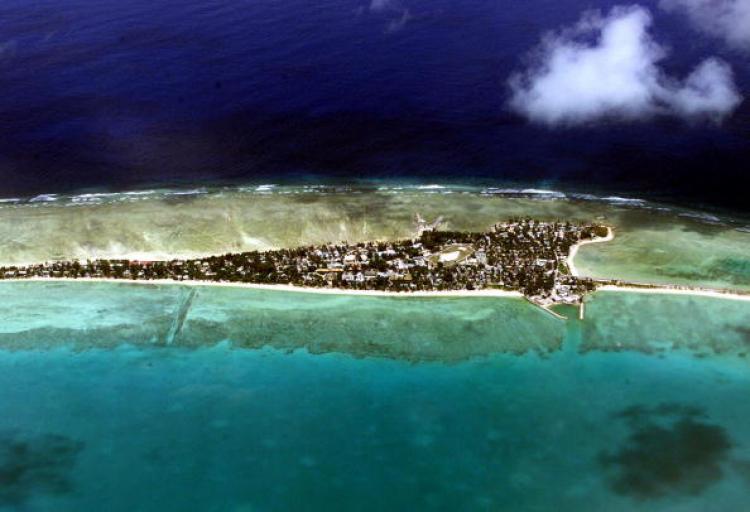 The President of Pacific island nation, Kiribati, is reportedly looking for land to relocate his community as rising sea levels increase.
London educated Mr Anote Tong, who has campaigned strongly on the threat of climate change since he gained the presidency in 2003, believes climate change is a "fundamental moral challenge for humans in this century".
"The future of real people is on the line," he said at the Harvard University Center for the Environment last year.
Much of the Republic of Kiribati (pronounced KEE-ree-buhss) which covers an area of roughly 3.5 million square kilometres between Fiji and Hawaii is not more than five meters above sea level.
Its 100,000 citizens are spread across 21 inhabited atolls which include the Gilbert, Phoenix and Line island groups Many of the inhabitants are already seeing the effects of climate change.
According to Mr Tong, they are experiencing higher tides, coastal flooding, diminishing freshwater supplies, less rainfall as well as bleaching of some coral reefs. Many of the villagers had been forced to move inland, but with many of the islands mere atolls he said "we're in danger of falling off if we keep moving back."
"The reality is that we have to find alternative homes. The levels already in the atmosphere cannot be reversed," he said.
Mr Tong's initiative to seek land for relocation comes on the back of a similar announcement by president of the Maldives, Mohammed Nasheed.
The Maldives, a popular tourist haven of roughly 1200 islands, is situated some 700 kilometres west of Sri Lanka, in the Indian Ocean.
Newly elected, Mr Nasheed announced last year that his government was setting up a trust fund which would "act as a national insurance policy to help pay for a new homeland".
Climate scientists say low lying island nations are at the forefront of climate change, describing them as the
"harbingers of things to come".
Geochemist Daniel Schrag, the head of the Harvard Center for the Environment, told ScienceNews that Kiribati
"literally faces going out of existence,". To that effect Professor Schrag said he was impressed with Mr Tong's efforts to secure a future for his people.
"I find what the president of Kiribati is doing extraordinary. He's socially engineering an exit solution over a timetable that may take several decades. That's unusual in government."
Mr Tong's announcement comes as the 50 Pacific Islander seasonal workers arrive in Australia. They are the first of an expected 100 workers from Tonga Vanuatu, Papua New Guinea and Kiribati who are to come to Australia under a federal government pilot scheme.
The scheme has been implemented to overcome labour shortages in Australia's rural industry but is also seen as a way of providing economic support to Pacific Island nations.