A high school in Hangzhou City, Zhejiang Province located on the eastern coast of China, has employed facial recognition technology to monitor students' attentiveness in class.
At Hangzhou Number 11 High School, three cameras at the front of the classroom scan students' faces every 30 seconds, analyzing their facial expressions to detect their mood, according to a May 16 report in the state-run newspaper The Paper.
The different moods—surprised, sad, antipathy, angry, happy, afraid, neutral—are recorded and averaged during each class.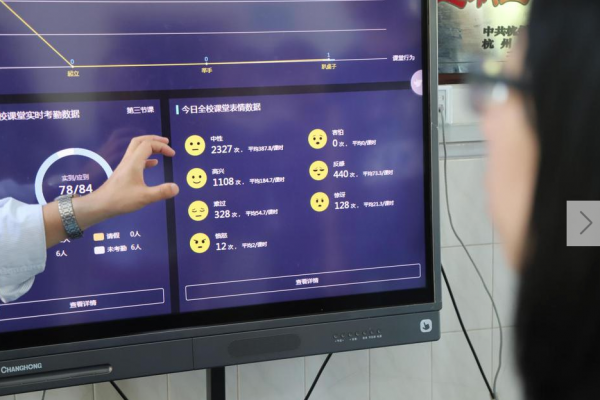 A display screen, only visible to the teacher, shows the data in real-time. A certain value is determined as a student not paying enough attention.
A video shot by Zhejiang Daily Press revealed that the system—coined the "smart classroom behavior management system" by the school—also analyzes students' actions, categorized into: reading, listening, writing, standing up, raising hands, and leaning on the desk.
An electronic screen also displays a list of student names deemed "not paying attention."
The school began using the technology at the end of March, vice principal Zhang Guanchao told The Paper. Zhang added that students felt like they were being monitored when the system was first put in place, but have since gotten used to it. Teachers have used the data to change their teaching methods, Zhang said.
Since the school has introduced these cameras, it is like there are a pair of mystery eyes constantly watching me, and I don't dare let my mind wander. -student at Hangzhou Number 11 High School
An unnamed student was quoted in an article published by the Sina News portal: "Since the school has introduced these cameras, it is like there are a pair of mystery eyes constantly watching me, and I don't dare let my mind wander."
Chinese netizens, however, raised concerns about such heavy surveillance of young students. On Sina Weibo, a social media platform similar to Twitter, one user from Beijing said: "this is more frightening than being in prison."
Many users felt the school was violating these students' basic rights with such monitoring. "They are not studying machines. Any human being will have moments when their mind wanders," said a user from Fujian Province with the moniker "Laren."

China has heavily embraced facial recognition technology, used to serve meals to students at school cafeterias, pay for items at stores, as a "virtual" boarding pass for airline flights, and even to prevent toilet paper theft at public restrooms.
In particular, the Chinese regime has championed a nationwide system of security cameras, called Skynet, that use facial recognition and other artificial intelligence features to gather personal information on passerby in real time. More than 20 million cameras have already been installed, with plans to cover the entire country by 2020.
The regime touts the system as an effective tool for detecting criminals, but observers are concerned that the surveillance technology is turning China into a Big Brother Orwellian state.
Already, the technology has been employed to spot and detain a Chinese dissident, who was approached by plainclothes police upon exiting a Guangzhou City railway station after his name appeared on a "wanted" list.
The Chinese regime's nervousness about ethnic unrest in the predominantly Uyghur region of Xinjiang has led it to develop predictive security software that crunches data from CCTV cameras, ID card checks, and other personal records, which then flags individuals as potential suspects.
Frank Fang contributed to this report.