High-priced Housing a Key Challenge for Canadians: National Household Survey
1 in 4 households paid 30 percent or more of before-tax income on shelter costs
September 11, 2013 9:08 pm Last Updated: September 12, 2013 1:42 am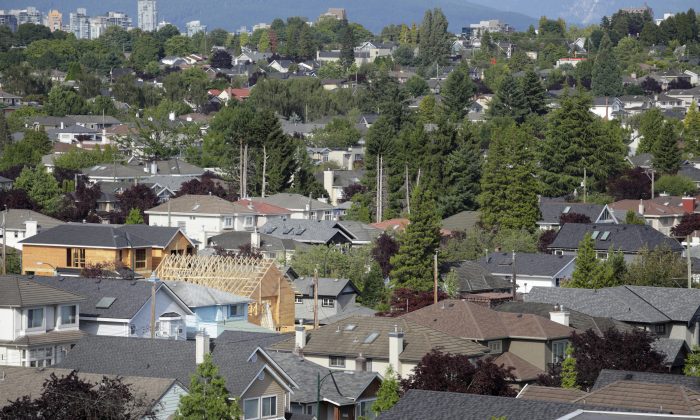 Housing affordability represents a challenge for one-quarter of Canadian households, according to the 2011 National Household Survey (NHS) released by Statistics Canada on Wednesday.
The survey found that about one in four households (25.2 percent) exceeded the affordability threshold as defined by the Canadian Mortgage and Housing Corporation (CMHC), paying 30 percent or more of their total before-tax income on shelter costs.
That represents 3.3 million households, split almost equally between owners and renters.
However, since there are more homeowners than renters, with nearly 7 out of 10 Canadian households (69 percent) owning their homes in 2011, or 9.2 million out of 13.3 million households, a larger proportion of renters (40.1 percent) exceeded the affordability threshold compared to owners (18.5 percent).
Shelter costs include, where applicable, utilities (electricity, heat, water, and other municipal services), mortgage payments, property taxes, condominium fees, and monthly rent.
In 2011, Canadian households paid a monthly average of $1,050 toward shelter costs, with owners paying $1,141 and renters $848.
Meanwhile, households with shelter costs exceeding the affordability threshold paid a monthly average of $1,259, exceeding 30 percent of their income by a monthly average of $510. Owner households paid $1,583 per month, exceeding the threshold by $617 per month on average, while tenant households paid $928, exceeding the threshold by $403.
"Today's release of National Household Survey data shows that Canadians continue to be trapped in a high-priced housing market," said Claude Dauphin, president of the Federation of Canadian Municipalities, in a news release.
"Average incomes are failing to keep up with housing costs, people are struggling to pay off record-high household debts and increasingly unable to find housing they can afford," Dauphin added.
He called for new federal incentives to jump-start rental housing construction, noting that affordability is being further eroded due to stagnant investment in rental housing over the last decade and the coming expiry of $500 million in annual federal housing subsidies for low-income Canadians.
About half a million tenant households lived in subsidized housing, according to the NHS, and over one-third of those households paid 30 percent or more of their total income toward shelter costs.
The NHS also found that 4.8 million Canadians (14.9 percent) lived in low-income households as defined by the after-tax Low Income Measure (LIM-AT) in 2010: $19,460 for a single person, $27,521 for a household with two people, and $38,920 for a household with four people.
In addition, 58.6 percent of owner households had a mortgage. They paid a monthly average of $1,585 toward shelter costs, compared to $511 for mortgage-free households.
These households represented 83.2 percent of the owner households that exceeded their affordability threshold, paying an average monthly shelter cost of $1,776, exceeding 30 percent of their total income by an average of $688.
RBC's latest Economics report on housing trends released in August found that most local markets across Canada saw only modest deterioration in affordability in the second quarter of 2013.
However, RBC noted that manageable affordability levels may not persist if interest rates rise substantially.
"Exceptionally low mortgage rates have been the main factor preventing affordability from reaching dangerous levels in recent years," the report said.