Global oil prices and passenger fare movements are forcing some airlines to cut costs and the trend could continue, a European carrier has warned.
In the first half of 2018, Ryanair saw the company's profit after tax (PAT) plunge even though passenger numbers and revenue jumped.
The budget airline's PAT for the first-half of the year slid 7 percent to 1.2 billion euros. This is despite a 6 percent jump in passengers to 76.6 million, and an 8 percent rise in revenue to 4.79 billion euros.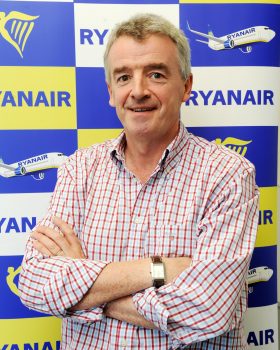 CEO Michael O'Leary recently oversaw the closure of several Ryanair bases, including Bremen a two-aircraft base in Germany; Eindhoven, a four-aircraft base in Holland; and downsizing at the Niederrhein base in Germany from five to two aircraft. O'Leary warns there could be more closures to come, with crude oil rising 4.7 cents to $66.54 on the London-based ICE Futures Europe Exchange in the past 12 months.
"If oil prices rise above $85 per barrel or, if airfares fall more steeply than the -2 percent we forecast this year, we would not rule-out further base closures, and further capacity trimming this winter," O'Leary said in a podcast presentation.
Larger Airlines Also Affected
Larger airlines have also downsized their operations. Norwegian Air Shuttle ASA closed its British bases in Edinburgh and Belfast, and Lufthansa closed its German base in Dusseldorf.
O'Leary confirmed many of these closures are related to oil price changes, and predicts rising spot market prices could trigger more closures.
"Norwegian, if they survive that long, will have 85 percent exposure to the oil spot market. … This is going to place an enormous pressure on the cost base of those airlines," he said.
Fuel Savings Prove Worthwhile
O'Leary suggests more airlines should lock-in fuel prices now to give them more certainty.
"We have 12-month hedges in place at about $68 per barrel. We have only 10 percent exposure to the spot market," he said.
Another option is to invest more in fuel-economical aircraft like the Boeing 737 MAX.
"These aircraft will arrive with 4 percent more seats, 16 percent lower fuel-cost per seat, and will drive unit cost efficiencies over the next five or six years," O'Leary said.
However, Zacks Investment Research is still concerned the rising fuel costs will limit the company's growth despite the cost-cutting measures.
"Ryanair expects its fuel bill to rise by more than 460 million euros in fiscal 2019. Earlier, the same was anticipated to be 430 million euros higher. This significant increase is expected to be a major drag on the company's earnings," Zacks director media relations Terry Ruffolo said in a written statement.
Royal Bank of Canada (RBC), on the other hand, forecasts stronger growth for budget airlines in the New Year.
"We think a tough fare environment is likely to ease in 2019 (later than the late 2018 we had seen due to initial winter market oversupply) … in the long run, we think fuel and staff costs (but not productivity) are all factors that can lead airlines to struggle to sustain a competitive edge," RBC senior manager, financial communications Ka Yan Ng said in a written statement.