Bizarre Logic for High House Prices in China
September 14, 2009 7:24 pm Last Updated: October 1, 2015 9:24 pm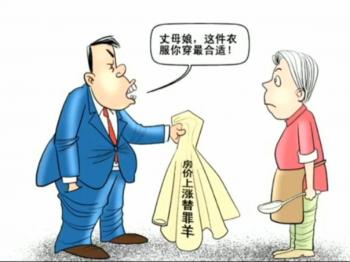 Chinese officials have been putting forward bizarre explanations for China's rising real estate prices recently, with Secretary-General of the China Academy of Real Estate, Gu Yunchang, blaming the ever rising housing prices on mothers-in-law.
Gu said a mother-in-law will tend to pressure her son-in-law, regardless of his financial situation, into buying apartments—so as to benefit her daughter.
He made the remarks at the China Real Estate & Finance Annual Forum on Sept. 3. They were picked up and ridiculed widely by bloggers and online media. They were skeptical of the claims, given that mothers-in-law have always been around, whereas housing prices soared only recently.
Peculiar statements from real estate authorities didn't end there, however.
Real Estate developer Feng Lun said that unmarried young women were the cause of the recent rise in housing prices. He then suggested limiting buyers to age 35 and above.
Professor Dong Fan from Beijing Normal University thinks that couples, living together out of wedlock, have stimulated apartment buying.
However, the actual causes of housing price inflation in China are embedded in the political system and are widely known, according to the Sing Tao Global Network.
Local governments have been using real estate markets to generate revenue and thereby claim "political achievements," they claim. Real estate developers, in turn, take advantage of loose policies to hoard properties and raise prices. Property speculators have also been driving up the value of the market.
The Sing Tao Global Network also said the reason public figures have not been talking about the core problem of the real estate market is two-fold. First of all, they are benefiting from the high housing prices and do not want to acknowledge there is a problem; secondly, they want to shirk responsibility for their poor management of the housing market, according to the Network.
In comparison to common people, who have no way to lobby for or safeguard their interests, the economic, political and cultural elite do.
At the end of last month, China National Petroleum Corporation (CNPC) bought eight apartment buildings in Beijing Taiyang Star City at one-third the market price.
CNPC's Northern China Sales Company also bought the Baoshihuahuan Community in Beijing. After the purchase it was reported that every official ranked above Associate Section Chief got a free apartment.
Read the original Chinese article.