Having the oldest street in California, as well as roadside houses preserved from their early American glory, San Juan Capistrano remains lush with stories of its founding families and the people who shaped it to be the old-town story-time enclave it is today, from its first female convict all the way back to its very first vibrant native inhabitants.
Although not officially incorporated as a city until 1961, San Juan Capistrano's history spans hundreds of years, having first been visited by Spanish explorers in 1769. However, its crowning glory is its residents, many of whom are direct descendants of the original founding families who built the town and whose houses largely remain intact. Among them are members of the Rios family, with the 10th-generation family still living on the same street now named after them.

Strolling down Los Rios Street–the oldest street in California, according to local historian Jan Quest–visitors are transported back in time to the mission town's founding. Most of the small, two- to three-bedroom homes are original structures built by Spanish and late American settlers, with their crisp white adobe exteriors and colorful porches restored to their former glory from the 1700s to the early 1900s.
Most of these homes have now been converted into various businesses, including award-winning restaurants, miniature historical museums, and art and souvenir shops. However, in order to run these storefront businesses, the city requires the business owners to remain living in the house itself.

Looking at their exteriors, many of the oldest homes are coated with a brilliant white finish, paying homage to traditional adobe house preservation. According to tradition, cactuses were boiled down until they became a bright white paste, which was then used to coat house exteriors both as a way to deflect sunlight and to serve as a barrier between adobe material and the elements that would otherwise erode the structure, according to Quest.
Quest, who has served as the city's historian and curator at the San Juan Capistrano Historical Society for decades, is the town's "go-to" expert on everything relating to the town's past. Many who pass through are encouraged to schedule a walking tour with Quest, whose knowledge is such that no tour contains the same information each time, she said.

"I have never once given the same tour twice," Quest told The Epoch Times. "There's so much history to [the city] that each tour contains new information."
Known as the "birthplace of Orange County" according to its city maps and literature, San Juan Capistrano's historic downtown streets contain hidden gems almost everywhere one looks. And because the town has gone to such lengths to ensure its history is preserved, traces of its longevity and unique culture are apparent nearly everywhere, even the plants: A nearly 200-year-old pepper tree on Los Rios Street has been planted there from brush gathered by early Spanish soldiers and preserved by the prominent Rios family for generations.
In fact, upon the city's establishment in 1961, one of the first things the new city council did was establish a historic district to protect against developers and newcomers attempting to alter or tear down the town's historic sites, according to Quest.

On a memorial wall adorned with pictures and placards of notable residents bordering Los Rios Street, the city has memorialized some of its most notable early residents, including the colorful and tragic story of its first female convict, Modesta Avila.
Rumored to still haunt the town, Avila is pictured with a severe grimace in her mugshot placard, with her alleged false conviction said to have led to her early death at age 22. According to Quest, Avila was accused of tampering with the Santa Fe Railroad running through her mother's property in the town, not knowing such an act was illegal in the late 1880s.

In retaliation for the train's disruption of her daily life—namely the noise that she believed prevented her chickens from laying eggs—Avila allegedly was seen hanging a line of laundry across the tracks in protest. Although she later removed it before the train arrived, a witness nonetheless reported the act to authorities.
At this point, her story took a tragic turn. At the time of her arrest, Avila was only 19 and was rumored to be pregnant but unmarried—a highly shameful allegation if believed at the time of her arrest in 1889. It was on these claims that a local prosecutor determined her culpability, sending her away to a local prison where she perished two years later.

Some in the town believe that Avila didn't perish in prison as the date listed on her placard states, although the supposed cause of her death is listed as pneumonia, according to the current record.
According to Quest, residents and visitors in the city claim to feel Avila's presence and occasionally see her figure move past them in certain areas of the town. Seances have even been conducted to contact her spirit, along with others, with ensuing humor during such sessions.
During one such instance that Quest said she attended, a participant pointed out that the seance may not be effective, contending Avila was originally from Mexico and didn't speak English. With a laugh, the seance leader phrased their questions in Spanish, again with no luck. It's also worth noting that some historians say Avila was born locally and spoke English.

Being rich with histories such as Avila's, the birthplace of Orange County even hosts a year-round "ghost walk," where visitors can experience the dead supposedly walking the streets as the sun sets on the walls of the ruins of the Great Stone Church in Old Town. There's even a local group dedicated to investigating the town's paranormal phenomena, known as the "Ghost Keepers," going to great lengths to record their findings, including electromagnetic tracking and other tools.
Perhaps even more fascinating was the story of San Juan Capistrano's pre-European inhabitants: the Native American tribes largely known as the Juaneno. To them, the new European soldiers thrusting their way through their agrarian and river lands came to be known as "the leatherjackets" because of their thick leather vests that could deflect an Indian's arrow, according to local recollections from historian Pamela Hallan-Gibson.

One such "leatherjacket" was Father Juan Crespi, who wrote in his journal that the natives were mostly "friendly and excited," openly staring and shouting at soldiers as they made their way through the sunny terrain.
According to Hallan-Gibson, the Juanenos had structured rules governing courtship, marriage, food distribution, and other matters, with particularly strict and "exceedingly harsh" rituals for children entering adulthood.
According to anthropologist Alfred Kroeber—one of the foremost authorities on California Indians, according to Hallan-Gibson—records of Juaneno culture show adolescent children being given Jimson weed, a narcotic and stimulant. They were expected to hallucinate and see an animal that would become their protector, according to Kroeber.
Common animals seen were coyotes, bears, rattlesnakes, crows, or ravens, he said. He then describes boys to be blistered with fire, whipped with nettles, and laid on ant hills. During this period, boys weren't allowed to eat meat or seeds.

Contrasting with today's adolescent "Sweet 16," marking ascension into adulthood was the narcotic-induced ceremony of adolescent Juaneno girls, many of whom were already tattooed. After ingesting the Jimson weed, they were laid down on branches of Paksil in an earthen pit lined with heated stones. Each girl was expected to fast while women with painted faces chanted and danced around them, Kroeber wrote.
Juaneno ceremonies were recorded with vibrant detail, according to Kroeber and Hallan-Gibson. Not only were special rituals held in ceremonial chambers of brush enclosures with an opening to the sky, but they also honored the Juanenos' supreme deity, Chinigchinich, in the form of a coyote skin filled with arrows and other animal parts nearby.
Walking down the manicured adobe-style historic district, one can only imagine the ritual dress for those participating in these ancient ceremonies, such as the skirts of eagle or condor feathers so long that they hung from the waist down to the knees or the matching upright feather headdresses, as described by Kroeber.

Adding to their vibrance was Juaneno body paint during rituals, sometimes using red, black, or white marks of various assortments all over the body. Or the Juanenos' reverence for birds, having "reared them from the nest with the greatest care," according to early diaries from Spanish evangelist Father Gerónimo Boscana, regarded by some historians as having written the most comprehensive ethnographic portrayals of the Native Californians during the Mission period.
Such reverence for the city's birds persists today in current mottos outlined by city souvenir paraphernalia, such as "Capistrano is for the birds," or "Follow the Swallows to Capistrano," although in ancient tribes, birds figured prominently in the Juaneno story of creation, which began with the "marriage of earth and sky," according to Hallan-Gibson.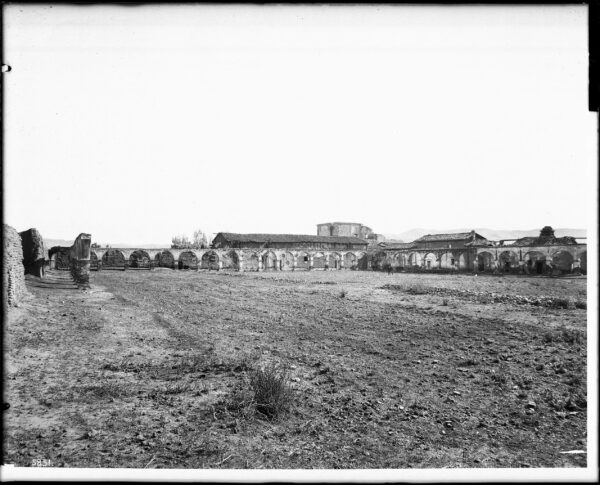 Even more enticing is the Juanenos' conception of the region's beginnings, where out of this union came sand, flints for arrows, trees and shrubs, water, grass, and animals, she wrote. From there, Chinigchinich came out of the sky and created man out of clay, according to records.
Hundreds of years later, there's still much to be learned about the Juanenos of Capistrano Valley, according to Hallan-Gibson, although the discovery of artifacts and early descriptions of the valley's first residents will help complete the picture in the future.