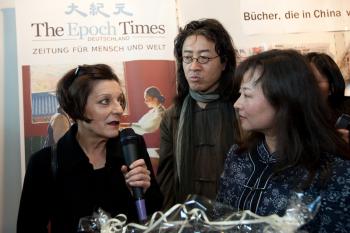 FRANKFURT, Germany—2009 Nobel Laureate Herta Müller caused an explosion of flash bulbs as she made her way to The Epoch Times booth at the Frankfurt Book Fair last week.
The shy author demonstrated a dignified demeanor during the media blitz as she greeted Chinese dissident author Bei Ling now living in the US, Zhong Weiguang, residing in Germany, and Editor-in-Chief of Epoch Times-Europe Lea Zhou.
"I am happy to be able to somehow support them in one way or another. If I could use the [Nobel] prize to somehow offer them sanctuary…I know, all dictatorships are alike in their dealings with human beings. Individuality is immaterial; no individual is permitted his or her own say."
Müller, raised in Romania under the Ceausescu regime, knows what she is talking about. She refused to work for the Securitate, Romania's secret police, and thus lost her job in 1979. To this day, she warns and exposes incidents of the Securitate.
"I always emphasize how fortunate I was to have survived living under a dictatorship," she said. Müller indicated her conviction that the Chinese dictatorship can fall, adding, "It is lamentable if a human life has to perish before this happens. I have many friends who could not witness the toppling of the Ceausescu regime."

She is applauded when she notes how many dictatorial government have killed people to maintain their power citing examples: "Next to China is Cuba, for instance, or Iran or North Korea. One needs to have courage, guts and responsibility."
Müller spoke directly to the Chinese dissident authors: "Courage is the opposite of fear. Living in a dictatorship requires courage and being responsible. Of course, all people have fear. But I am convinced that fear is the better [emotion] for survival than courage."

Epoch Times Editor-in-Chief Lea Zhou calls Herta Müller a "writer against forgetting," when she presented the author with a current Chinese issue of The Epoch Times. It featured a segment of her novel "Atemschaukel" translated into Chinese.
Müller smiles amid the crush of people as flash bulbs continually fire in her direction. In somewhat poor health, the author had to cancel some appointments the day before. Her melancholy expression remains during the whole event, but her words are geared more toward the future than dwelling on the past.
She again tells the Chinese dissident authors and those writing for The Epoch Times, "Hopefully, someone will reward you for your work, and hopefully China might soon feel pressured to change the dismal human rights situation there."
Renewed applause. She turns again to Zhou. "I admire your stance, and I can imagine at what cost you persevere, and that you are taking risks."
A journalist from Radio Free Asia, which is banned in Mainland China but very much appreciated there nonetheless, asks her whether or not she listened to Radio Free Europe in Romania. "I listened to Radio Free Europe several times a day, and those who did not do so were idiots."
At The Epoch Times display table, a petition is presented to her and she signs—to one day let Chinese human rights attorney Gao Zhisheng witness the fall of the Chinese regime.
Gao Zhisheng disappeared from sight in February 2009. UN special envoy for torture Manfred Novak confirmed that Gao had been subjected to torture. Read more about Gao Zhisheng's situation.