More than 180,000 voters have cast their ballots during early voting in the Georgia U.S. Senate runoff election between Sen. Raphael Warnock (D-Ga.) and Republican candidate Herschel Walker, according to state election data.
About 69,297 Georgians turned out to vote on Nov. 26, the first day of early voting in the state after several courts ruled against a state order that had previously blocked voting on that day. A day later, on Nov. 27, another 87,168 people voted in the runoff, according to Gabriel Sterling, a top state election official.
"So far 181,711 Georgians have cast their votes in the December 6 Runoff. We expect solid turnout for the 5 days of Early Voting today. Make a plan for your vote, be it this week, by absentee by mail, or on Election Day," Sterling wrote on Twitter on Nov. 28.
The Georgia Secretary of State's office noted on Nov. 28 that under state law, any Georgia voter who's registered to vote by Nov. 7 can cast a ballot in the runoff. That's regardless of their previous voting history, and the voter didn't need to have voted in the Nov. 8 General Election in order to cast a ballot in the runoff, according to an emailed statement.
"Wait times have been short statewide, but some metro area Early Voting locations will have longer lines on higher turnout days such as the first day of Early Voting and the last few days of Early Voting," the release added. "Most metro counties offer more than one early voting location and wait times are often shorter at other locations in the county. Some counties are reporting their wait times in real time so that voters can choose the location with the shortest wait."
The Georgia Supreme Court last week ruled in favor of Democrats and Warnock's campaign in allowing early voting to start on Nov. 26. Officials in the Georgia Secretary of State's office had attempted to implement a rule to prevent early voting on that day while Republicans filed a petition with the state Supreme Court to keep that rule intact.
The Dec. 6 runoff is being held because neither candidate was able to secure more than 50 percent of the vote. Following the Nov. 8 contest, Warnock led Walker by about 37,000 votes out of 4 million ballots cast, data shows.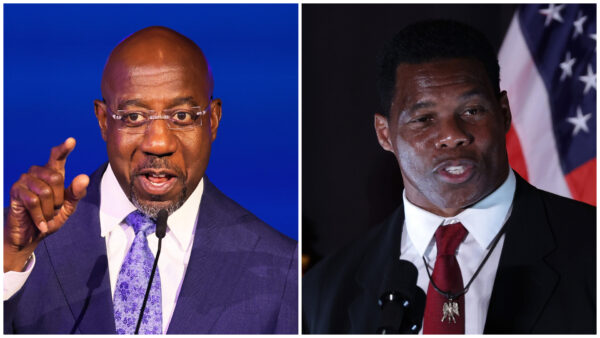 A third-party candidate, Chase Oliver, got approximately 80,000 votes, or 2.1 percent. Because Warnock and Walker were No. 1 and No. 2, respectively, Oliver was excluded from the runoff.
What It Means
Democrats already were guaranteed to retain a majority in the Senate after Nevada Republican candidate Adam Laxalt conceded to Sen. Catherine Cortez Masto (D-Nev.) on Nov. 15 after more than a week of counting ballots, giving them 50 seats, plus Vice President Kamala Harris as a tie-breaker.
A victory by Warnock would boost the Democrats to 51 seats, giving them a majority of members on all committees and allowing the party to advance President Joe Biden's nominees more quickly.
"Fifty is better than 49, and we're going to give it everything we've got," Senate Republican Leader Mitch McConnell (R-Ky.) told reporters last week.
A Walker win would also give national Republicans a boost, having seen their standing in the state of Georgia erode toward Democrats over the last few years. A Warnock victory could indicate that Democrats are making inroads in places where they have had difficulties gaining traction in the past.
Democrats will face a daunting task in holding onto their Senate majority in the 2024 elections, when they'll be defending 21 seats to the Republicans' 10. Two of those seats are in GOP-leaning states West Virginia and Montana. Another five are in the swing states of Ohio, Pennsylvania, Nevada, Wisconsin, and Arizona, all of which will be in play during the presidential election, and given the chamber's narrow divide, the Georgia seat could be a needed bulwark for either party.
Warnock was elected to the Senate in early 2021 to fill the remaining two years of Republican Sen. Johnny Isakson's term after he resigned at the end of 2019 for health reasons.
During that election, which also was settled by a runoff, Warnock defeated then-Sen. Kelly Loeffler (R-Ga.), who was named to the seat after Isakson stepped down. That same runoff also saw Sen. Jon Ossoff (D-Ga.) prevail over former Sen. David Perdue (R-Ga.).
Reuters contributed to this report.