Hurricane Irma will move over the Florida Keys first on Sunday morning as a major Category 3, or Category 4, hurricane, according to the National Hurricane Center (NHC) in a 5 p.m. Saturday update.
According to the 5 p.m. bulletin, Irma's eye is moving slowly north away from the coast of Cuba and "weather is deteriorating in South Florida."
"Major hurricane force winds [are] expected over the Florida Keys at daybreak," the agency stated.
It's about 115 miles from Key West, and it's moving west-northwest at 9 mph.
Irma is packing winds of 125 mph. However, according to Weather.com, the storm is expected to intensify to a Category 4 and hit Florida on Sunday.
Meanwhile, a storm surge warning "has been extended from the Volusia/Brevard County Line northward to the South Santee River," the NHC said. That includes Tampa.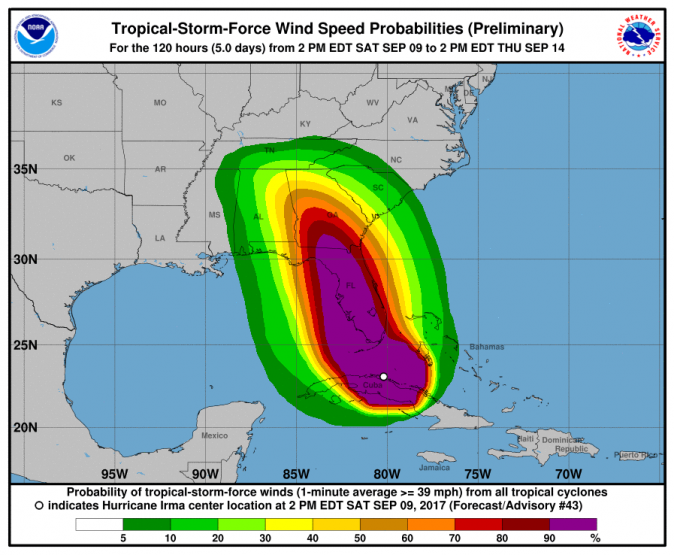 Here's more from the NHC:
A Storm Surge Warning is in effect for:
* South Santee River southward around the Florida peninsula to the Suwanee River
* Florida Keys
* Tampa Bay
A Storm Surge Watch is in effect for:
* North of the Suwanee River to Ochlockonee River
A Hurricane Warning is in effect for:
* Fernandina Beach southward around the Florida peninsula to Indian Pass
* Florida Keys
* Lake Okeechobee
* Florida Bay
* Cuban provinces of Camaguey, Ciego de Avila, Sancti Spiritus, Villa Clara, Matanzas, and Havana
* Andros Island, Bimini and Grand Bahama
A Hurricane Watch is in effect for:
* North of Fernandina Beach to Edisto Beach
* West of the Aucilla River to Indian Pass
A Tropical Storm Warning is in effect for:
* West of Indian Pass to the Okaloosa/Walton County Line
* North of Fernandina Beach to South Santee River

(NOAA)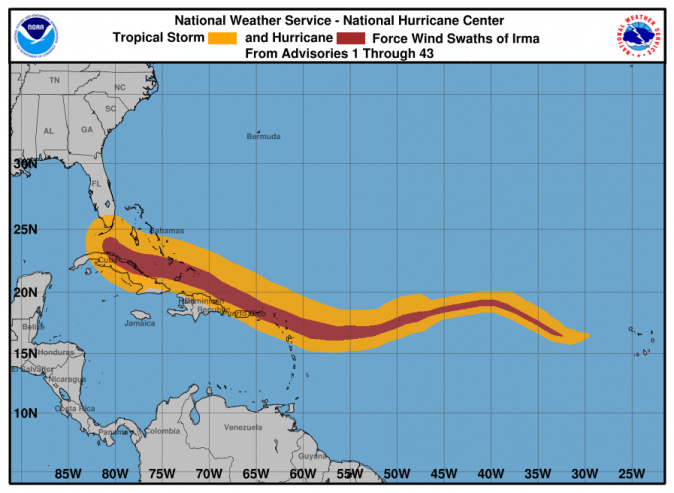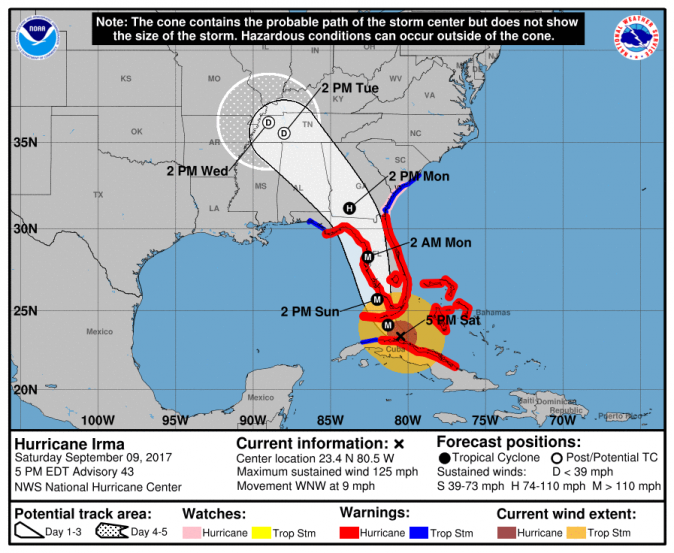 Irma, which has killed at least 22 people in the Caribbean, was likely to inflict billions of dollars in damage in one of the most populous and fastest-growing states.
It could bring winds in excess of 100 miles per hour and a storm surge up to 15 feet high along the state's west coast, which is expected to trigger flooding.
The hurricane could rival any storm in Florida's history, with the storm surge generating flooding along the entire west coast, Governor Rick Scott said.
"Think about that, 15 feet is devastating and will cover your house," he said at a Saturday morning news conference.
Irma, located 195 miles south of Miami on Saturday afternoon, still ranked as a Category 5 storm when it crashed into Cuba during the morning. It gradually weakened to a Category 3 storm as it bumped along the island's northern coastline, downing power lines, bending palm trees, and sending waves crashing over sea walls.