UPDATE ON MONDAY – 5:30 P.M. ET:
Walt Disney World near Orlando dodged major hurricane damage as Irma, now a tropical storm, passed over Florida on Sunday and Monday.
The park, dubbed "The Most Magical Place on Earth," will now open on Tuesday. Universal Studios Orlando will also open on Tuesday.
The parks were closed down on Sunday and Monday due to Irma's destructive winds and flooding.
"We hope to resume normal operations on Tuesday, September 12," wrote Disney's website on Monday morning.
—-
UPDATE as of Friday at 4 p.m. ET:
Disney World won't be open when Hurricane Irma slams Florida this weekend.
"In anticipation of inclement weather, Walt Disney World Parks and Disney Springs will be closed Sunday, September 10 and Monday, September 11," a statement from Disney World reads.
But it adds the park "will be operating as planned Friday, September 8 and will have modified hours on Saturday, September 9."
According to Orlando's News 6, Magic Kingdom, Epcot, and Disney Springs will close Saturday at 9 p.m. ET.
Meanwhile, Hollywood Studios and Animal Kingdom will close at 7 p.m. ET.
Blizzard Beach is closed Friday and will reopen on Tuesday. Typhoon Lagoon will close at 5 p.m. on Saturday.
ESPN Wide World of Sports will be closed Saturday until Monday.
Hurricane Irma is expected to make landfall in South Florida on Sunday night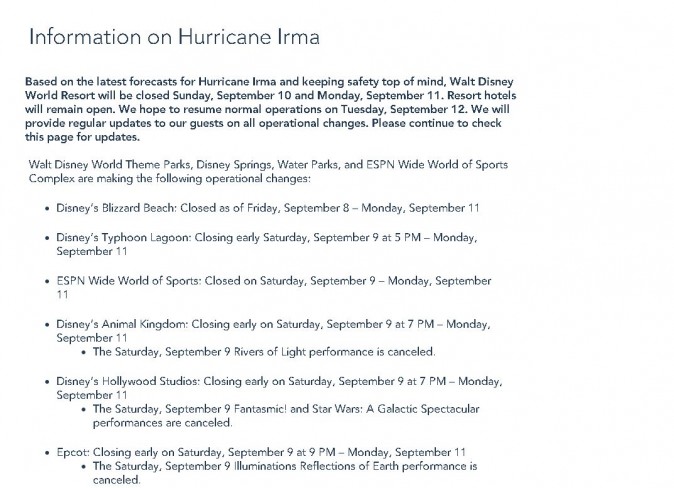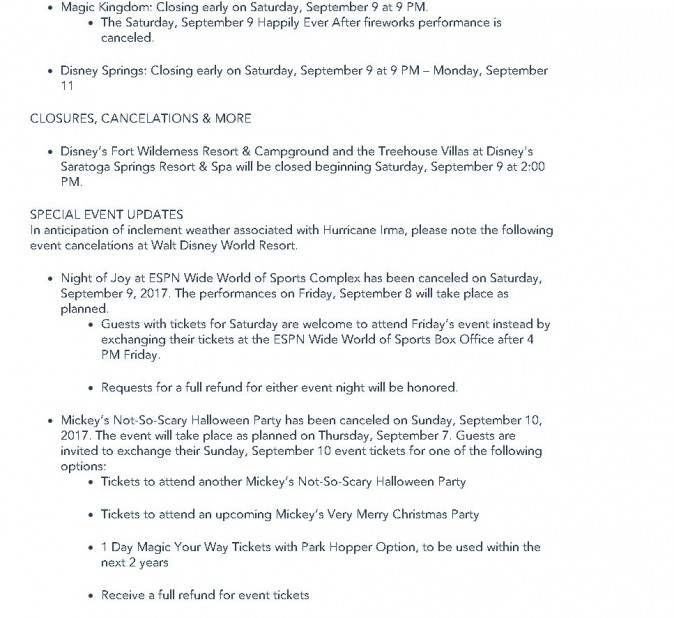 —-
Earlier update as of 11 a.m. ET:
Walt Disney World, Universal Orlando, and Sea World are making plans to deal with potentially devastating Hurricane Irma, as it bears down on Florida.
None of the parks are planning on shutting down ahead of Irma, The Associated Press reported on Sept. 7—despite some tracking models showing that the hurricane might reach central Florida on Monday.
Walt Disney World allows people to reschedule or cancel their vacation packages if a hurricane warning is in effect for the Orlando area. "The policy does not apply to certain special events or dining experiences," the company told the Orlando Sentinel.
"In anticipation of inclement weather, Night of Joy has been canceled on Sept. 9 and Mickey's Not-So-Scary Halloween Party has been canceled for Sept. 10. View more details and get updates on Hurricane Irma," said Disney World's website on Sept. 8.
The park said it is continuing to "monitor the path" of Irma.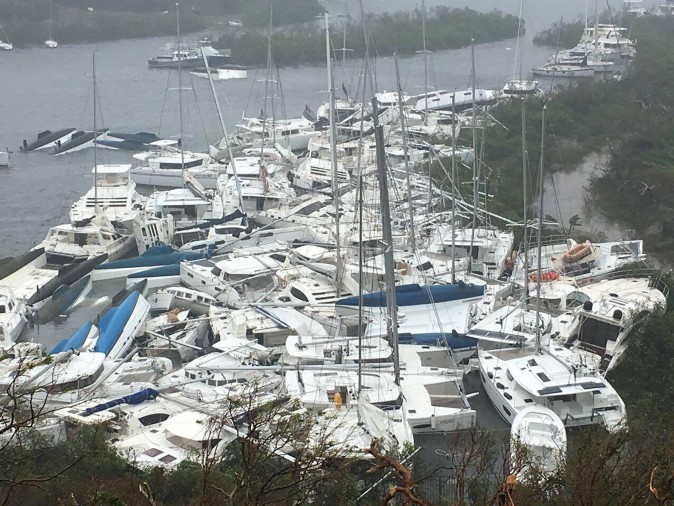 Disney's Blizzard Beach water park will be closed Friday and Saturday. The Typhoon Lagoon water park will "remain open for guests during this time," the park stated.
Disney's Fort Wilderness Resort & Campground will be closed as well, the park said.
Since 1971, Disney World has closed down four times due to hurricanes.
For SeaWorld, according to a statement, "SeaWorld Orlando and Busch Gardens Tampa Bay are currently planning to close by 5 p.m. ET on Saturday, Sept. 9, pending further updates as we monitor the storm. Both parks will remain closed on Sunday, Sept. 10, and Monday, Sept. 11. Aquatica Orlando and Adventure Island will be closed on Saturday, Sept. 9, through Monday, Sept. 11. Discovery Cove will be closed on Sunday, Sept. 10 and Monday, Sept. 11."
And it added, "SeaWorld Orlando, Aquatica Orlando, Discovery Cove, Busch Gardens Tampa Bay, and Adventure Island will be adjusting schedules as follows."
SeaWorld Orlando also has a "peace of mind" hurricane policy and allows people to reschedule or refund vacation packages or park tickets without fees, according to the Sentinel.
Universal Orlando Resort said, "In the event that a hurricane warning is issued for the Orlando area or your place of residence, within seven days of your arrival, you can contact our team to reschedule or cancel your Universal Parks & Resorts Vacations hotel accommodations and Universal Orlando theme park tickets (booked directly with Universal Parks and Resorts) without any cancellation or change fees imposed."
According to Tom Schroder, a spokesman with Universal Orlando Resort, the parks' hours are operating as normal as they monitor the hurricane.
"We have an affirmative, no-questions-asked policy for guests who tell us they want to change plans or seek a refund because of a named storm involving the Orlando area or where they are traveling from," Schroder told the paper.
Hurricane Matthew in 2016 shut down the theme parks.