A recent spate of security breaches has placed the U.S. Secret Service under fire, prompting speculation that President Donald Trump isn't safe.
1. Jonathan Tran, 26, breached the White House's south grounds after jumping over three barriers. He was on the grounds for more than 16 minutes before he was arrested on March 10. Congressman Jason Chaffetz says he managed to rattle the door at the South Portico entrance.
He set off several alarms after jumping the fence but was able to avoid several other sensors, the BBC reported.
Trump later praised the Secret Service for arresting a "troubled person" at the White House, AP reported. "Secret Service did a fantastic job last night," Trump added.
2. On Saturday afternoon, a week after the first incident, a man attempted to hop the White House fence. Police say the man was yelling incoherently. He wasn't able to get past the first set of fences on the north side. Then, at around 11 p.m. the same day, another man was arrested near the White House by Secret Service agents. He told them he had a bomb in his car while adding, "This is a test," Reuters reported Sunday.
3. Two agents are under investigation for taking pictures along with Trump's 8-year-old grandson earlier this month, left-leaning website Mother Jones reported. The child, Donald III, was sleeping while agents were watching him. He fell asleep as they were driving from Manhattan to Westchester County. When they started taking selfies, the child awoke. The agency is investigating the two for potentially abandoning their post.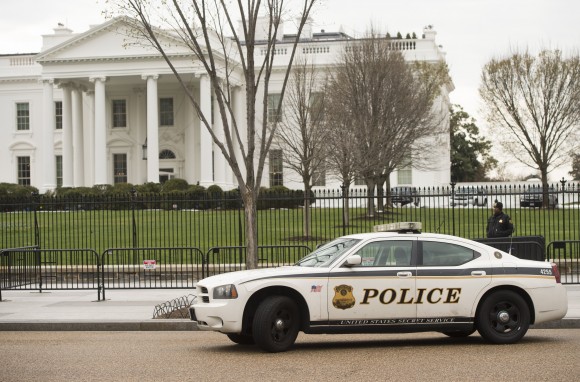 The three incidents prompted a response from former Secret Service agent, Dan Bongino, who guarded several former presidents.
"The intruder set off multiple alarms, alarms that clearly showed someone breached the property, and he was seen by officers who didn't think anything of it. This is a big story," Bongino told Fox News, referring to the Tran incident. "That just shows the president is not safe there—in the White House. The Secret Service does not have the assets, they don't have personnel on the ground they need to keep him safe," he added.
4. Late last week, a Secret Service laptop was stolen from a car parked in the driveway of an agent's Brooklyn home. The device reportedly had floor plans of the Trump Tower in Manhattan as well as information regarding the investigation into Hillary Clinton's emails, the New York Daily News reported.
5. A man claimed to have gotten past security at Trump's Mar-a-Lago estate in Florida to take a selfie picture in Trump's private study. "Snuck by secret service to catch the selfie," Joseph Young wrote an Instagram photo Saturday. "They might have told us not to go in there."
The Secret Service later denied Young's claims, saying that "those reports are all false" and "no one got past the Secret Service." A source told TMZ that guests were allowed in the study.
Unprecedented?
There were a series of breaches and scandals involving the Secret Service under the Obama administration.
For example, during President Obama's first year in office, Washington couple Tareq and Michaele Salahi crashed his first state dinner after getting past security.
Later, in November 2011, a man with a semiautomatic rifle parked near the White House and opened fire at the building. No one was injured, but former first family member Sasha Obama was inside at the time. The Washington Post in 2014 reported that the Secret Service apparently didn't know it happened until later.
Between 2012 and 2014, there were a series of scandals involving the Secret Service, including eight agents in Colombia losing their jobs after taking prostitutes to their hotel rooms. In March 2014, three agents were placed on leave after violating the Secret Service's rules prohibiting excess drinking.
In 2014, in the worst security lapse, a security contractor armed with a gun (the Secret Service didn't know about the weapon until later) got close to Obama and took several photos. He didn't stop when the Secret Service ordered him to halt, NBC noted.