Helio Tops High-Speed IndyCar Barber Practice
April 5, 2013 9:13 pm Last Updated: April 7, 2013 12:18 am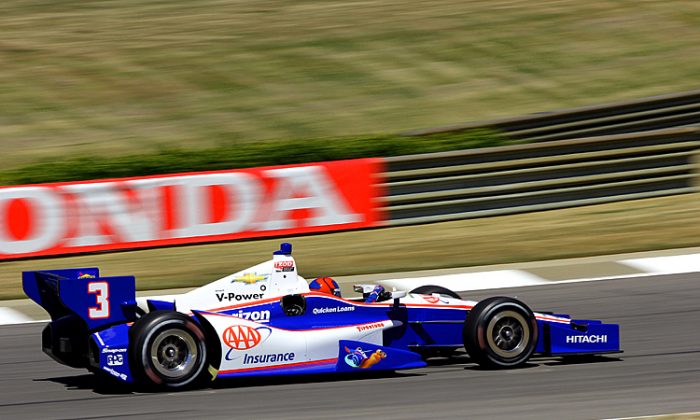 LEEDS, Ala.—Helio Castroneves was quickest in Friday's practice sessions for the Honda Indy Grand Prix of Alabama at Barber Motorsports Park—quicker than the track record, in fact.
Teams learned that Barber track was significantly faster this year than last during testing in March. Parts of the track surface were ground down during the off-season, creating better traction. Also, teams are learning how to get more speed out of the Dallara DW12 in their second year with the car. On top of that, Firestone has developed some grippier, if shorter-lived tires.
Taken together these factors mean the old lap record has been demolished during the second practice session by teams using the slower Black-sidewall tire. When the teams break out the quicker, stickier Reds for qualifying, lap times could drop another second or so.
There is only a single short morning practice session Saturday morning before qualifying, and with temperatures likely to be much lower then, Friday's afternoon session was the last chance for teams to test their qualifying set-ups. The session ran almost like qualifying, as drivers went out, warmed up their tires, and uncorked fast laps. One after another drivers moved to the top of the scoring pylon, only to be displaced a minute later.
Will Power, Scott Dixon, and Alex Tagliani all turned fastest laps before Helio Castroneves got around the course in 1:08.554 at 120.781 mph, shattering the track record by 1.5 seconds.
Shortly after Helio's fast lap, Andretti Autosports driver E.J. Viso went into the gravel at Turn Eight, bringing out the red flag. With only two minutes left in the session when the track went green again, no one had time to warm the tires and go for a better run, letting the Penske driver maintain the top time of the day.
Alex Tagliani's 1:08.6288 was god enough for second, and rookie Tristan Vautirer was third at 1:08.6720. In all 11 drivers broke in the 1:08s, 12 within half-a-second, and the top 20 within a second of Castroneves' time.
As former ChampCar and NASCAR driver AJ Allmendinger told the post-race press conference, "There are 26 fast race cars out there."
The IndyCar Alabama Grand Prix Marks the return of Allmendinger to open-wheel racing. After winning five ChampCar races in 40 starts, Allmendinger moved to Roger Penske's NASCAR operation, where he raced with indifferent success until a positive test for Adderall made him less attractive to sponsors. Penkse knew the 31-year-old driver had too much talent to let him sit idle, and offered a seat in the third Penske IndyCar.  
Allmendinger faces a steep learning curve; though the DW12 is an open-wheel single-seater similar to what he used to race in ChampCar, it is a totally different machine with different responses and characteristics. He seemed up to the task, finishing eight in the field of 26.
Qualifying for the Honda Indy Grand Prix of Alabama starts at 10:25 a.m. Central Saturday; the race takes the green flag at 2:40 p.m. Central on Sunday. Tickets are available at the gate or via the Barber Motorsports Park website.