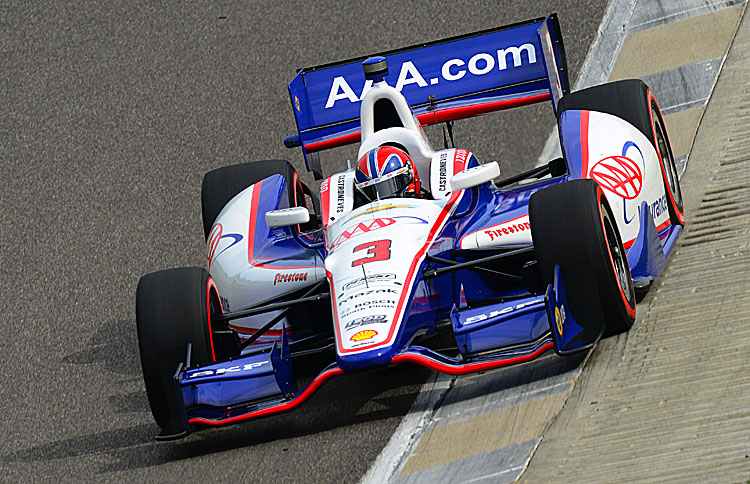 After one rained-out practice session and another stopped by fog, IndyCar's drivers finally got to take the track for qualifying Saturday afternoon. After the three rounds of qualifying were over, Penske Racing's Helio Castroneves had set the fastest lap, breaking a two-year streak by teammate Will Power.
"We didn't have practice this morning. The red tires when we put them on the car, it changed completely the set-up," Castroneves told NBC Sports. "We were very lucky to make the first one but then my man [race engineer] Ron Ruzewski made some adjustments, and Bam! We made it to the second qualifying.
"We understand there were some issues with the other guys, but our theme this year is, we're not going to let the environment control us so, do our thing, do what we need to do, and it's going to pay and today, again, it's paying off."
There were certainly issues with other drivers—two of Castroneves' teammates didn't set a second-session qualifying time. Ryan Briscoe's car wouldn't go into gear at the start of the second session, and Will Power got caught out by a hasty red flag brought on by Andretti Autosport's Ryan Hunter-Reay spinning near the end of the sessions. Hunter-Reay had his best two laps erased for causing a red flag, setting him well back on the grid.
Power was very disappointed to have his two-season pole streak broken, but even more disappointed to be cut off during a hot lap on a track like Barber where passing can be so difficult.
"I was really surprised when it went yellow; I didn't think IndyCar would do that," Power said. "They let everyone else finish their laps and there were a couple more cars to go through and we didn't get to do it. Ah man—real disappointing because qualifying is everything around here. I don't think they should have gone yellow—at least let us finish the lap."
Andretti Autosport got at least one car into a good grids d spot; James Hinchcliffe turned in the second-fastest time. The second row will hold two Honda-powered cars: Scott Dixon's Target-Ganassi Honda and Mike Conway's ABC Supply Co./ Foyt Honda—quite an improvement from St. Petersburg where the quickest Honda qualified sixth.
JR Hildebrand, scoring Panther Racing's best non-oval-qualifying spot since 2006, will start fifth. Tony Kanaan put his KV Racing Chevy into sixth spot. Kanaan did the final qualifying session on the harder Black Firestone tires, to save a set of reds in better shape for the race.
The IndyCar Honda Indy Grand Prix of Alabama takes the green flag at 2 p.m. ET on Sunday April 1. Tickets for the event are still available through the Barber Motorsports Park website.
The race will be televised on the NBC Sports network.
Qualifying Results 2012 IndyCar Alabama Grand Prix

 

Car

Driver

Sponsor/ Team

Engine

Time

Speed

1

3

Helio Castroneves

AAA Penske

Chevrolet

01:10.4768

117.485

2

27

James Hinchcliffe

GoDaddy.com Andretti Autosport

Chevrolet

01:10.5222

117.410

3

9

Scott Dixon

Target Chip Ganassi

Honda

01:10.5291

117.398

4

14

Mike Conway

ABC Supply Co./A.J. Foyt

Honda

01:10.8791

116.819

5

4

JR Hildebrand

National Guard Panther Racing

Chevrolet

01:11.0759

116.495

6

11

Tony Kanaan

GEICO-Mouser Electronics KV Racing

Chevrolet

01:11.3740

116.009

7

5

E.J. Viso

PDVSA-CITGO-KV Racing

Chevrolet

01:11.5257

115.763

8

38

Graham Rahal

Service Central Ganassi

Honda

01:11.5841

115.668

9

12

Will Power

Verizon Penske

Chevrolet

01:12.0098

114.984

10

77

Simon Pagenaud

Schmidt-Hamilton HP Motorsports

Honda

01:14.2839

111.464

11

28

Ryan Hunter-Reay

DHL/Sun Drop Andretti Autosport

Chevrolet

No Time

No Speed

12

2

Ryan Briscoe

Hitachi Penske

Chevrolet

No Time

No Speed

13

26

Marco Andretti

RC Cola Andretti Autosport

Chevrolet

01:10.6512

117.195

14

8

Rubens Barrichello

BM-Embrase KV Racing

Chevrolet

01:10.5664

117.336

15

67

Josef Newgarden

Sarah Fisher Hartman Racing

Honda

01:10.6851

117.139

16

15

Takuma Sato

Rahal Letterman Lanigan Racing

Honda

01:10.6111

117.262

17

7

Sebastien Bourdais

Lotus Dragon Racing

Lotus

01:10.7255

117.072

18

10

Dario Franchitti

Clorox Target Chip Ganassi

Honda

01:10.6749

117.156

19

18

Justin Wilson

Sonny's BBQ Dale Coyne Racing

Honda

01:11.5524

115.719

20

19

James Jakes

Boy Scouts of America Dale Coyne Racing

Honda

01:10.7526

117.028

21

78

Simona de Silvestro

Nuclear Clean Air Energy HVM

Lotus

01:11.5721

115.688

22

83

Charlie Kimball

NovoLog Flex Pen Novo Nordisk Ganassi

Honda

01:11.3594

116.032

23

98

Alex Tagliani

Barracuda-BHA

Lotus

01:12.5778

114.084

24

20

Ed Carpenter

Fuzzy's Vodka/Ed Carpenter Racing

Chevrolet

01:11.8672

115.213

25

6

Katherine Legge

TrueCar-Lotus Dragon Racing

Lotus-

01:13.6457

112.430

26

22

Oriol Servia

Lotus-DRR

Lotus

01:13.3349

112.907