San Bernardino County Sheriff's Aviation Unit conducted a swift water rescue in Yucca Valley, California, on Feb. 2, after an elderly man was discovered trapped in a car stuck in floodwaters.
Video posted by the sheriff's office captures the scene as an emergency responder extricated the man from his car after a flash flood brought water up the the level of the car's windows.
A helicopter was called to the scene and a rescuer was lowered via cable to remove the man from the rising waters.
The rescue was the second incident on Yucca Mesa Road in Yucca Valley on Saturday night, according to a fire officials.
Officials said they were responding to a flooded vehicle with three people trapped inside when they received a call that a second car had been pushed into high water after attempting to cross a flooded roadway.
Because rescue resources had been deployed in the first incident, a helicopter was called in to assist in the later rescue amid 40 mile-per-hour winds.
One individual involved in the first flooding incident was found dead, according to officials.
Credit: @SBCSDAviation via Storyful
By Storyful
Coast Guard Rescue Swimmer Rappels Down to Check Truck
Coast Guard stations from up and down the East Coast sent rescue units to the Carolinas to help with people trapped or endangered by Hurricane Florence.
Coast Guard units have been investigating every abandoned vehicle and every house where there might be people or pets. Anywhere a life might be saved, the Coast Guard has been making an effort to reach.
In the video above, Petty Officer 1st Class Jordon Shevlin from the Atlantic City Coast Guard station is seen checking a truck stricken by swirling flood waters for trapped passengers on Sept. 16.
PO1C Shevlin stepped out of the HH-65 Dolphin rescue helicopter while storm-force winds bucked it around, and lowered himself on a winch to see if there was anybody trapped in the truck.
In this case, the truck was empty, but the dedication of the Coast Guard rescue crew means that they always check for survivors—they see it as their duty.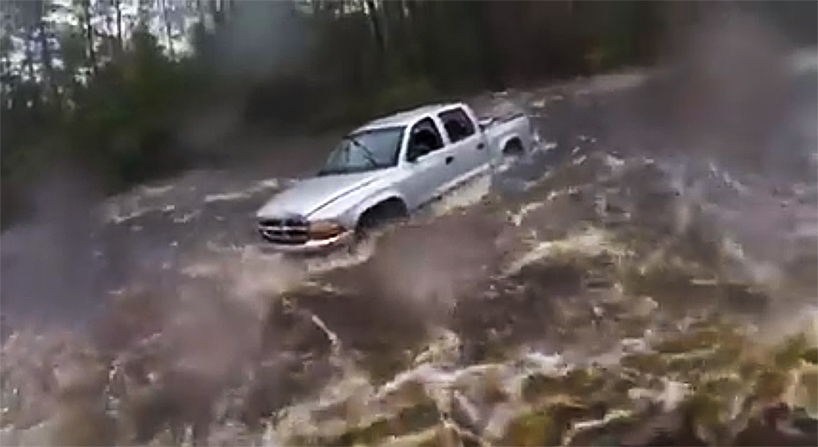 Every time a storm whips up out in the ocean, the number of unsung heroes that come out and show their courage and care for others is a testament to the good in humanity.
Videos like this show how hard a job it is—and videos like those below show exactly why the Coast Guard and other first responders give so much of themselves repeatedly.
An MH-60T Jayhawk Helicopter crew from #USCG Air Station Clearwater, Florida, evacuated three adults, one child, and two dogs from Rocky Point, North Carolina on Sept. 17. The rescues were trapped by flooding caused by Hurricane Florence, according to the Coast Guard Facebook page.
A total of 26 adults, 11 children, seven dogs and four cats had been evacuated from that same neighborhood by an Air Station Elizabeth City, North Carolina, crew a few hours earlier.
Another crew from Air Station Elizabeth City rescued a man and his dog who were trapped atop a van on Sept. 17. The man and his pet had been driving when flood waters surged over the road, trapping the van. The man and his pet climbed onto the roof of the van and watched the water rise. Before things got perilous, help arrived from above.
In this video, a Coast Guard crew hoisted a woman to safety as the water slowly rose to cover the porch of her home. The lady had been without her medication for several days and was unable to eat or drink. Without the Coast Guard, she probably wouldn't have survived.

More than just helicopters were deployed to help with the rescues. Boat crews scoured flooded neighborhoods looking for people who hadn't managed to get out—like this couple from Brunswick County, North Carolina, who were rescued along with their pets.
The Coast Guard crew members also helped rescue pets out of their flooding homes.
The National Guard assisted as well. Maryland's National Guard sent its Helicopter Aquatic Rescue Team to the Carolinas.
"We are there solely to rescue people. We're looking for stranded individuals or someone in need of help," Justin Evans, with the Maryland National Guard, told CBS News.
Epoch Times Reporter Chris Jasurek contributed to this article