Fourteen Mexican marines died, and another was injured when a navy Blackhawk helicopter crashed during the operation to capture drug lord Rafael Caro Quintero on Friday.
The navy said it appeared to have been an accident, with the cause remaining under investigation.
Mexico's Attorney General's Office said in a statement late Friday that Caro Quintero was arrested for extradition to the United States and would be held at the maximum security Altiplano prison about 50 miles west of Mexico City.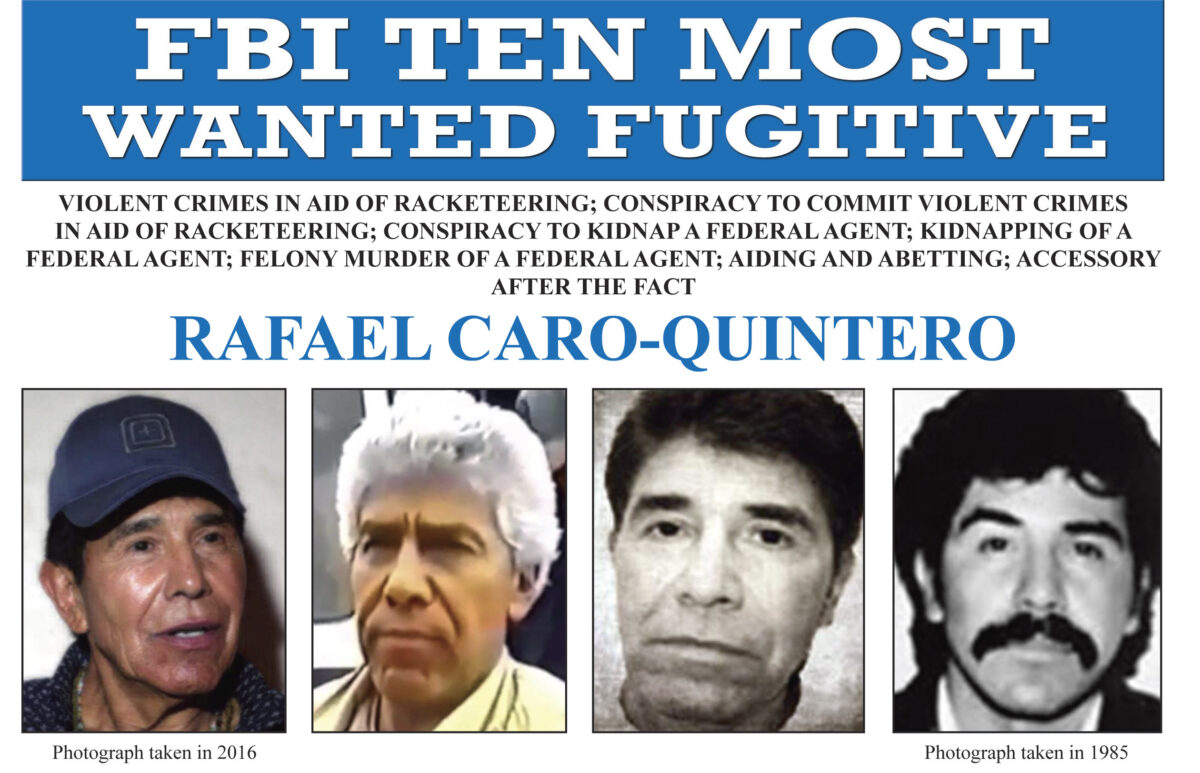 Mexico's navy and Attorney General's Office led the operation deep in the mountains that straddle the border between Sinaloa and Chihuahua states, many miles from any paved road.
They found Caro Quintero, with help of a six-year-old bloodhound  "Max," hiding in brush in a place in Sinaloa called San Simon.
Mexican President Andrés Manuel López Obrador said via Twitter that the helicopter that crashed in the coastal city of Los Mochis had been supporting the operation against Caro Quintero. He expressed condolences to the families of the victims and said the crash would be investigated.
Caro Quintero was the most wanted target of the U.S. Drug Enforcement Administration (DEA)—the man allegedly responsible for the murder of a DEA agent more than three decades ago.
Caro Quintero had walked free in 2013 after 28 years in prison when a court overturned his 40-year sentence for the 1985 kidnapping and killing of DEA agent Enrique "Kiki" Camarena. The brutal murder marked a low point in U.S.–Mexico relations.
Caro Quintero, the former leader of the Guadalajara cartel, had since returned to drug trafficking and unleashed bloody turf battles in the northern Mexico border state of Sonora.
He was on the FBI's most wanted list, with a $20 million reward for his capture through the State Department's Narcotics Rewards Program. He was added to the FBI's top 10 most wanted list in 2018.
Caro Quintero was one of the primary suppliers of heroin, cocaine, and marijuana to the United States in the late 1970s. He blamed Camarena for a raid on a marijuana plantation in 1984. In 1985, Camarena was kidnapped in Guadalajara, allegedly on orders from Caro Quintero. His tortured body was found a month later.
Late Friday, U.S. Attorney General Merrick Garland expressed the U.S. government's gratitude to Mexican authorities for Caro Quintero's arrest and offered condolences for the Mexican military personnel who died in the helicopter crash.
"There is no hiding place for anyone who kidnaps, tortures, and murders American law enforcement," he said in a statement. "Today's arrest is the culmination of tireless work by DEA and their Mexican partners to bring Caro-Quintero to justice for his alleged crimes, including the torture and execution of DEA Special Agent Enrique 'Kiki' Camarena. We will be seeking his immediate extradition to the United States so he can be tried for these crimes in the very justice system Special Agent Camarena died defending."