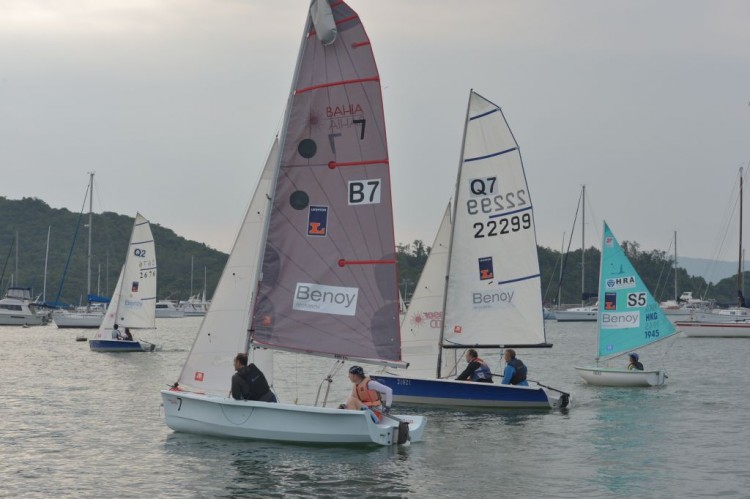 A total of 2,168.9 miles were raced in the 10th Anniversary Hebe Haven 24 HR Charity Dinghy Race, with organisers expecting to exceed HK$1 million when all funds have been collected.
Starting at 3.00 pm on Saturday Oct 6 and finishing at 3.00 pm on Sunday Oct 7, a total of 48 teams took part, representing the main yachting clubs in Hong Kong, along with schools and colleges including: Island School; Kellett School; Jockey Club Sarah Roe School; King George V School; Shatin College; UST Sailing Club; Renaissance College; event title sponsor, Team Benoy; and teams from other sponsors, TREATS, Enlighten, Sailability HK and Operation Breakthrough.
Six classes of Dinghy took part in the race: Bahia, Wayfarer, Laser 2000, RS Feva, Pico and Access 2.3. Prizes were awarded for overall fleet results and handicap results, team performances. Handicaps were based on the RKA PN system.
The overall winners on handicap were RHKYC RS Feva, followed by ABC Wayfarer, ABC RS Feva, Sports Boats and Team RB.
The Rabbit Trophy was won by Sports Boats followed by ABC Wayfarer and RHKYC RS Feva came third. The Night Hawk Trophy was won by ABC Wayfarer, with RHKYC RS Feva second and ABC RS Feva third. The Rooster Trophy was won by DEA, followed by ABC RS Feva, with UST Sailing Cub in third place. The Dolphin Trophy was claimed by KGV RS Feva, Hebe Dragons Pico 2 came second and the Operation Breakthough team came third.
Class prizes were won by Team RB, ABC Wayfarer, KGV Laser 2K, RHKYC RS Feva, RHKYC Pico and Enlighten Access 2.3.
The representatives of the Black Shrimp team were very proud to be one of the longest participation "independent" teams in this charity event, saying that they had been involved for six or seven years. They were very organised with a quayside canopy and all participants looked very happy even after a long night's sailing.
Carol Patterson, Community and Service Coordinator at Renaissance College, said they had two boats in the competition, Pico Community and FEVA Competitive, and that the school had been involved a few times.
"I am quite scared as I see these boats keep rocking over from side to side and I am worried about all my kids" she told The Epoch Times. "But it's just inspirational. I think these kids are amazing that they have been here all night and doing this for charity. I just love it," she continued.
Ms White, also from Renaissance College, spoke about her son in Pico Community.
"He is 9 years old and is racing for two teams – ours and the Hebe Dragons team," Ms White said.
"He has been learning to sail for about three years and he is here every weekend and a few nights each week," she enthused.
Ms Patterson said Ms White told her how sailing has changed her son and how he has become more responsible. "So now I want to put [in] my 10-year-old son to do the same," said Ms Paterson.
The charity event had raised about HK$900,000 by last Sunday, but the final figure is expected to be over HK$1 million when funds raised by stall-holders and the upcoming Charity Dinner are included. Proceeds will be divided between the nominated charity organisations of Children's Cancer Foundation, Enlighten, IDEAL and TREATS.
Next event: The China Coast Regatta organised by the Royal Hong Kong Yacht Club starts on Friday Oct 12 to 14 from Middle Island. This is then followed by the Hong Kong to Hainan Race commencing on Thursday Oct 18 to 21.