Heavy Typhoon Season Hits China
August 19, 2006 12:00 am Last Updated: August 19, 2006 12:00 am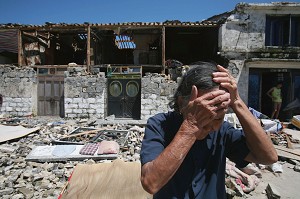 As China continues to clean-up after the latest "super typhoon", the worst in over 50 years, scientists are pointing to increasingly unusual weather patterns in the country.
Typhoon Saomai bore down on Zhejiang and Fujian provinces last Thursday August 10 forcing the evacuation of 1.7 million people and destroying more than 50,000 homes, according to official figures.
The death toll stands at 214, but the figure may climb higher as more people are uncovered from underneath collapsed buildings.
Storm tracker Tropical Storm Risk initially graded Saomai a category 5 "super typhoon" – its highest category – but reduced that to category 4 after it came ashore. The typhoon slammed into Southern China with a record speed of 216kph, causing major flooding, landslides and power failures.
An estimated 122,700 hectares of farmland were rendered useless, according to the State Flood Control and Drought Relief Headquarters, reported the AFP news service.
Typhoon Saomai was more powerful than a typhoon that hit Zhejiang five decades ago. The 1956 disaster triggered a tsunami that killed more than 3000 people.
Saomai was the second typhoon that has plunged China into darkness in the past month. Speaking after the Tropical Storm Billis claimed over 500 lives in July, Qin Dahe, director of the China Meteorological Administration, commented in an AFP report:
"From May to July 21, 1345 people have died and 306 are missing from weather-related disasters, resulting in 75.4 billion yuan ($US9.4 billion) in direct economic losses."
The report quoted his as saying that the number of fatalities, missing people and direct economic losses were "much greater" than for the same period last year.
In fact, this year China has seen an unusually early typhoon season, with the first storm coming on May 18, 40 days ahead of the expected date.
Reports by the UN's Intergovernmental Panel on Climate Change have long held that rising temperatures would result in more severe rain storms in south and central China and drought in the north.
China has seen an unprecedented rise in natural disasters in recent years. Floods, drought, wind, hail, earthquakes, heavy snow, landslides, sand storms and mud-rock flows have become an almost normal part of life.
"It was quite scary, with all the wind and rain, but we're used to it," said one hotel worker in the city of Ningde to Reuters as he cleaned up after Saomai.
This year alone about 1.6 million hectares of arable land yielded no harvest. An estimated 388,000 houses collapsed and 2.4 million were destroyed, forcing the relocation of nearly 1.3 million people, reported Reuters.
Although last year Beijing made attempts to show more transparency by releasing natural disaster death tolls, previously considered a state secret, critics argue there is still more information kept under wraps.
Officials said China have no intention of revising death tolls from past calamities that they argue to be "natural", but were in truth the product of misguided politics. The worst catastrophe was a famine that claimed as many as 30-40 million lives in the late 1950s and early 1960s, which the Communist Party refers to as "three years of natural disasters".