Passengers flying from Heathrow can now get a one-hour test for COVID-19 in the airport, smoothing the way to destinations requiring proof of a negative test before departure, such as Italy and Hong Kong.
The rapid saliva swab is the first of its kind in a major airport in the UK, which is lagging behind some other nations in terms of the on-the-spot tests that cut quarantine times and could facilitate so-called air corridors.
The pre-departure tests, £80 ($104) apiece, were announced today by Collinson and Swissport, which described them as "a critical step" in the aviation sector's recovery and in re-opening routes.
"Many other countries are already using testing to keep their borders safe while restarting trade and travel. These facilities will make it easier for passengers going to those countries to get a test and have the potential to provide a service for arriving passengers," Heathrow CEO John Holland-Kaye said in a statement.

"Ultimately, we need a Common International Standard for pre-departure testing, and we welcome the UK government's recent announcement that it wants to take a global lead in establishing this."
The airport test is different from the PCR test currently used in the NHS, and can be processed quickly without a laboratory. Tests must be booked online prior to arriving at the airport.
British Airways, Virgin Atlantic, and Cathay Pacific will be the first airlines to offer the test, which will be available for an initial 4-week period.
The development comes after the government said it would support private industry to establish a single test for arrivals in the UK.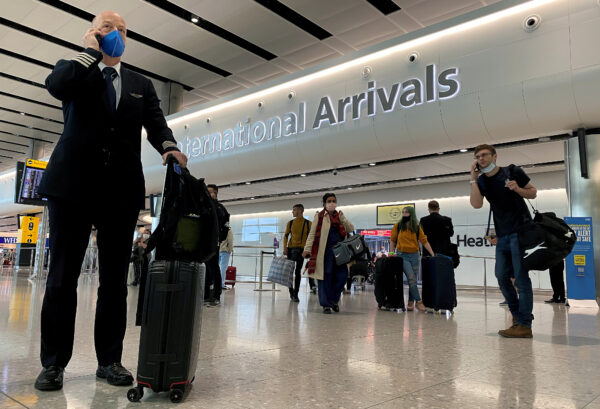 The aim is to cut in half quarantine times for passengers arriving from virus hotspots, who must currently quarantine for 14 days.
That model is sometimes called "test and release".
Speaking at an aviation industry event yesterday, Transport Secretary Grant Shapps said, "In addition to this domestic 'test and release' model we are also working on schemes with partner countries to establish whether self-isolation could take place before departure."
Shapps said that the development of the tests would not impact NHS capacity. "That's been one of the big challenges of designing such a scheme when NHS test and trace has been under enormous strain," he said.
Shapps said that the UK government would also push to develop an international standard for airport testing.
Virgin Atlantic CEO Shai Weiss said: "We urgently need the introduction of a passenger testing regime here in the UK to safely replace quarantine. As long as the 14-day quarantine remains in place, demand for travel will not return and the UK's economic recovery, which relies on free flowing trade and tourism, cannot take off. Half a million UK jobs depend on open skies and a fully functioning UK aviation industry."
There are over 40 quarantine-free "travel corridors" between the UK and other countries. However, Wales, Scotland, England, and Northern Ireland each manage their own entry regulations, although the lists are very similar.