With passenger numbers slumping to one-fifth of normal, Heathrow airport bosses are again blaming the government for dragging its feet over CCP virus testing and for "debilitating" quarantine demands.
Heathrow airport said today that traffic in October was down 82 percent, in line with eight months of "catastrophic" decline.
"With the current travel ban, November is likely to be even worse," said a statement from Britain's busiest airport.
Heathrow CEO, John Holland-Kaye, said that sector was suffering due to a lack of action from the government.
"The lack of a testing regime has left British airports unable to compete with EU rivals," said a statement from the airport.
UK, which is lagging behind some other nations in terms of the on-the-spot tests that cut quarantine times and facilitate so-called air corridors.
Heathrow last month lost its crown to Paris's Charles De Gaulle as Europe's busiest airport, with Frankfurt and Amsterdam Schiphol airports looming in the rearview mirror.
"European leaders acted quicker and now their economies are reaping the benefits," said Holland-Kaye in a statement last month.
It isn't just passenger numbers that are being impacted "The airport's overall cargo volumes were down 23 [percent] compared to last year," said the airport statement. "North America, the UK's biggest export market, has been hardest hit by the downturn."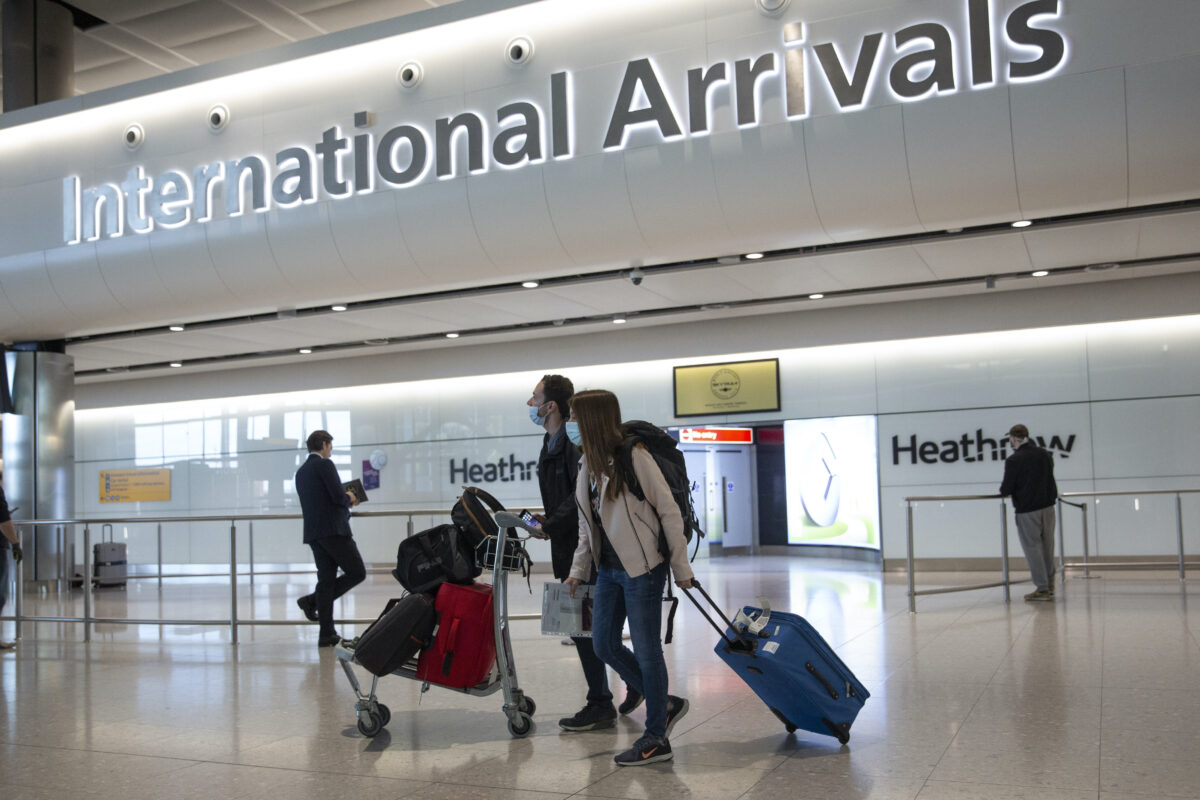 The government last month said it would support private industry to establish a single test for arrivals in the UK: the so-called "catch and release" system.
While some other countries forged ahead with airport testing at the start of the pandemic, the UK government rejected it based on Public Health England (PHE) modelling that said only 7 percent of virus cases could be picked up through testing.
That analysis was flawed, according to a study published last month which suggested testing on arrival could identify over 63 percent of those with the CCP (Chinese Communist Party) virus.
Since last month, passengers flying from Heathrow have been able to purchase a one-hour test in the airport, smoothing the way to destinations requiring proof of a negative test before departure, such as Italy and Hong Kong.
The rapid saliva swab is the first of its kind in a major airport in the UK.
The pre-departure tests, £80 ($104) apiece, were announced by Collinson and Swissport, which described them as "a critical step" in the aviation sector's recovery and in re-opening routes.
The department of transport says it is working on schemes with partner countries to establish systems for passengers to self-isolate before departure.
Transport Secretary Grant Shapps has also indicated that the UK government would also push to develop an international standard for airport testing.