Heat Wave Sweeps China, at Least 40 Die
August 3, 2010 6:14 pm Last Updated: October 1, 2015 7:27 pm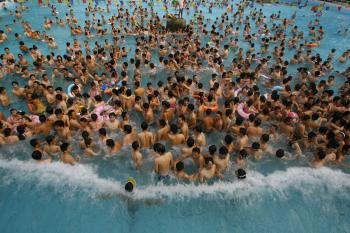 At least 40 people have died from heat strokes as a heat wave sweeps across China. Some hospitals are said to be overcrowded with victims of the heat. Extreme heat is expected to continue over the next 10 days in China's southern region with temperatures rising above 40 degrees Celsius (104 Fahrenheit).
Other regions have also been hit by heat waves recently, despite rainfall they received. At least 40 people died from heat stroke in Inner Mongolia, Shandong Province, Xi'an City, and Chongqing City, according to the Oriental Morning Post.
The number of heat stroke patients soared in hospitals in Jinan City in China's eastern Shandong Province. On July 31, one hospital in Jinan alone received 40 heat stroke patients, and 11 of them died. According to the hospital, most of the deceased were construction workers.
One 41-year-old patient was mixing concrete at a construction site before being admitted to the Second Affiliated Hospital of Shandong University in Jinan on the night of July 31. The nurse on duty told the Post that when the patient was admitted, his entire body was extremely hot. When they tried to measure his temperature, the thermometer— whose upper limit is 42 degrees Celsius (107.6 Fahrenheit)—apparently broke.
According to Lubei Nightly News, about a dozen of people died in Binzhou City, Shandong Province, on July 31 alone.
Due to several continuous days of extreme heat, ambulances of the People's Hospital of Binzhou City were called to receive dozens of heat stroke patients daily, leading to a shortage of beds.
"There is no room to accommodate the patients we received. We had to transfer them to other hospitals, but they are out of beds too," a doctor from the hospital said.
On July 30, fourteen out of 40 districts and counties in Chongqing City measured average daytime temperatures above 40 degrees Celsius (104 Fahrenheit). The weather forecast predicted continued hot and sunny weather for the week.
Starting July 27, Xi'an City, located in the inland Shaanxi Province, has experienced extremely hot and humid weather. Many people have suffered heat strokes, with at least four reported deaths, Chinese state media said on Aug. 2.
Records from Xi'an Emergency Center showed that ambulances were dispatched a record 357 times on July 30, and 372 times on July 31. The confirmed number of heat stroke cases was 17, most of them migrant and sanitation workers.
High temperatures have also led to overcrowding of China's southwestern "Dead Sea" tourism resort in Daying County of Suining City, Sichuan Province. Thousands of visitors tried to escape from the heat and stay cool at the resort's outdoor/indoor floating pool, beach bath, and black mud bath.
Wuhan City in Hubei Province has also been plagued by constant heat waves recently. The city experienced its hottest day of the year on Aug. 2.
According to the National Meteorological Center, the heat in the north has already reduced, but high-temperatures will continue to escalate over the next 10 days in the south. China's southern region will encounter the strongest heat wave this year, with Zhejiang, Jiangxi and Hunan Provinces seeing temperature above 40 degrees Celsius (104 Fahrenheit), the forecast said.
Read the original Chinese article.