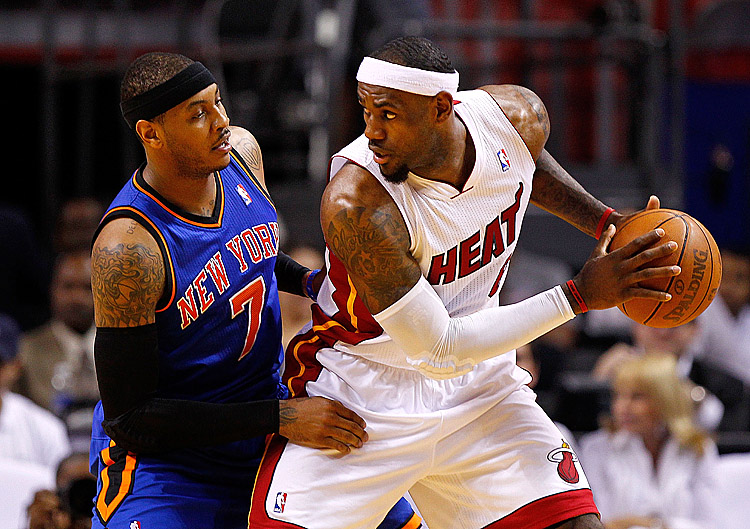 The Miami Heat sent the Knicks to their 12th-straight playoff loss with a 104–94 defeat in Miami Monday night that put the Knicks in a 2-0 hole in the best-of-seven series.
LeBron James, who will most likely win his third MVP for his performance this season, had 19 points, 9 assists, and 7 rebounds in the win. It was his defense on New York's Carmelo Anthony, though, that won the game.
Anthony and the Knicks looked sharp early following their embarrassing 100–67 loss in Game One Saturday. The Knicks were able to move the ball around and find a red-hot Anthony in rhythm. Carmelo scored 15 points in the first quarter alone, while mostly guarded by Heat forward Shane Battier.
Anthony made 6 of 10 shots in the opening 12 minutes and already had more points by the beginning of the second quarter (15) than he had all of Saturday (11).
By halftime, Anthony had 21 as the Knicks trailed just 53–47 at the break.
By the third quarter though, the Heat turned up their defensive pressure and LeBron James, a member of the NBA's All-Defensive First Team each of the past three seasons, took some turns guarding Anthony.
The result was a slowed-down Knicks offense. Meanwhile, on the other end, the Knicks were kept off-balance due to the outside shooting of role players Mario Chalmers, Shane Battier, and Mike Miller, who combined for five three-pointers after halftime.
Further hurting the Knicks cause was the loss of rookie Iman Shumpert, one of the league's best perimeter defenders, who tore his ACL in Saturday's loss and is done for the season.
After pulling to within 72–68 late in the third quarter on a Tyson Chandler dunk, the Knicks would get no closer as the made field goal was their only one for more than seven minutes, during which time the lead swelled to double-digits.
Chandler, who has been battling sickness this week, still put in 13 points and pulled down 7 rebounds, while Carmelo finished with a game-high 30 points.
Game Three will be Thursday night in New York.