As summer heat waves continue driving temperatures into the triple digits across multiple U.S. states—creating dangerous conditions for residents and animals alike—researchers are sounding the alarm bell over a significant spike in heat-related deaths in the past decade.
One study published in June reveals that deaths caused by excessively hot temperatures increased by 56 percent between 2018 and 2021.
Last year, "heat was a contributing factor in 1,577 U.S. deaths … according to provisional data," the study reads. By comparison, this number was 1,012 in 2018.
A second report, which reviewed data from millions of U.S. adults from 2008 to 2017, shows that every day with a heat index of at least 90 degrees Fahrenheit is associated with an average of 1,373 extra deaths per year, according to the National Heart, Lung, and Blood Institute.
In 2020, there were 13 U.S. cities that reported a record number of days at or above 90 degrees in a single year. The phenomenon wasn't limited to the predictably scorching-hot Southern states either.
That year, Denver recorded 73 days at or above 90 degrees, while Bismarck, North Dakota, reported 53; Chicago had 47; and Boston endured a full 30 days of excessive heat.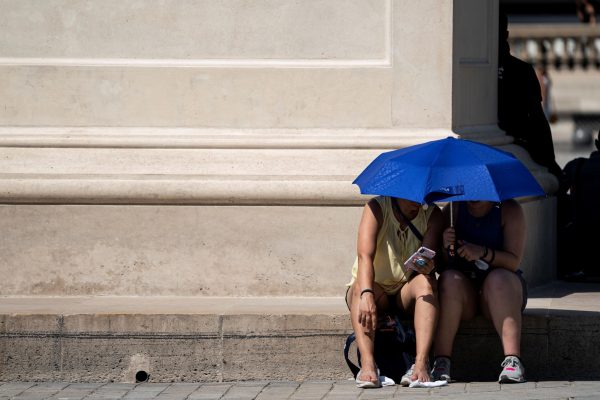 And experts are saying this year is on track to match or even surpass the summer temperature extremities of 2020 in some states.
Heat is the No. 1 weather killer in the United States, ahead of tornadoes, hurricanes, flooding, and lightning, according to the National Oceanic and Atmospheric Administration.
Wind Feels Like a Campfire
In drought-afflicted Texas, a deadly combination of hot conditions and a severe lack of rainfall have left residents struggling and animals dying.
"My next-door neighbor lost 50 chickens to the heat in three weeks," Eddie Jane Simons told The Epoch Times.
Having lived in Florida and the Caribbean, Simons is no stranger to sweltering temperatures. She currently works at an animal rescue center in Hondo, Texas, about an hour's drive from San Antonio.
And every day this summer, she's been fighting to keep the animals under her care alive.
Simons fills children's inflatable pools with ice for the dogs at her work and puts out dozens of bowls and "kiddie pools" in her yard at home—filled with water—for desperate wildlife in search of relief from the heat.
She says farmers have been using industrial water sprinklers normally reserved for crops, to keep livestock from dying.
"I'm working in outdoor dog kennels. It was literally 107 degrees inside the kennels the other day," she said.
"I don't know how people who don't have access to power or air [conditioning] can even cope."
And the answer is, many can't.
Unsheltered homeless populations and those living without electricity are among the highest risk categories for potentially dying from excessive heat, accounting for hundreds of the total count each year.
One of the hottest cities in the United States—Phoenix—has summer highs consistently over 100 degrees.
In 2021, the city suffered 339 heat-related deaths, 130 of which were members of the homeless population.
Outdoor work crews face the same dangers due to prolonged exposure to extreme temperatures throughout the day.
"Once it gets over 110, it seems like an incinerator," Ronnie Armstrong told The Epoch Times.
Armstrong and her husband have been Phoenix-area residents for 24 years. She says brutal heat is just part of living in Arizona, but she noted that summers have been starting earlier and ending later in more recent years.
She said that while she's never seen the state record of 122 degrees broken, there have been significantly more consecutive days hotter than 115 degrees.
"Our summers always have a drastic effect on our homeless community," Armstrong said.
Unsheltered individuals who spend extended periods in over 90-degree weather without the ability to cool off are 200 times more likely to die from heat complications than those with access to shelter and climate-controlled spaces.
"I travel with bottles of water in my car on my way to work, and when I see someone walking down the side of the road, I stop to give them one," Simons said.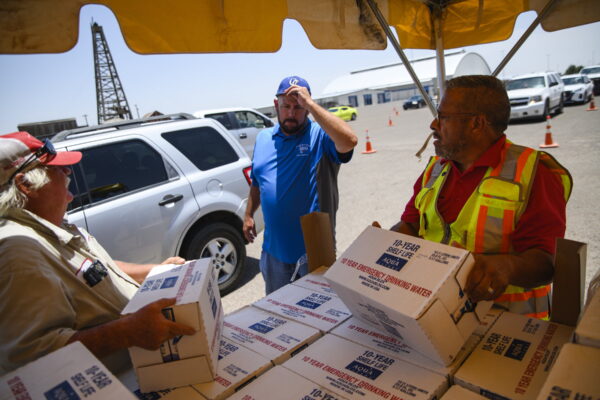 June was the hottest month on record for most of Texas and was punctuated by the devastating effects of a years-long drought in most of the state.
Currently, 20.2 million people in the Lone Star State—87 percent of the population—are enduring severe drought conditions.
"When the wind blows, it's so hot, it feels like it's coming off a campfire," Simons said.
One study, published in the journal Environmental Epidemiology, evaluated heat-related deaths in 297 counties between 1997 and 2006, and found that most mortalities occurred in only moderately hot weather versus extreme conditions.
"How dangerous a hot day is may depend on where you live," lead study author Kate Weinberger said in a press release.
Multiple Risk Factors
Weinberger noted that a 90-degree day might be dangerously hot in Seattle, but not in Phoenix.
She also says adaptation and the ability to mitigate the effects of heat are key factors, and some locations are better adapted to dealing with extreme heat.
In other words, record-breaking hot days in northern states could actually be more dangerous for residents living there.
Then there's the age demographic to consider.
"Elderly people are most at risk for heatstroke due to a decrease in their ability to regulate their body temperature," Vicki Hatfield, a former registered nurse, told The Epoch Times.
Hatfield lives in Tennessee, where mid-state residents were under a heat advisory on July 19 for anticipated 105-degree or higher temperatures.
"In my nursing career, I've often seen heatstroke or heat exhaustion among elderly men who are outside cutting grass or doing outside chores in the middle of a hot summer day," Hatfield said.
Young athletes may also crumble under the intensified stress on the body. Hatfield said this is particularly prevalent in August, a time when football coaches need to keep a close eye on their players during practice for symptoms of heatstroke.
Further, people who consume alcohol in extremely hot temperatures are more susceptible to heatstroke, along with people on certain medications such as beta blockers, diuretics, and certain antidepressants.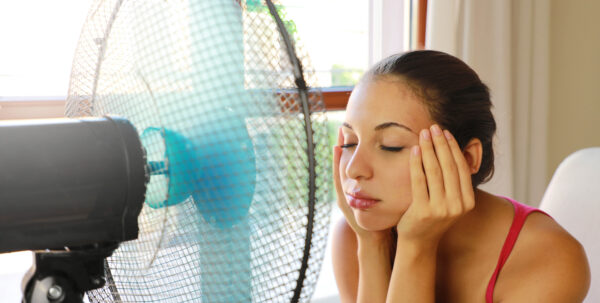 "Key symptoms to be alert to are weakness, dizziness, hot, dry skin, confusion, fainting, headache, vomiting, confusion, rapid heart rate, and [rapid] breathing," Hatfield said.
In the eastern part of Tennessee, Knoxville resident Pam Smith says that—much like Texas—extended dry conditions make it harder to tolerate the heat.
"Living in the South, it's always been hot, especially with the humidity. This year was the hottest and driest June I've experienced," she told The Epoch Times.
Smith works in the construction industry and says many contractors start their day in the wee hours and finish between 10 a.m. and noon for the safety of their workers.
She also said the hottest part of summer arrived earlier than normal.
"These record-breaking temps and 'feels like' temps normally happen later in the summer, and not for multiple weeks at a time," Smith said.
Back in Texas, Simons said that the community pool in Hondo closed last week because the water was "dangerously hot" for residents to go swimming.
"I'm moving somewhere cooler next year. You better believe that," she said.