Heard During the 17th National Congress
October 25, 2007 12:00 am Last Updated: October 25, 2007 12:00 am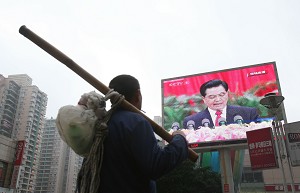 Petitioners Attempt Collective Suicide
According to Hong Kong's Mingpao, two incidents happened during the 17th National Congress of the Chinese Communist Party. Four petitioners attempted a collective suicide by jumping from the Jinshui Bridge into the river to be seen by people in Tiananmen Square.
The other incident occurred on Tiananmen Square, where several disabled people rode home-made motor-bicycles at great speed to the Great Hall of the People. Since Beijing police did not receive any advance notice from informers, the scene was in chaos. Police arrested all the people in both incidents; most of them are petitioners from outside Beijing.
Delegates' Communications Tightly Controlled
Hong Kong's Oriental Daily News reported that the wireless communications in the hotels and cars for the 38 delegations were blocked. Therefore, the strictly protected delegates could not use their own cell phones. Meanwhile, the Congress explicitly requested that the delegates not contact their families; neither could they go online.
The organizers explained that all these measures were for confidentiality considerations and the security of the Congress. Nevertheless, people who know communist politics well, pointed out that real purpose was to prevent the delegates from organizing themselves, in case a collusion of delegations would influence the election of the new central committees.
Delegates Must Use Assigned Cell Phones
Taiwan's "China Times" reports that in order to prevent individual delegates from revealing information, the security department of the Congress strengthened the "security" of the CCP delegates using unprecedented means. They assigned cell phones to all delegates and asked them to communicate with the outside world with the assigned cell phone only. One of the purposes was to prevent important personnel changes within the party leadership from being leaked to the outside world. The report also quoted from the security department: "By doing so, not only will it enhance the CCP delegates' alertness, but also protect their security. Should an incident happen, it will be easy to investigate."
The Voting Record Will Not be Made Public
Oriental Daily News reported on October 21, that although members of the committees and the Central Political Bureau committee, the Standing Committee, and the General Secretary has been announced, all the votes would not make public.
Whoever Appeals in Beijing Will Be Sent to Falun Gong Detention Facilities
One low-ranking police officer in China revealed to the Epoch Times that the police station he worked for had received the following notice: "Whoever appeals in Beijing during the National Congress will be imprisoned in the local detention centers for Falun Gong." Whoever the government wants to suppress will be sent to these very oppressive and secure facilities. The purpose is to ensure the so-called stability of the Congress.