President Joe Biden said on July 12 that the Cuban communist regime should respect the rights of its people amid historic demonstrations, coming a day after thousands of protesters took to the streets in several cities demanding greater freedoms and an end to the regime.
"The Cuban people are bravely asserting fundamental and universal rights. Those rights, including the right of peaceful protest and the right to freely determine their own future, must be respected," Biden said in a statement released by the White House.
"The United States calls on the Cuban regime to hear their people and serve their needs at this vital moment rather than enriching themselves."
Thousands took to the streets in parts of Havana—including the capital's historic center—and other cities. Their shouts of "Diaz-Canel step down" and calling for freedom, were referring to dictator and Communist Party chief Miguel Diaz-Canel.
Special forces vehicles, with machine guns mounted, were seen throughout the capital, and the police presence was heavy even long after most protesters had gone home by the 9 p.m. curfew in place due to the pandemic.
In one area of Havana, protesters took out their anger on an empty police car, rolling it and then throwing stones at it. Elsewhere, they chanted "repressors" at riot police.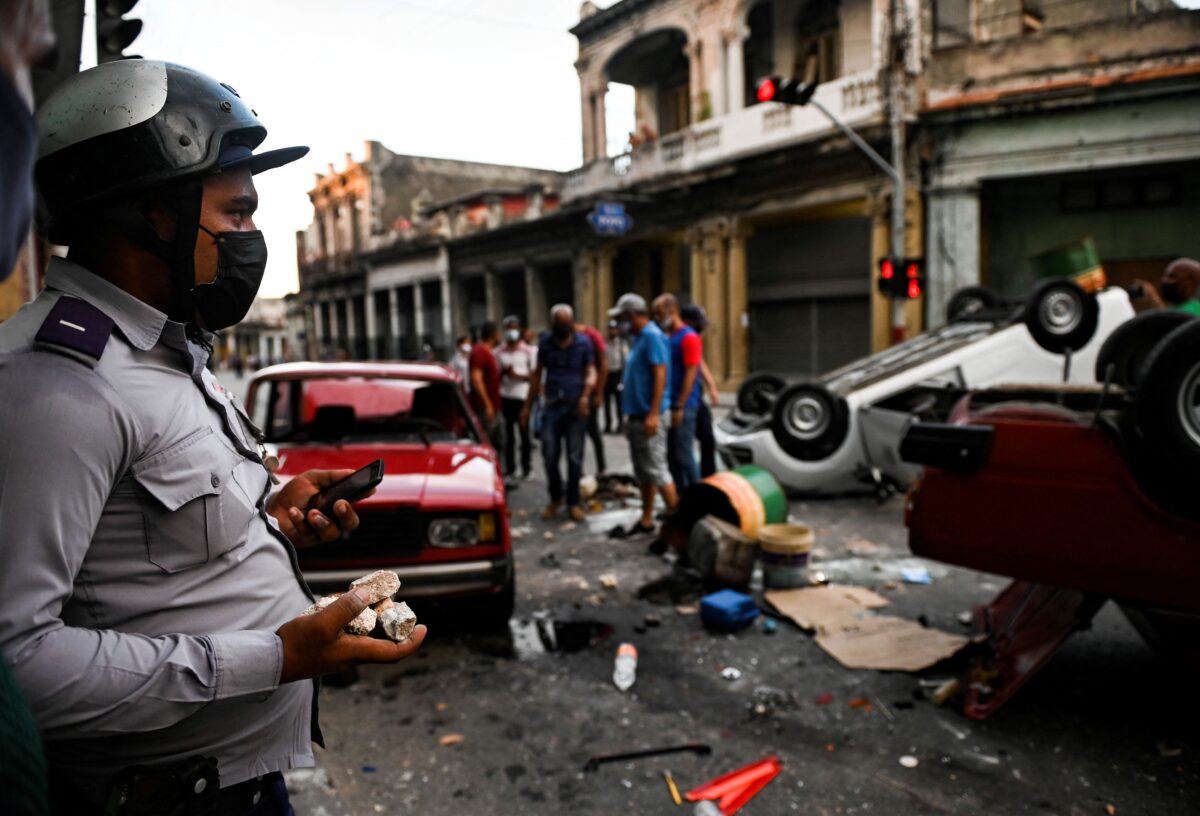 Biden also said the United States stands "with the Cuban people and their clarion call for freedom and relief from the tragic grip of the pandemic and from the decades of repression and economic suffering to which they have been subjected by Cuba's authoritarian regime."
Diaz-Canel, in the midst of protests, blamed the demonstrations on U.S.-backed social media campaigns and called for his supporters to confront them, according to remarks he gave on state-run media broadcasters.
Republican lawmakers called on the White House to provide more assistance to the Cuban people.
"The American people stand squarely with the men and women of Cuba and their noble fight for liberty, and the Biden administration must unequivocally and forcefully tell the world as much—immediately," Sen. Ted Cruz (R-Texas) stated on July 12.
And Sen. Marco Rubio (R-Fla.) said that the administration should have spoken out sooner.
"The people of #Cuba bravely take to the streets against 62 years of socialist tyranny," he wrote on Twitter. "12 hours later President @joebiden @POTUS has yet to say a word about it."
Some Republicans have also accused Twitter and Biden administration officials of trying to downplay or mischaracterize the protests as being related to the COVID-19 pandemic and vaccines.
Reuters contributed to this report.