House Speaker Nancy Pelosi (D-Calif.) gave a speech on the House floor and called on her caucus to vote in favor of impeaching President Donald Trump on Wednesday.
"For centuries, Americans have fought and died to defend democracy for the people. But, very sadly now, our founders' vision of a republic is under threat from actions from the White House," Pelosi said.
"That is why today, as speaker of the House, I solemnly and sadly open the debate on the impeachment of the president of the United States," Pelosi added. "If we do not act now, we would be derelict in our duty."
Her remarks were the first in at least six hours of formal debate in the House. Each House member would be given about one to two minutes to address the entire floor.
The Democratic-controlled House is expected to pass articles of impeachment along a mostly party-line vote. At least two Democratic members of Congress are expected to oppose both articles, while Republicans are expected to unanimously reject them.
When Pelosi finished speaking, she yielded the floor to Rep. Doug Collins (R-Ga.), the ranking member of the House Judiciary Committee, who said there was an absence of any real crime committed by Trump.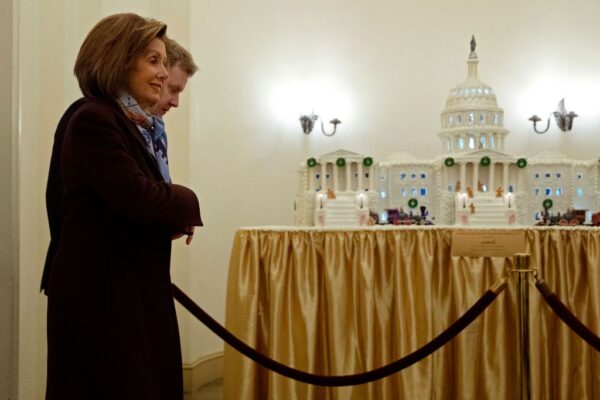 "There's no bribery, no extortion, no wire fraud, no obstruction of justice anywhere in these articles," Collins said of the impeachment charges. "This is the first time in history a president will be impeached without a single allegation of criminality."
Added Collins, "There's no legal standard for measuring 'abuse of power.' It's a subjective concept that means whatever any member of Congress wants it to mean."
Trump has denied Democrats' allegations that he withheld military aid to Ukraine in exchange for politically motived investigations into a Democratic rival. The president of Ukraine and other top officials have similarly dismissed the claims.
The House is slated to hold its final vote on the two articles of impeachment after 7 p.m. on Wednesday.
Pelosi, meanwhile, told reporters that she and other Democrats wore black to try and send a message that impeachment is a somber event. She told CNN that she "feels sad" about impeachment.
According to another reporter, Pelosi also told Democrats that they shouldn't gloat over impeachment. "Don't cheer, keep it solemn," a Democrat from a Trump-won district was quoted as saying.