CHICAGO—"It's hard to maintain your faith without a community," Abigail Cimpean said. She's among the many religious faithful in Chicago who have defied stay-at-home orders to attend church recently.
It's not the same sitting at home and watching a sermon on the screen, she told The Epoch Times. "As a community, we lift each other up."
The daughter of Pastor Florin Cimpean of Chicago's Philadelphia Romanian Church of God, she's grown up in the church.
Amid Chicago's stay-at-home orders—which currently prohibit church gatherings of more than 10 people—Pastor Cimpean never stopped holding services.
He, too, grew up in the church. And his father was a pastor who disobeyed government orders to halt services. That was in Romania, and he was arrested for it.
"I am not afraid. I grew up in communism," he told The Epoch Times.
The majority of his congregants are of Romanian descent, and many of them have firsthand experience of a crackdown on worship under communist rule; many of them fled to the United States in the 70s and 80s to seek freedom.
While Romanian churches in Chicago have been especially vocal on the issue of limiting worship amid the pandemic, many non-Romanian churches also have been defiant.
Chicago Mayor Lori Lightfoot has warned the growing number of churches that seek to hold in-person services that they will be fined. She ordered no-parking signs to be set up around houses of worship on May 17 to discourage congregants.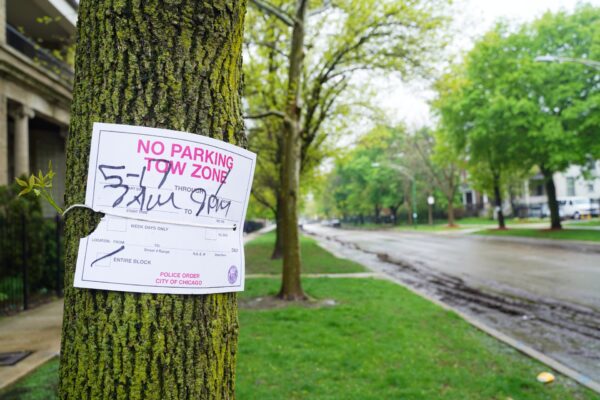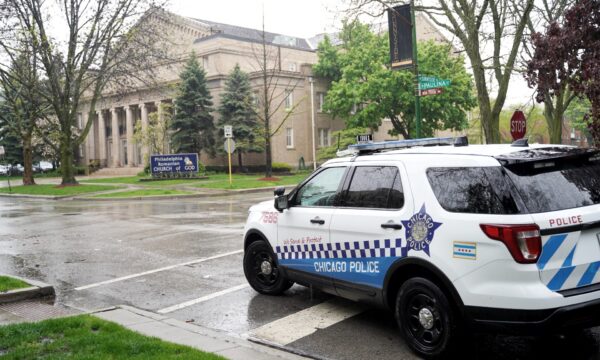 Mayor Acknowledges Difficulties for Faithful
On May 18, Lightfoot held a virtual town hall tailored to members of black churches. Black people make up almost half of the reported COVID-19 deaths in Chicago.
"This has been a very difficult time, a particularly difficult time for people of faith across the city because we have not been able to come together and commune with each other in houses of worship," she said at the meeting.
"I talk with my mother every single day. She is a 91-year-old woman of faith. Part of our daily conversation is about when she would be able to go back to church," Lightfoot said.
"Her church life is critically important to her health and well-being. And I know that's true for literally millions of Chicagoans. But we also know that coming together in these times poses risks, risks that we shouldn't be taking."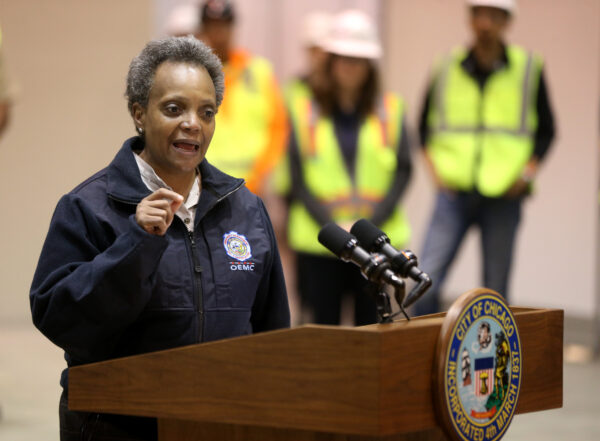 Lightfoot said she wants to work with pastors to draft guidelines for reopening churches. Illinois Gov. J.B. Pritzker has placed gatherings of over 50 people, including in churches, in the last phase of his five-phase reopening plan.
That phase begins when a vaccine is developed, a treatment option is readily available, or there are no new cases over a sustained period.
The Chicago Tribune's editorial board questioned Pritzker's reopening plan in a May 6 editorial, saying that he is moving "the benchmarks for victory from bending the infection curve to defeating the virus altogether."
Abigail Cimpean and others among the 80 or so congregants who attended the service on May 17—the largest gathering at the church since the stay-at-home order started—spoke about the spiritual need for in-person gatherings.
Online Service Not the Same, Congregants Say
"I need to be fed by sermons," Abigail Cimpean said. "It's difficult for me to understand the Bible on my own." Following the service, she said, "I feel His presence today."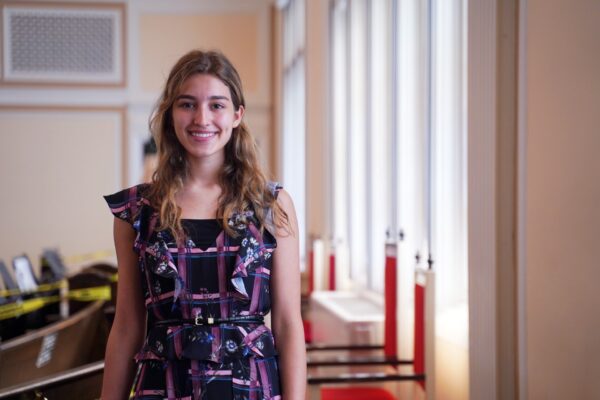 Tom Gobelman, 88, held a Bible in his hand as he stood at the church and told The Epoch Times that he was there as an act of civil disobedience, to stand up for the U.S. Constitution.
He isn't a congregant of the church, but he was among several local residents who showed up in support of the church's defiance.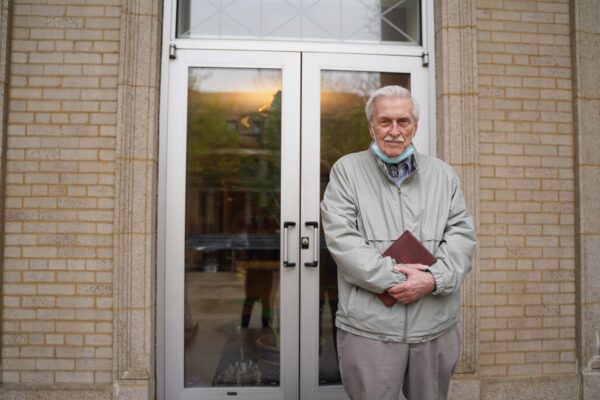 Gobelman said he has "Stone Age technology" at home, so he goes to a friend's house regularly for online sermons. But he finds virtual services lacking.
"It's like a piece of candy with no sugar in it," he said.
A Nurse Protests
Two protesters stood outside the church to urge congregants to stay at home. One was Beverly Miles, a nurse who recovered from COVID-19 in early May.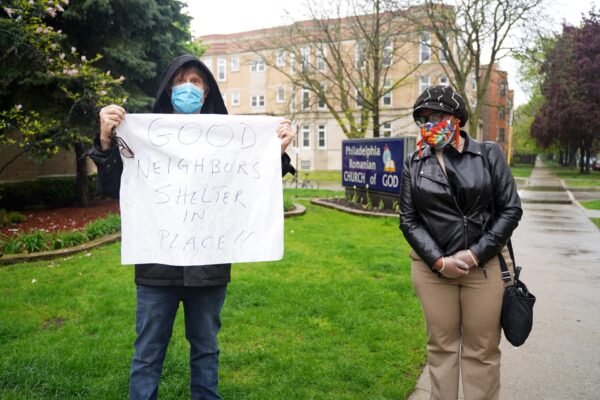 "I almost died of COVID-19. The virus is live and real," Miles told The Epoch Times. She was in daily contact with COVID-19 patients at her hospital when she contracted the disease.
Miles said that if any of the congregants show symptoms of COVID-19, nurses like herself will have no choice but to treat them. She feels that when the congregants put themselves at risk, they put nurses at risk, too.
"It was personal to me," she said.
Christopher Swanson, the other protester, lives in the building across the street from the church. He held a sign that read, "Good neighbors shelter in place."
"This is not just about them. It's about us," Swanson told The Epoch Times. "We are all in this together."
Another neighbor of the church, Karl Engle, who came out in support of Cimpean, said, "Life is full of risks."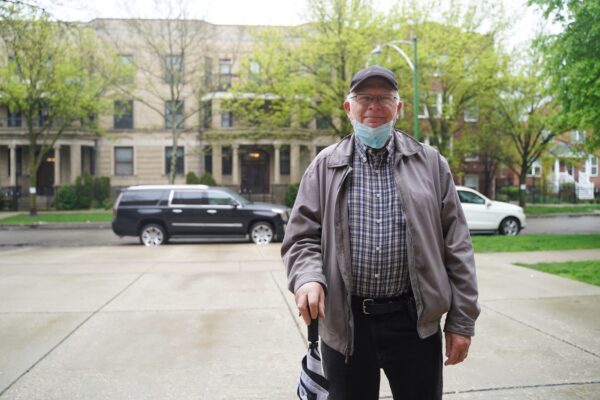 "The governor and mayor cannot take care of all the risks for me," Engle told The Epoch Times. "Are they going to hold my hand when I walk so I don't fall?"
When the city put up no-parking signs along the street surrounding the church, Cimpean said it drew more ire from the church's neighbors. It affected not only the congregants, but also the residents who use the parking spaces on the street.
A local resident shouted at Cimpean on May 17, "Go back to your own country!"
Cimpean has found it hard, but he remains firm in his decision to stay open.
When Pritzker ordered pastors to close their doors in March, Cimpean still hosted about 20 congregants. When Pritzker said religious activity was essential, but each church could host only 10 people, the attendance at Cimpean's church grew to about 40, and now 80.
"I didn't really want all the attention. I only want to open churches as a haven of hope for people," he said. "I am under a lot of pressure in the last 48 hours. … [But] I'm glad we didn't give in."
Precautionary Measures
Cimpean said he has taken care to follow U.S. Centers for Disease Control and Prevention recommendations and state guidelines for essential businesses.
Congregants are spread out in the church to maintain social distancing. Each attendee needs to pre-register and fill out an application that outlines the guidelines for attendance. It tells congregants, for example, that they shouldn't attend if they have COVID-19 symptoms, work at a hospital, or are over the age of 65.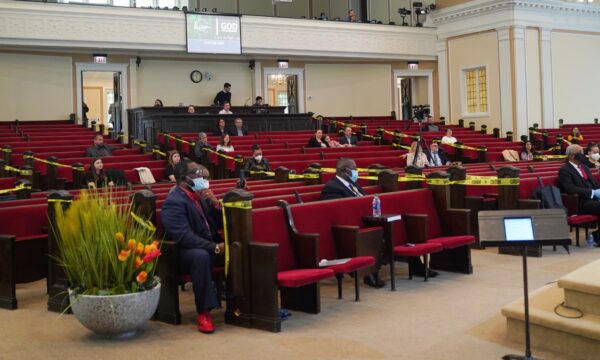 Some questioned why essential businesses, including hardware stores and liquor stores, are not subject to the same 10-person limit as churches.
"I don't understand why you can have up to 500 people at Menards [home improvement store], but only 10 people at a church," Bob Szontach told The Epoch Times. He lives near the church and is a Christian; he isn't a regular congregant but went to the church on May 17.
Congregant Ethan Ille, 18, told The Epoch Times the church is like his home.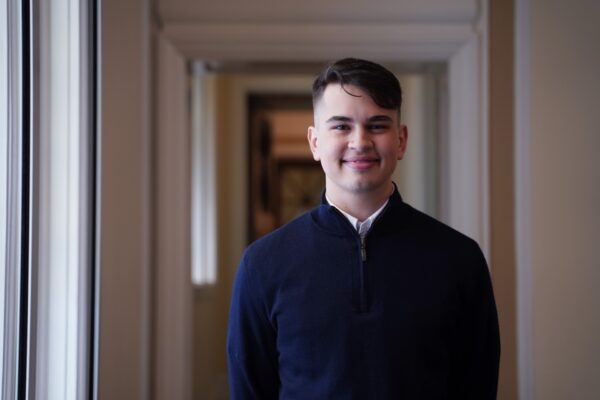 While he's had a good life without major hardship, he felt something was missing until he started going to church regularly, Ille said. Faith has helped him be slower to anger, have more patience, and love others better.
"This is my family. This is my home," he said of his church.