Georgina Chapman, the wife of high-level Hollywood producer Harvey Weinstein, said she is leaving him after a number of women came forward to accuse him of decades of sexual assault and sexual harassment.
Chapman, 41, married Weinstein, 65, ten years ago, and they have two young children together.
"My heart breaks for all the women who have suffered tremendous pain because of these unforgivable actions. I have chosen to leave my husband. Caring for my young children is my first priority and I ask the media for privacy at this time," Chapman told People magazine.
The allegations of sexual misconduct were first detailed in The New York Times and other reports. He's denied some of the allegations.
"She stands 100 percent behind me. Georgina and I have talked about this at length," Weinstein told the New York Post about his wife. She is helping him become "a better human" and to "apologize to people for my bad behavior, to say I'm sorry, and to absolutely mean it."
Weinstein was fired Sunday, Oct. 8, from his film studio, The Weinstein Company.
"In light of new information about misconduct by Harvey Weinstein that has emerged in the past few days, the directors of The Weinstein Company — Robert Weinstein, Lance Maerov, Richard Koenigsberg and Tarak Ben Ammar — have determined, and have informed Harvey Weinstein, that his employment with The Weinstein Company is terminated, effective immediately," the firm stated.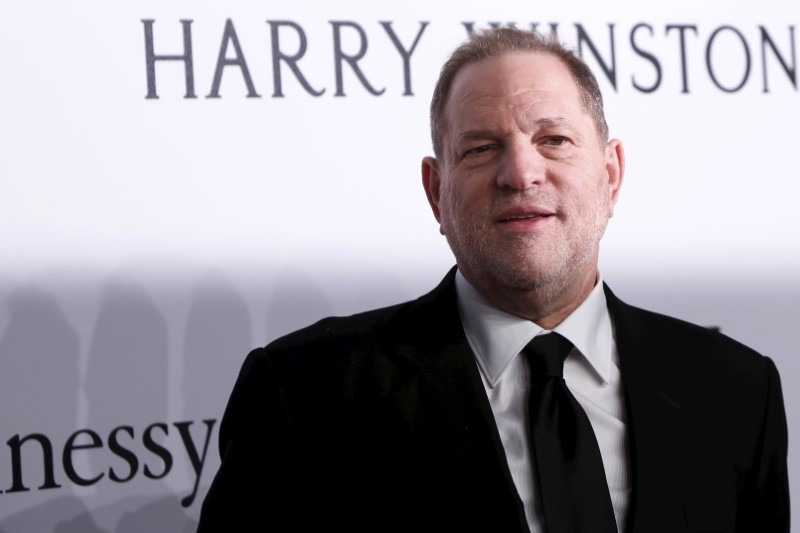 In a New Yorker story published Tuesday, more allegations were laid against Weinstein, with several women accusing him of sexual assault.
Asia Argento, an Italian film actress and director, told the New Yorker that he assaulted her but didn't speak out until now out of fear he would "crush" her.
"I know he has crushed a lot of people before," Argento said. "That's why this story—in my case, it's twenty years old; some of them are older—has never come out."
In a statement about the allegations laid out in the New Yorker report, Weinstein denied them via a spokesperson.
"Any allegations of non-consensual sex are unequivocally denied by Mr. Weinstein," the statement read, CNN reported. "Mr. Weinstein has further confirmed that there were never any acts of retaliation against any women for refusing his advances."
And later Tuesday, Gwyneth Paltrow, Angelina Jolie, and other Hollywood actresses said that he made unwanted advances toward them in the 1990's, according to a new New York Times report.
Weinstein, via Miramax and the Weinstein Company, helped distribute movies like "Sex, Lies, and Videotape," "The English Patient," "Pulp Fiction," "The Crying Game," "Shakespeare in Love," and "The King's Speech." He's also noted as a prolific Democratic Party fundraiser, including for Hillary Clinton and Barack Obama.